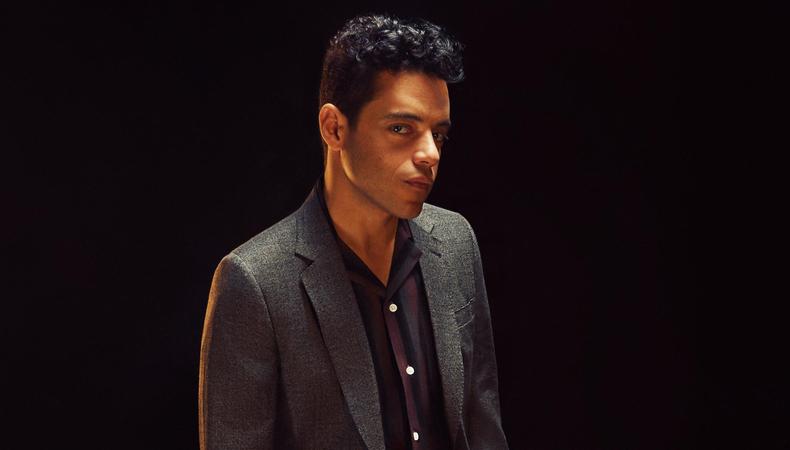 We already knew he was magnetic after his delivery on "Mr. Robot," but Rami Malek hasn't always been given the space to showcase his range. Yet, if the last few awards seasons are any indication, Malek now has much to show for his days playing supporting film and TV characters. His résumé runs the gamut—from "Gilmore Girls" to "Twilight" to a reanimated pharaoh in "Night at the Museum"—but for the first time in his career, he's in conversation for an Oscar this Sunday, Feb. 24, after his transformative turn as Freddie Mercury in the divisive Queen biopic "Bohemian Rhapsody." So how did he go from thumping Bibles in the background to thrusting his hips front and center as a rock icon?
"If you start at a place and say, 'I have certain skills that allow me to work in this profession,' and give yourself a little boost of confidence, then you can operate from that perspective of pushing yourself to know what more you're capable of," he says in an interview with Backstage. "I always want to know what I'm capable of. I want to reach out as far as I can. That's obviously probably why I took this role."
Playing Mercury required a delicate combination of specificity without venturing into mimicry, plus on-camera subtly before pulling out colossal stage presence. "At first, there was real trepidation about how to enter those concert scenes," the actor says about the shots that recreated Queen's Live Aid performance in a single take. "I've never done that before. I've done theater, and that gives you a glimpse of what it's like to be out onstage. But in tight leather pants? Nothing above the waist but a necktie? Prancing out onstage and then hoping to achieve moments that I had seen Freddie make of absolute brilliance? That was something that I thought would be daunting."
That fear is precisely what made Malek put himself in front of casting director Susie Figgis for the part. "I looked at it like, it has been so difficult to get just to where I am now, why would I stop challenging myself with this role I really wanted? The goal is to get to the point where opportunities like these exist," he says. "So if this is what I've put so much into in my life, why not keep going in that direction?"
Additional reporting by Manuel Betancourt
Ready to see what you're capable of? Check out Backstage's film auditions!