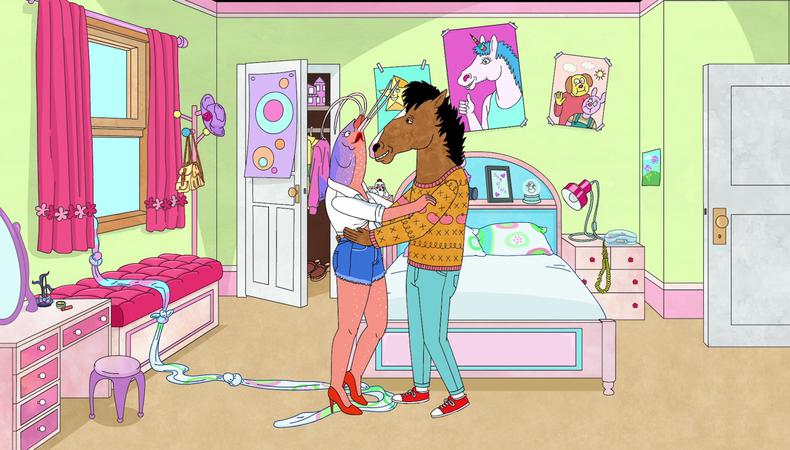 "I have a lot of opinions on what makes a good voice actor and what makes a poor voice actor, and I would love to inform people," says Raphael Bob-Waksberg, creator of Netflix's "BoJack Horseman." The dark comedy may have wrapped its six-season run this past January, but its creator—who received a 2019 Emmy nod for the series—is evidently still interested in talking about it, and specifically the voices behind it.
As the show's creator, Bob-Waksberg is recognized for authoring the story about a has-been anthropomorphic horse-man TV star reckoning with addiction, depression, and where his decisions have landed him in middle age. What's less apparent, though, is Bob-Waksberg's many other contributions behind the scenes. "I work with all the actors on the show. I direct them in the booth," he says. And though Bob-Waksberg is asked much more frequently for writing tips, his years working with actors of all experience levels have given him a trove of voice acting advice, which he happily shares.
Bob-Waksberg assures that his cast, led by Will Arnett with Aaron Paul, Alison Brie, Amy Sedaris, Paul F. Tompkins, and a rotating list of A-list Hollywood talent, never disappointed. And while many of those actors were no strangers to the voiceover world, others, like Paul, were new to it. "They're smart actors; they quickly pick up on what is expected and what they need to do to adapt from being a live-action actor to a voice actor," he explains. "It was really fun to see that light bulb kind of go off."
Despite the obvious adjustments that must be made by actors who go from one medium to the other, Bob-Waskberg's advice is not limited to actors in the recording booth. "I think a lot of times, as actors, your instinct is to get to the correct take. You're trying to home in on the right way to say a line, and that'll lead you to give variations on the same line read," he says. "The truth is, I'm not looking for the correct thing in the moment. I'm looking for multiple options. I want multiple correct things. An editor is going to edit you together with another actor on a different day—it has to sound like an actual conversation."
Actual conversations are, in part, behind the success of "BoJack." Adult animation fans may have been drawn in by talking animals, a vivid color palette, and countless illustrated gags, but Bob-Waksberg tried to constantly weave reality into the "jokey, cartoony, wacky" show; on "BoJack," the characters' actions had consequences, and there was no reset button at the end of each episode. Bob-Waksberg explains, "I wanted something that felt different, but I also wanted things to feel familiar. I think a good show is able to straddle those things. It's a very difficult balance."
To strike that balance, Bob-Waksberg and his team of creatives leaned on the opportunities that only animation provides and relied on the actors' skills to complete the puzzle.
"You have a longer leash as far as suspension of disbelief, and you can go to much wackier or broader places," he says. "But I also think that suspension of disbelief helps us go to more emotional places that are more difficult to get to in a live-action show, because live-action characters are more guarded." That, again, brings him back to his voice acting advice.
Although he doesn't feel actors must have live-action drama experience to walk the tightrope between animated comedy and emotional journey, the ability to perform well in both forms might get you more "meaty" work. "Voice acting is its own talent; you can be very good at expressing things in front of a camera, but if you don't have that quality in your voice, it's useless in animation," he says. "We wanted people who could sell the comedy of this show, but we definitely would not have had the confidence to tell the stories that we told or go to the places we did if we couldn't rely on this cast to take us there."
While Bob-Waksberg isn't heading back into the booth with the "BoJack" cast, the lessons he learned from that group of actors can be as much a takeaway for aspiring voice actors as they have been for him: Be prepared, be flexible, be yourself, and take risks. "We want the show to be good, so don't be afraid of looking stupid. If it's really stupid, we won't use it," he says. "We want the good stuff, too—don't only give us your crazy—but try some weird stuff and put it out there. It might be the thing we're looking for."
Looking for remote work? Backstage has got you covered! Click here for auditions you can do from home!