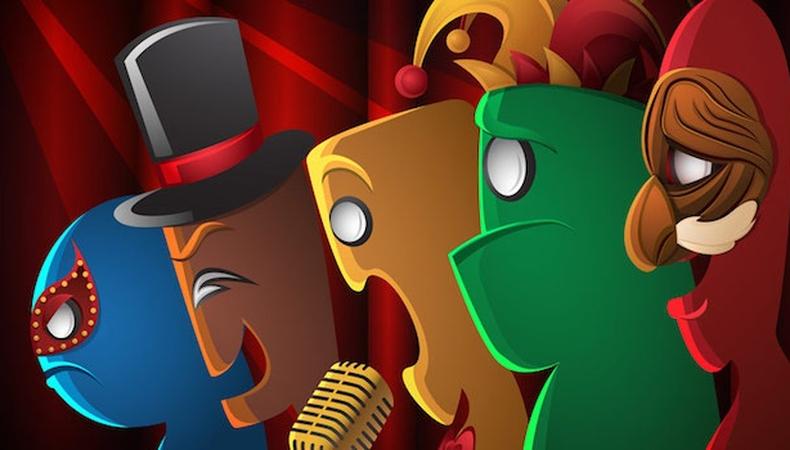 The Hollywood Fringe Festival is back and taking Los Angeles by storm this Thursday, June 9, to Sunday, June 26, for two weeks of uncensored, community-based theater, art, and performance. Over 1,500 productions are scheduled to hit a theater, concert hall, bar, park, restaurant, or church near you, where rich and diverse voices from local, national, and international artists and companies will take the spotlight.
It's worth noting that the festival donates 100 percent of its box office revenues back to participating performers. Over its six seasons, $1.3 million have been raised, and this year promises to be another big one! Hollywood Fringe is made possible by the generous donations of its supporters; interested patrons can donate here.
Below, we've rounded up Fringe's six main special events, but that's hardly all it has to offer. Head over to hollywoodfringe.org for more information and for a full schedule of what's to come.
OPENING NIGHT PARTY (June 8 at 7 p.m.)
This festival kick-off event at Fringe Central (6510 Santa Monica Blvd) is Fringe's biggest outing, so don't miss it! A Fringe Button is required for entry. Buttons can be purchased online beforehand for $5 (festival participants get in for $3), and don't worry about coming hungry: A partnering food truck will also be on site for party-goers looking for a snack.
FRINGE RUNWAY (June 15 at 9 p.m.)
The Hollywood Fringe Festival is never in want of head turning, D.I.Y. looks and costumes. They'll all come together when festival fashionistas will strut their stuff on the Fringe Central catwalk June 15. Are you a Fringe producer who wants join in the fun and showcase their work? It's not too late to apply! Interested parties should email emailoutreach@hollywoodfringe.org before 5 p.m. on June 13 with the subject head "CATWALK." In the body of the email, include a contact name, a contact phone number, the name of the designer, the name of the show, and the number of costumes for consideration.
FRINGE PROM: PURPLE RAIN (June 22 at 8 p.m.)
In a fitting tribute to the late Prince, the seventh annual Hollywood Fringe Festival's prom is themed to "Purple Rain," 1984's cult classic starring the iconic musician. Attendees at Fringe Central that evening are encouraged to dress in purple, lavender, indigo, and violet attire inspired by the '80s.
FRINGE ROCKS (June 24 at 10 p.m.)
As theatrical frontman Dee Snider and his Twisted Sister once said: "I wanna rock!" And so does the Hollywood Fringe Festival with the return of its Fringe Rocks event at Fringe Central. This live-band karaoke featuring Los Angeles' The Moon Units has over 200 songs to choose from in its arsenal, so get there early, dress in your tightest threads and highest hair, and come ready to rock out.
HFF AWARD CEREMONY (June 26 at 6:30 p.m.)
With over two weeks of genre bending and boundary pushing performance coming to a close, festival organizers, participants, and patrons will gather at the Ricardo Montalban Theatre (1615 Vine St.) on June 26 to dole out awards for the best of the best. Doors will open at 6 p.m.; don't miss your chance on the red carpet!
CLOSING NIGHT PARTY (June 26 at 8 p.m.)
And no proper festival would be complete without a celebratory close-out bang. The 2016 Hollywood Fringe Festival will officially come to an end at Fringe Central with a late-night evening of drinking, dining, and dancing with festival friends new and old.
Inspired by this post? Check out our Los Angeles audition listings!