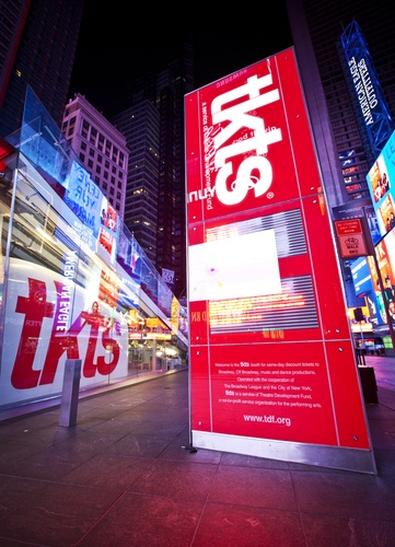 For 42 years, the Theatre Development Fund's TKTS ticketing booths in Times Square, South Street Seaport, and Downtown Brooklyn have been the one-stop shops for day-of discount tickets to Broadway and Off Broadway productions. Now with its updated TKTS App for iPhone, iPad, and Android, it's easier and more convenient than ever before to snag must-have tickets at a bargain.
The new app features a sleeker, more user-friendly design and several new functions to help you beat the crowd (especially in this cold!) and simplify your shopping. The app, which offers up-to-the-minute listings of tickets available at TKTS booths that day, now has push notifications to let users know when shows they've bookmarked have seats available. In other words, you'll be the first to know when "Hamilton" finally has room for you. It also lists approximate wait times for the main Times Square booth. Other additions to the update include new search filter options, directions to the nearest of the three TKTS booths, and exclusive ticket giveaways and rewards.
"In this time of rapidly rising ticket prices to Broadway and Off-Broadway shows, TDF is continually seeking ways to make access to the most affordable tickets easier for those who can only afford half price," TDF executive director Victoria Bailey said in a statement. "In addition to providing updated functionality and design, the new [features] of the TKTS App are a further step in our continuing goal of bringing as many New Yorkers and visitors to the theatre as possible."
For more information on the new TKTS App, visit tdf.org.
Inspired by this post? Check out our audition listings!