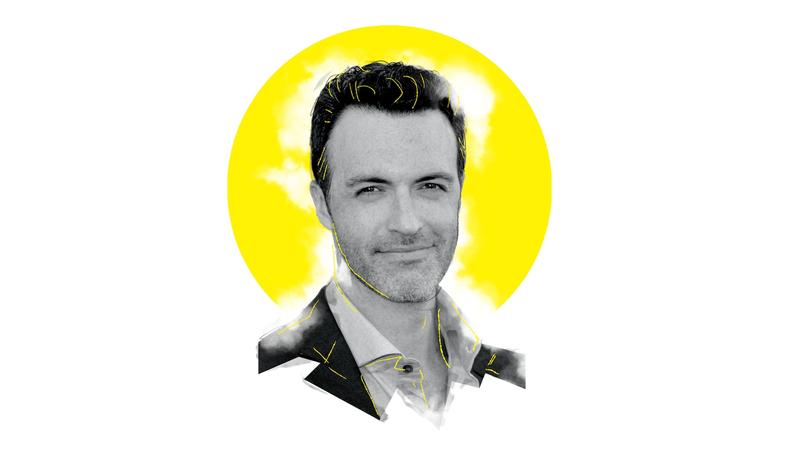 Acting is all about community, says Reid Scott, who plays Dan Egan, the cutthroat deputy director of communications on HBO's "Veep." Over the show's seven seasons, the last of which returns March 31, Scott observed and learned from veteran co-stars Julia Louis-Dreyfus, Tony Hale, and Matt Walsh, as well as the production crew, to turn what can be seen as a solitary craft into a collaborative experience.
Are you getting excited to be back in "Veep" momentum?
We wrapped on Dec. 19. I haven't even had a second to process it. It was such a fun last week and certainly, as you can imagine, emotional on a number of levels, but also a wonderful feeling of triumph and accomplishment. We all love the show so much. I was the one walking around fist-bumping and tossing the cap in the air. It was a relatively hard show to make, but my God, it's never going to be that fun again.
All jobs end, and you should celebrate it.
And certainly no one was maudlin or morose about it, but there were a lot of tears—not on my part, which Tony Hale gave me shit for. He was like, "When are you going to break?" We had this intimate dinner [with] just the cast before we wrapped. Everyone inevitably got up and gave a little toast, and I tried to remind everyone just how special this is. All shows come to an end, some get the rug pulled out from under them, but you can count on maybe two hands the number of shows that make it to a proper series finale that you really remember, and I think "Veep" will be one of those shows, especially when people see the finale.
Did it take time to get back into character?
Surprisingly, it took us no time. I think we were all so ready to get back to it, for a variety of reasons, not the least of which to get Julia back and healthy because she's our friend and we love her. Going dark for a solid year, we all wondered what it was going to be like. How long will it take us to rekindle the synergy? But we all not only know our characters so well at this point, we know each other and the shorthand that we've built over seven seasons. We're all legit friends, so I don't think we let it drop. We got back and the first shot of the last season, it was there. There wasn't really a learning curve again. More than anything, it was "Oh, my God, this feels so good. Let's go."
What has your role on "Veep" added to your acting skills?
I got this incredible on-set education, improv-wise. Matt Walsh was legit one of my comedy idols before I got this job. I'd never met Matt before, but when I was in college—and I told Matt this and embarrassed the hell out of him—I would run home from my classes to meet my roommates at our house to watch "Upright Citizens Brigade" when it was on Comedy Central. To watch him do his thing and the ease to which he can roll into anything is remarkable. You can't teach that in any class. You only get that from working with the likes of Matt Walsh, Tony Hale, Julia Louis-Dreyfus, Gary Cole, Kevin Dunn.
What advice would you give your younger self?
I would tell my younger self to explore all genres and embrace them all. If anything, run toward the facets you don't think you have a handle on. If you consider yourself a dramatic actor, you better be pushing yourself to try some comedy. If you rely heavily on comedy, take it down and try something serious. You will be surprised when those skills are called upon. No one's career goes the way they think it's going to go. If you're so rigid as an artist, you're going to have a very boring career. That's what I wish I would've taught myself a little earlier on, to be a little more open. I never thought I was funny. I always thought I had a good sense of humor, but I was always baffled by how do you do this. What's the formula? I approached anything I did comedic early on very clinically. The first pilot I did was for Steve Levitan, who created "Modern Family." It was my first comedy gig, and I was terrified. I thought if you were on a comedy, you were a comedian. I was not a comedian by any stretch, and I was terrified that someone was going to find out that I wasn't a hot new standup from Brooklyn and I would be fired.
I think it's in our nature as humans to plan everything, but it never goes the way we plan.
Even if you're setting seemingly realistic goals, it's not going to happen that way. And that's OK; it should be celebrated. The confidence with which a veteran works, knowing this is going to come to the end and I'll roll onto the next thing, but you can't plan it and you stay open to it. Gary Cole and Kevin Dunn are the best big brothers a guy could ever have on-set. They're incredible veterans; they've done everything. They're unflappable because they don't grip it too tight. They know how to finesse.
How much would you say of this job is relying on those gut feelings?
It's a huge component. We were encouraged from Day 1 by ["Veep"] creator Armando Iannucci: "Own this. You guys are the custodians of your characters, so you need to be open with it, you need to play with it." He's a brilliant showrunner and writer and director for that. He gave it to the actors, and that doesn't happen very often. We would have these long rehearsal processes where we would improvise everything and the writers would go away to rewrite the script to incorporate our improv. You would see the guest stars who we would have parachute in and see our process and be like, "What the fuck is going on?" Veterans who have been working for decades are like, "No one does it like this." And at first it's terrifying. We would tell them, "We're still terrified." It's acting without a net, and it's encouraged to be bold and to go off-script. It just doesn't happen a whole lot. No one would understand what it's like to be on the set of "Veep" because it was so singularly weird. Everyone was having fun all the time because you knew you were a part of this secret. When the season was winding down, I can't tell you how many friends of mine were like, "I would love to do a bit part just to come see it, to come play." Word got out that this was a unique set. And now it's over. It's going to be really hard to recreate. That's what we're going to miss the most. As frustrating as it was at times, this process was really unique, really wild and scary and thrilling.
What was your most memorable survival job?
I was a cater waiter in New York City, I was a bartender in the East Village, I washed dishes, I worked on a construction site. I tried to do things that I thought were interesting. When you're 21 living in New York City, it's such a rich environment. I didn't want to close myself off from anything, so I took whatever job paid. I made a lot of friends that way. You work in a restaurant or a bar and half the people there are writers or actors or musicians. They're still my best friends. It was important to find that community to get by.
Have you used Backstage in the past?
Definitely! It might've been [that] the first paying gig I got was in Backstage. There was this gig, it was going to be a very highly improvised guerilla-style filmmaking show. It was on AMC and it never made it to air. It was called "Flash Frame." I think it paid $200 and my agent still commissioned me on it.
I know you got your SAG card for the pilot for "With You in Spirit," but who was the casting director who gave you your first big break?
Jen Euston ["Veep," "GLOW," "Girls"] for sure. Jen really fostered me. She and I have stayed in touch over the years, and I've thanked her so many times…. I've talked to a lot of young actors about this in the past, [but] it's the hardest thing to do on your own. If you're a musician, you can go home and you can play. If you're an actor, it's a community-based art form. Until you get to do the work, you can't do the work. So having that person who believes in you, who gives you that shot, is so important. And Jen will always have a huge place in my heart because she believed in me. She got me a job.
That community aspect is so important and it's sometimes easy to forget.
You can do a monologue in a mirror all you want, but you don't know if you're affecting anybody, and you're certainly not being affected by anybody because it's just you. It's one of the things that attracted me to it. I played team sports growing up, but I preferred individual sports: I was a swimmer and a skier. Acting, theater, film, television is nothing close to an individual sport. It's an enormously collaborative effort. I hang out in the art department if I have a chance; I'll hang out in the camera truck if I have a chance—just to learn about what these guys are doing. These are all very specialized artisans working together to make one thing. There's something so wonderful about seeing all these people coming together to make something that's pretend.