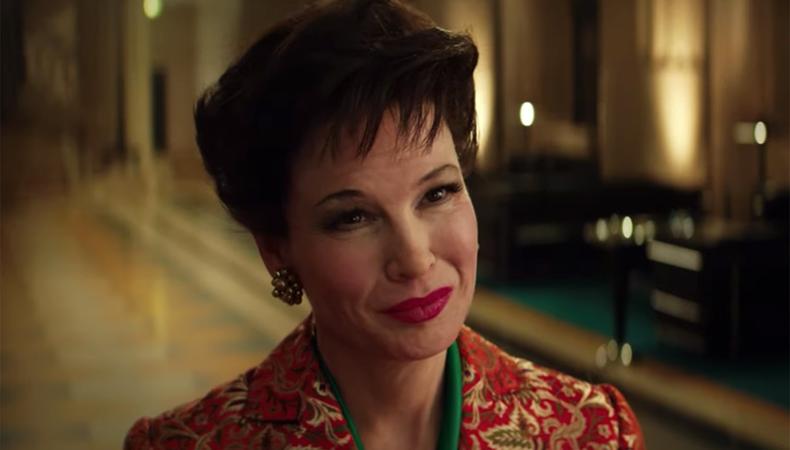 To play a Hollywood superstar on-camera is a tall order. Naturally, it helps if you are one yourself.
Renée Zellweger certainly knows what it means to be in the spotlight; for better, that was immensely helpful when it came to playing Judy Garland in the just-released biopic about her life, "Judy"; for worse, Zellweger could identify all too well with some of Garland's personal struggles, many of which were exacerbated if not ignited in the first place by show business.
The film marks Zellweger's return to the limelight. Having taken a six-year break from acting, she needed to recoup following a period of described burnout. As that pertains to her portrayal of Garland, Zellweger says she understood getting to "a certain place where you just don't know if your skin is thick enough, and then having to go anyway," as she explained to the New York Times.
READ: Elisabeth Moss on What It's Like to Play an Addict
"I took time off so I wasn't regurgitating the same old emotional experiences to tell stories," she adds. "I lived some new ones, and all of it is informative.... It made me appreciate my little bit of experience with having to navigate your way around a public persona that's a ball hog in your life."
Zellweger is certainly back in full Hollywood swing, widely promoting the film which has for months now been generating Oscar buzz for the actor. To Vulture, she elaborated on her desperate need to have stepped away for a time, on levels both personal and professional.
"I wasn't healthy. I wasn't taking care of myself," she says. "I was the last thing on my list of priorities. [My therapist] recognized that I spent 99 percent of my life as the public person and just a microscopic crumb of a fraction in my real life. I needed to not have something to do all the time, to not know what I'm going to be doing for the next two years in advance. I wanted to allow for some accidents. There had to be some quiet for the ideas to slip in."
Well, when it comes to recharging in order to deliver better performances, if you've seen "Judy" already then you know: Mission accomplished.