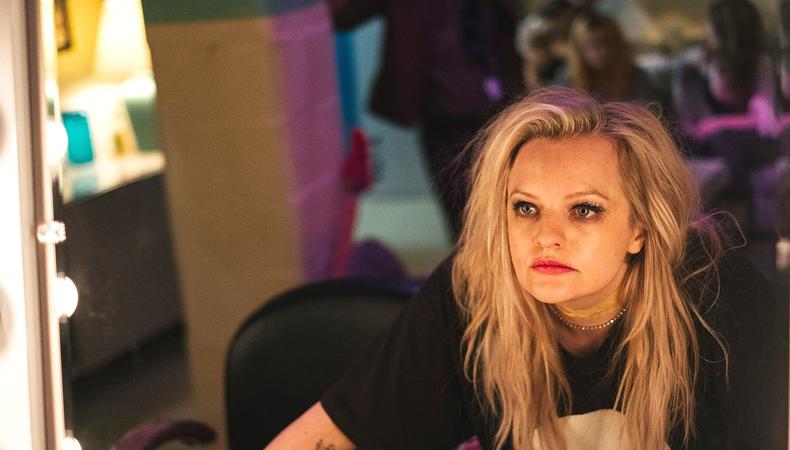 Anyone who's seen her harrowing—and Emmy-winning—turn as June/Offred on "The Handmaid's Tale" knows that Elisabeth Moss is not afraid to go where the proverbial sun doesn't shine. However, her role as a child-bearing slave is comparative light fare to the darkness of her latest big screen role in Alex Ross Perry's "Her Smell."
In the indie project, which is Moss' third collaboration with Perry, she plays Becky Something, the frontwoman of a 90s grunge band who is caught in the throes of addiction.
"The acts almost reflect the different drugs that she's on, and the different highs that she's experiencing," Moss tells the Daily Beast about the film's five-act structure. "I know people always say 'this was a challenge,' but this was actually pretty hard… I didn't want to feel like I'd left anything on the dance floor. I wanted to feel like I'd gone all the way, so I pushed myself as far as I could go."
READ: Elisabeth Moss on the Best Audition Advice She's Ever Received
Elsewhere in the interview, Moss—who has been pegged as the unofficial "Queen of peak TV" thanks to her indelible roles in "The West Wing," "Mad Men," and now "Handmaid's"—speaks to how she's avoided typecasting, as well as how she ensures every single performance (and take) is irreplicable.
"I think that an actor should not be identified as [themselves]; I think that an actor should be able to melt into any role," she explains. "I've approached everything from such a character standpoint that it's so boring to me to do the same thing. I don't even like to do the same thing from take-to-take. I've done takes and had the director come up to me and say, 'Oh, you did something the last time that I really liked, can you do it again?' and my response invariably is, 'Well, didn't you get it? We have that one then. I'm going to do something else now.' It's only interesting for me to find something different."
With nine Emmy nominations to date, it's safe to say Moss may be onto something.