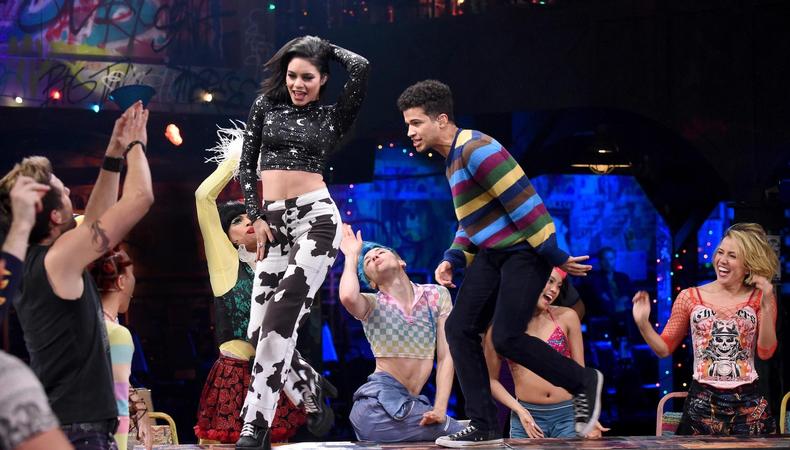 How do you combine the best (and most complicated) aspects of theater, film, and live spectacle, while also respecting some of the most beloved source material of the 20th century? Jason Sherwood can tell you; the Emmy-nominated production designer for NBC's "Rent: Live" used every tool in his arsenal to create a space that was both live and lived-in for the high-stakes production—which is why he is now being recognized for his vision.
How would you describe the work of the production designer?
I think the production designer creates a space for the story, and I think literally and figuratively, takes the story or the music or whatever it is—the source material for the project—and then puts it in space and puts it in a relationship to an audience. That can be about camera, live audience, [or] theater. It can be about anything. Essentially, the production designer creates the space for the story.
In creating that space, I imagine you work closely with the other design departments, right?
Totally. Often, especially on a theatrical project, one of the first collaborations is [between] the director and the production designer or set designer, because the project has been written, or there's a treatment, or there's some form of understanding as to what we're going to be doing, and then it's about figuring out what kind of box that fits inside. Everyone else's stuff needs to fit inside that box, as well, so a production designer and the art department or set designer's team are basically Ground Zero for real estate, and real estate is at a premium in all entertainment ventures. I always say that if I wanted to work by myself, I'd just go be a painter, but the thing that I love about my job is that every single project comes with its own little community of people that you have to get to know and work with and understand, and you learn more from them than anything else.
READ: How to Nail a Live TV Performance
You've designed for theater, on-camera projects, and concert productions; can you speak to the major differences in those venues?
I'm only 30 and I haven't been doing this very long compared to a lot of my incredible colleagues, but the exciting thing about the opportunities I've been afforded so far is every challenge has been really different. The world of theater is all about immediacy and the ephemeral; it's a thing that has to happen in front of you. There's no cheating, there's no post-production, and that was a principle I fell in love with really early on. What I've liked is, even in music touring or big concert gigs or live television shows, the element of what's live has always been important, and that's the thing I will try and hold on to. Working on a feature film, for example, there's so much incredible design work to be done there, but you don't have to make it happen in front of the audience's eyes. Whether you're doing a huge television show or a small theater project or a pop star's tour, they all come with limitations, which is the exciting part of the job to me, because you basically have to take a creative idea and fit it into a logistical box. Sometimes you have to move that box around, like in the case of Sam Smith's tour or the Spice Girls, and that box has to travel from city to city and break up in a certain amount of hours. Across all of them, there's probably more in common than there are differences. Sometimes I have an Arthur Miller play to respond to and the playwright isn't around, and sometimes it's a new play and I can sit across from that person. Sometimes it's a music artist who's written an incredible album but doesn't necessarily know what the overarching visual vocabulary should be, and sometimes it's an awards show, which has to react and be flexible to which talent is going to appear, which shows you're going to honor. There's this wonderful sense of having to wear a whole bunch of different hats, but they're all unified, somehow, by style.
In a similar vein, with something like "Rent: Live," obviously you're working with very well-known source material. Did you have to strike a balance between paying homage to the iconic aesthetic while also designing from scratch for this new production?
Absolutely. I came to the project as a huge fan—I literally could have sung the show forward and backward from the very first meeting—so I was always coming at it from the angle of, "What would I want to see as a fan? What did I want to see when I first heard the show was announced and I wasn't yet a part of it?" I like to say we were sort of looking back while reaching forward at the same time, particularly with the design and the casting. We wanted to take the thing that was inherent about the show's DNA and then bring it forward to a 2019 audience. The [original] musical was presentational on a stage in a proscenium theater, and we conceived a show that was going to be completely 360, so by the very nature of that choice alone, we were going to have to do something different, which was a relief. And luckily, we had [original "Rent" director] Michael Greif there as the director to guide us. On several occasions, I would show Michael something and he'd say, "That's a little too close to what we did originally. Let's throw this kind of curve into it," and it was a really wonderful collaboration in that way.
Is doing a live televised musical production sort of a confluence of all the mediums at once?
Oh, God, yeah. I think it's a big part of why they asked me to be a part of "Rent: Live," because I was working in theater and in music and in television all at the same time, and "Rent" is a rock musical, so it's not straight-up traditional musical theater. It's the best parts of all of those things—and the most complicated. Sometimes with a really fun, flashy pop performance on something like the Video Music Awards, you can just serve up spectacle; sometimes with a theater piece, you can just deliver the drama. But this is a narrative piece, a play that won the Pulitzer Prize and the Tony Award and was hugely beloved that we had to fit into the live television format, which meant commercial breaks and camera and lighting. How do you accommodate all of those logistical challenges? And then the whole thing still had to land in the gravitas of the story. It's about the AIDS crisis, [and] there's a huge responsibility to nail those details. It had to be narrative and spectacle and showmanship and live and beautiful, and at some points, very bare and stripped back, so it was a huge intersection of all of those interests, and also all of those challenges.
READ: How to Become a Musical Theater Actor
As a production designer, what are the ways you work with actors in general?
Particularly on "Rent," one of the most interesting things is that we spent five months designing and building and installing the set, and then, at the end of that five months, we had a full four to six weeks where the actors were on set, in the space, and we were all there every single day, collaborating on what needed to change, how to make the whole thing feel lived-in. For example, for Mark and Roger's loft, [the actors] Jordan Fisher and Brennin Hunt and I had a ton of conversations about what would be there musically for Roger's character and the kinds of posters Mark would have had of film festivals, where the table would have been. There was so much back and forth, letting those actors make sure that they feel like they've lived in those spaces. The song "Out Tonight" takes place as Mimi descends a fire escape, and in the feature film, she was going about her daily routine working at the Cat Scratch Club as a dancer. But in our show, we wanted it to be like she was getting ready for a night out and then she traveled to Mark and Roger's, which is really just downstairs. We created this little vignette, this little diorama box of her apartment, and Tinashe [who played Mimi] and I spent a bunch of time looking at what was gonna be in there, what was gonna be on her vanity table, what she wanted to use at the beginning of that song as she finished getting dressed. It was a huge collaboration, making sure these actors could be these characters who were in fact very real people, and letting that all feel as textural and real as it possibly could.
Do you encourage actor collaboration when it comes to set and production design?
Yeah, especially for a show like this—a show that is rich in objects and rich in history. Often, when there's a lot of clutter on a set and a lot of objects, I encourage people to bring in something of theirs that would be unobtrusive, to just let it be a thing that they can sort of touch on the set. I designed a show called "The View Upstairs" a few years ago Off-Broadway, and that took place in this very, very cluttered and eclectic gay bar in New Orleans, and everyone [brought] a family photo or object to set. It's a nice way to personalize things. They have to do the show on it eight times a week or rehearse on it for six weeks, so any small touch that can make it feel more personal for them just makes it better for everybody.
This story originally appeared in the Sept. 12 issue of Backstage Magazine. Subscribe here.