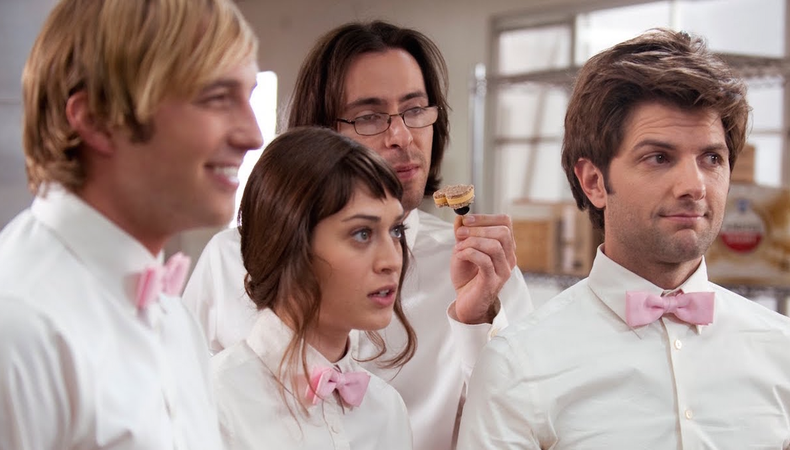 Welcome to Rumorville! Here you can learn about casting news that's about to break in Hollywood. These speculations might be only rumors, but that doesn't mean you can't follow the trail all the way to the audition room.
"Party Down"
The party is back on: a new version of "Party Down" is in the works at Starz. The series will come from the original creative team, including Rob Thomas, John Enbom, Paul Rudd, and Dan Etheridge. The original two-season cult comedy ran from 2009–2010 and followed a group of actors who move to Los Angeles to make it big but end up working as caterers. Adam Scott, Ken Marino, Ryan Hansen, Martin Starr, Lizzy Caplan, Megan Mullally, and Jane Lynch starred in the original series. While it's not clear who in the cast will return, a handful are publicly on board already: in 2019, Vulture hosted a reunion retrospective for the show and, according to Thomas, they had such a good time that they wanted to find a way to get the team back together again. "The cast is so busy these days that finding a window where we can do it may require trigonometry, but we're determined to make it happen," he continued. Enbom will serve as showrunner on the potential six-part limited series. The original series casting directors were Anya Colloff and Amy McIntyre Britt, but a casting team for the revival has yet to be made public.
Superman Warner Bros.-DC Feature
It's a bird, it's a plane: first reported by Shadow and Act, author Ta-Nehisi Coates is writing a Superman reboot feature for Warner Bros and DC. The film is very early into the development process with no start or release date targeted, but J.J. Abrams will reportedly produce the feature under his Bad Robot banner. Coates has previously written a "Black Panther" and a "Captain America" series for Marvel Comics so he has plenty of experience in the superhero universe. No director is attached, nor is a star. As we reported last May, most recent Superman portrayer Henry Cavill was in talks to return as Clark Kent in an upcoming DC Comics-Warner Bros. movie, but we haven't heard anything new on that project since. This would be the latest Superman-focused pic following 2013's "Man of Steel" and 2016's "Batman v Superman: Dawn of Justice."
"Clean Slate"
Another Norman Lear project is seeing new life. The writer-producer's Act III Prods. and Sony Pictures TV have put a reboot of the classic comedy "Clean Slate" into development at IMDb TV, starring Laverne Cox and George Wallace. The new take will center on car wash owner Henry (Wallace), whose estranged child (Cox) comes home to Alabama after 17 years and has since come out as trans. Dan Ewan will serve as executive producer and showrunner on the half-hour comedy, wrote the pilot script, and came up with the story with Cox and Wallace. The series would join the list of recent series remakes in the Norman Lear catalog, including "One Day at a Time" and "Good Times," as well as the recently announced "Mary Hartman, Mary Hartman," starring Emily Hampshire ("Schitt's Creek").
"The Echo Wife"
First reported by Deadline, Annapurna has optioned the rights to the bestselling Sarah Gailey novel "The Echo Wife" to be adapted into a feature film. The novel follows Evelyn Caldwell, a brilliant scientist at the top of her field in clone development when she discovers her ex-husband Nathan stole her research to create her genetic replica. Gailey will executive produce the project alongside Annapurna. No casting or creative team has been announced.
Looking for remote work? Backstage has got you covered! Click here for auditions you can do from home!