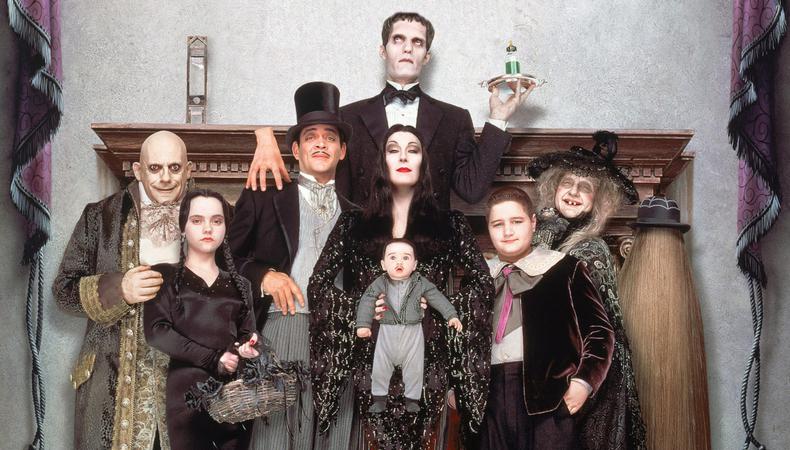 Welcome to Rumorville! Here you can learn about casting news that's about to break in Hollywood. These speculations might be only rumors, but that doesn't mean you can't follow the trail all the way to the audition room.
"Addams Family"
They're all together ooky, and they be coming be back to your TV screen! Just in time for Halloween, we received the news late last week that Tim Burton is looking to develop a new "Addams Family" series. According to Deadline, the famous filmmaker is negotiating to executive produce and potentially direct all episodes on a new take of the family. While not confirmed, sources say the live-action series would be set in the present and be from the perspective of Wednesday Addams. "Smallville" developers and executive producers Alfred Gough and Miles Millar would be head writers on the show and serve as showrunners and executive producers alongside Burton. This would be Burton's first foray into television, as well as a return to the medium for the Addams Family. No casting or timeline has been announced. Susie Figgis has been Burton's longtime casting collaborator, but whether he will work with her on this project will be announced further along in development.
"Maestro"
The cast of "Maestro" is getting stronger. "Succession" star Jeremy Strong is reportedly in negotiations to land his next role in the upcoming Leonard Bernstein biopic "Maestro" starring and directed by Bradley Cooper. Strong would play Bernstein biographer John Gruen, a critic for The New York Herald Tribune and New York Magazine who wrote the authorized biography "The Private World of Leonard Bernstein." As we previously reported, Carey Mulligan was recently cast as Felicia Montealegre Cohn Bernstein, the wife of the legendary composer, opposite Cooper's Bernstein. Cooper co-wrote with Oscar winner Josh Singer ("Spotlight"). "Maestro" will begin shooting next spring. Read our recent cover story on Strong here!
"Moon Knight"
From the pilot seat of "Star Wars" heading across the hall to the Marvel Cinematic Universe, Oscar Isaac is keeping close by at Disney for his next role. According to Deadline, the actor is in negotiations to star as the eponymous Moon Knight in a Marvel and Disney+ series based on the comic book hero. Jeremy Slater ("The Umbrella Academy") has been tapped to develop and lead the writing team on the series for the streamer, and the project is seeking a director for the pilot and more episodes of the series. Marvel had no comment and a production date has yet to be set, but be sure to keep an eye on Marvel veteran casting director Sarah Finn for some potential leads.
"Ginger Snaps"
First reported by Deadline, Sid Gentle Films, the producer behind the hit series "Killing Eve," is teaming up with Copperheart Entertainment, the producers behind cult horror films "Ginger Snaps" for a TV series adaptation of the latter trilogy. Anna Ssemuyaba ("Guerilla") will write the potential series, which tells the story of sisters Ginger and Brigette, who are self-imposed outcasts in their hometown where, on the night of her first period, Ginger is attacked and infected by a werewolf, unleashing a monstrous kind of puberty. The project is executive produced by John Fawcett, co-creator and director of the original film, as well as the co-creator and executive producer of "Orphan Black." No casting team has been announced, but "Orphan Black" team Forrest and Forrest or "Killing Eve" team Crowley Poole may be worth watching.
"Assassin's Creed"
Another major video game franchise may soon get an official screen adaptation, as Variety reports that a live-action "Assassin's Creed" series in development at Netflix. Part of a deal between the streamer and game developer Ubisoft to develop content based on the best-selling franchise, which will include live-action, animated, and anime projects. It's one of several projects Ubisoft is in partnership on currently: Netflix will also produce a "Splinter Cell" anime series, a film adaptation of "The Division" starring Jessica Chastain and Jake Gyllenhaal, and a continuation of the Ubisoft animated series "Rabbids Invasion." (Over at Apple, Ubisoft also produces the live-action series "Mythic Quest.") A hunt for a showrunner is currently in progress with Ubisoft Film & Television's Jason Altman and Danielle Kreinik set to serve as executive producers.
Looking for remote work? Backstage has got you covered! Click here for auditions you can do from home!