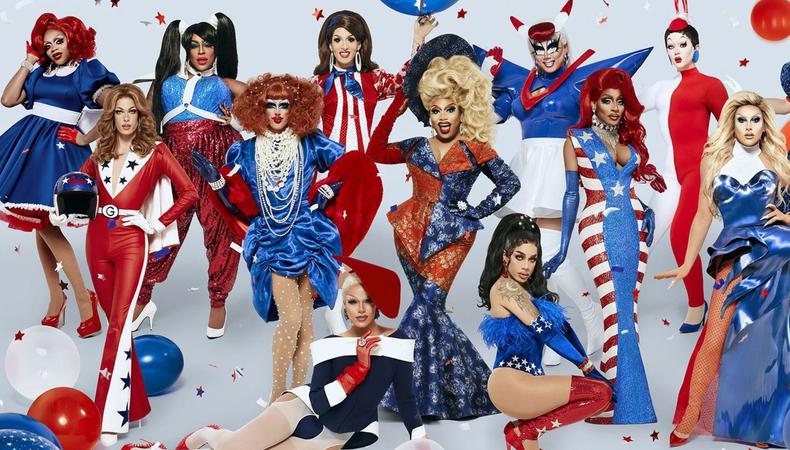 More than a decade into its run, VH1's (formerly Logo) "RuPaul's Drag Race" is bigger than ever, as evidenced by its 13 Emmy nominations for the 2020 awards. The series has inspired fans to become contestants and showcased stories that wouldn't have a place on television if not for what is at its core an unscripted competition show. It's no wonder, then, that the casting process requires queens to show they have all of those skills that will be featured in the series—a name, a look, a skill, the ability to compete in a range of challenges against the other contestants, and more. The show's popularity brings the search to another level, with thousands of hopefuls applying each year. Casting directors Goloka Bolte and Ethan Petersen, who have made their careers in unscripted casting on shows like "Million Dollar Listing" and took over casting duties on "Drag Race" Season 6, and whose work earned a nomination for Outstanding Casting for a Reality Program, share the challenges, triumphs, and tips for becoming a chosen queen.
What's the casting process like for "RuPaul's Drag Race"?
Goloka Bolte: It's amazing that the show has become so popular. It means that when we announce casting, within moments it is all over the community and people are abuzz. "Drag Race" has a very unique application process. The queens have to make a casting video that tells us who they are, shows us their skillset, and also includes a few challenges to help give us an idea of their creativity and how they would do on the show. And then the really fun part is that we get to watch all of the submissions and do a really deep dive and find queens who have the potential to be strong competitors and who bring something fresh, unique, and authentic to the table. The videos are incredible. The talent in the drag community is really outstanding.
Ethan Petersen: At the same time, in the audition videos they are telling us who they are and the obstacles they've had to face and overcome, which make them such strong characters. That's something the audience truly responds to. People watching the show relate to these queens. It helps these people feel included and like they can be better people because of these stories they're seeing on television.
What does your side of the process look like?
GB: We always say that we're looking for the quintuple threat or more. Can they do character? Basic choreography? They have to create a look, act, be funny. They have to have the ability to reinvent themselves, to meet the challenges on each episode. And most of all, be their true authentic selves and show the vulnerability that is such a staple of "Drag Race" and one of the things that makes it really magical to watch. We get thousands of submissions every year. We really look at the people who have all those different skills that you need to be a strong competitor. Who's doing something that we've never had on the show before? Or who are people that we've been tracking and watching throughout the years and this is their moment, they're finally ready? We cull it down to a bigger list, we start watching the videos together, and then narrow it down to the people we want to present to RuPaul and the producers at World of Wonder.
"We always say that we're looking for the quintuple threat or more. Can they do character? Basic choreography? They have to create a look, act, be funny. They have to have the ability to reinvent themselves, to meet the challenges on each episode."
EP: We do see the queens grow. A lot of the same queens apply year after year. It is great for us as casting directors to watch them grow and to see their drag morph into something bigger and better. That's definitely a factor that we look at when we're watching the videos. We always go back to previous seasons just to see their growth.
What are some examples of that growth?
EB: Sometimes the growth is that the person is a huge performer but they haven't really perfected their makeup or the look yet. Sometimes it's somebody who looks incredible but needs to work on their performing and their lip-synching abilities, or their ability to create a character for a Snatch Game. There are multiple avenues of growth and multiple things we're looking for. The story's a little bit different for each queen.
Are you ever doing research on queens in addition to video submissions?
EP: Of course, that's our favorite part—going to drag shows. It truly is a yearlong process. Casting is only open for a certain amount of time. However, during the year, we are always looking at who's performing online. People we know in the community are always sending us names of girls that we should look out for. We're always stalking Instagram. When casting starts, we make sure all these queens we've been watching know that casting is open.
GB: We'll keep a running list throughout the year.
EP: We do also get queens that submit for the first time and we're just blown away and they get on the show.
What makes this job unique from other projects you've worked on?
EP: Speaking as a gay man, it's a show I'm so proud to be a part of because of the stories of kids that watch the show that have come out of the closet and their parents accept them. To hear those stories from people firsthand, I tear up sometimes. There's no other show I've worked on that's had that effect on young people.
GB: What's really different about this too is that when we're casting other projects, we're looking for maybe a big personality or a unique story or one specific skill. Here, we're looking for these incredible, authentic characters, but they really have to have so many layers and be so well-rounded. We're looking for so many different things from each cast member. It's very different from any other show that we've cast.
What are the challenges of casting "Drag Race"?
GB: Whittling them down is probably the hardest thing. We want them all to be on. We get really invested in the queens.
EP: For any reality show, it's like putting a puzzle together. There has to be a certain amount of pieces that fit in every season. It's figuring out what that puzzle is going to look like. That's the tricky part with "Drag Race."
Is there an in-person audition component?
GB: It's all the video. With the amount of different things that we need to see from people, we just couldn't do it in person. We need to give them a chance to really highlight their performances, the things that they can do, and show their creative chops, even in just making the video. It's almost like the first challenge of the show.
RuPaul on how not to 'give a f*ck' about auditions.
How does unscripted casting differ from scripted?
EP: With scripted casting there's a script and they're creating a character. We're relying on the real story from people, their expertise, their background, how they do as true storytellers, and how vulnerable they are. That's what we're looking for.
GB: I think unscripted casting is a little bit more like investigative journalism. We will get a directive from a client that's like, Find us a person that has this story, that has this dynamic with their mother, and is looking to buy a house. There's no website that you can post that breakdown on, really. We have to dig into different communities and figure out creative ways to find the stories. It's incredibly challenging in a very different way than scripted casting.
What advice would you give to someone who might consider replying to an unscripted casting call?
EP: We want the people that feel like, Oh, I could never be on television, because those people have amazing stories sometimes. In reality television, unscripted, that's what people really respond to, people with very unique lives and stories. We actually enjoy interviewing people who have never done this before. It's our job as the casting directors to make them feel comfortable during the interview process, to open up to us, a complete stranger.
GB: I also think that when you're going through the application process, put yourself out there. If you're filling out an application, tell your story. Share about your personality, tell us funny stories. Some people really half-ass them. It's unscripted TV. We want them to be themselves. You can't be a fake character throughout an entire TV show, so be yourself, or be you after a really strong cup of coffee—the energetic version of yourself when you're set up for an interview. If you're kind hearted, show that side of yourself. And if you're loud and over the top, bring it on. We're ready.
"For any reality show, it's like putting a puzzle together. There has to be a certain amount of pieces that fit in every season. It's figuring out what that puzzle is going to look like. That's the tricky part with "Drag Race.""
What can someone expect from an audition with you?
GB: Come and be ready to tell your own story. A casting director will put people at ease in a good unscripted interview. We like to keep it light and fun and get them talking, and then we move around and get the soundbytes that we need to craft their story. It's about opening up, being yourself, wearing your heart on your sleeve, and telling us all the things about you. Let your guard down, get excited about the process, and have fun with it. The more you do that, the better the interview we get, the more likely they are to get cast on the show.
EP: And for so many shows, we always start the interview process with, "This might feel like a therapy session but it's a good thing, just open up to us."
What don't you think people know about what you do in casting unscripted TV?
GB: A lot of people do submit for "Drag Race," but for other shows, we have to scour the country for people. So much research goes into it, from cold calling to social media to every possible thing that you can think of, like a friend of a friend, someone back home. We will exhaust every avenue to find a cast. It is actually really, really hard work, not just asking for people and having them apply. But it's also a really fun process. You meet a ton of fascinating people. You never know who's gonna end up, nowadays, on your computer screen, for an interview. It's cool and exciting and we've really gotten to learn so much about so many different people
Apply for reality TV casting calls right here!