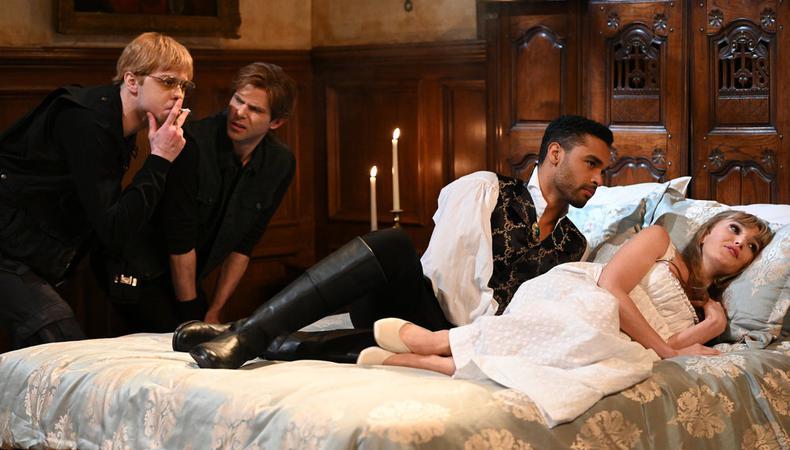 Intimacy coordinators have become so common on film and television sets that "Saturday Night Live" even had a skit about it. In response to the growth of the field, SAG-AFTRA has announced that it will create a registry for intimacy coordinators, where any producer can easily find an intimacy director for their productions. SAG-AFTRA will begin taking submissions for applicants to the registry from Aug. 1 to Oct. 1.
The union also announced that it is also providing accreditation for intimacy coordinator training programs, creating an industry standard for educating this crucial new production role. Programs can submit their curriculum for accreditation from May 1 to July 31, to [email protected].
SAG-AFTRA will also sponsor an annual intimacy coordinator conference.
The announcements were made at an April 29 press conference. "We're unveiling the first industry-wide accreditation for intimacy coordinator training programs, and a registry that will create a pipeline of experienced professionals in this growing field," said SAG-AFTRA President Gabriel Carteris at the event, who talked about how when she started in acting 36 years ago, directors would ask her to take her shirt off in auditions so they could assess her breast size.
Said Carteris, "Intimacy coordinators provide an important safety net for performers working in hyper-exposed scenes. And I can tell you, from personal experience, how valuable this role is."
Indeed, a number of actors have publicly praised having intimacy coordinators on-set. In an interview early this year with Backstage, "Bridgerton" lead Phoebe Dynevor talked about how valuable it was to have an intimacy coordinator to help choreograph the sex scenes in the hit Netflix show. "I felt so safe," she said. "You're rehearsing it so that everyone feels comfortable and that there's no one that can ever get crossed because you're very specific with what you're doing. And also, it just makes everyone feel comfortable, not just the actress, but the actor, and the crew members."
An advisory group of intimacy coordinators will oversee SAG-AFTRA's registry and accreditation system. To be a part of the registry, intimacy coordinators will need to work a minimum of 60 days on a SAG-AFTRA-covered production in 2021. That minimum will increase to 75 days in 2022 and 100 days of experience in 2023. Intimacy coordinators must submit proof of training and a background check.
There will also be a pre-registry list of intimacy coordinators who have been trained but who have not met the required work days. The minimum work experience for the pre-registry is 25 days.
"I'm so proud to continue working with SAG-AFTRA to advance this important profession and preserve the safety of actors around the country," said intimacy coordinator Alicia Rodis at the press event. "SAG-AFTRA registry system of trained and experienced intimacy coordinators will serve as a resource for employers, while maintaining the integrity of the position."
Rodis is the intimacy coordinator for HBO studios. She estimates that up to 70 intimacy coordinators will be on the registry, which will launch by the end of the year.
There's also requirements for training programs that want to submit themselves to SAG-AFTRA for accreditation. The stipulations include 75 hours of training and SAG-AFTRA must approve the syllabus. The list of accredited programs is expected to launch later this year.
"The intimacy coordinator training accreditation program is going to allow those who are interested in training to become intimacy coordinators to identify qualified training programs with robust curriculum, and also trainers with really deep professional experience in the field of intimacy coordination," said intimacy coordinator Amanda Blumenthal, who is the founder of Intimacy Professionals Association and has worked on the television shows "Euphoria" and "The Affair."
"Just like how schools must meet certain standards in order to receive accreditation, either from a state or a private accrediting body, we are setting up a system that will vet the quality of intimacy coordinator training programs."
These new initiatives are part of SAG-AFTRA's ongoing work with intimacy coordinators. Last year, SAG-AFTRA released a standard for intimacy coordinator training. Carteris said that the union wants to help expand the field.
"We are charged with the fact that there are not enough ICs," she said. "So we made a commitment as an institution to our members, as they started to share their stories, that we would help to expand and standardize a role that was growing—so that would not only expand but have a bar of expectation, allowing it to ultimately flourish and be embraced."