We're sitting in a breezy home in the Hollywood Hills on a sunny afternoon. Syd's wistful R&B song "Missing Out" is playing in the distance. My interview with Sanaa Lathan begins, surprisingly, with her asking me questions about my passions, tattoos, and upbringing. She's effortlessly disarming and naturally open, and though I'm usually a bit guarded, I get to talking. It's a talent, getting someone to open up to you so quickly, and Lathan's curiosity feels genuine. Her passion for the screen—apparent in everything from her performances in "Alien vs. Predator" and on HBO's "Succession" to her upcoming directorial debut "On the Come Up"—is driven by her love of people and their stories.
Lathan's incredible career is a love letter to storytelling, most obviously in her best-known film: She made hearts swell as a star-crossed lover opposite Omar Epps in the 2000 romantic drama "Love & Basketball." I was 9 years old when I first watched my mom's VHS copy, and though I didn't yet know what love, sacrifice, or heartbreak felt like, I could see it etched on Lathan's face. That's the power of a good movie—and a good actor—and it's what she brings to every role.
In her 26 years in the industry, she's starred alongside Eddie Murphy, Martin Lawrence, and the late Bernie Mac in 1999 comedy "Life"; Taye Diggs in 2002 rom-com "Brown Sugar"; and Denzel Washington in 2003 kidnapping thriller "Out of Time." She earned a Tony nomination in 2004 for her portrayal of Beneatha Younger in "A Raisin in the Sun." And though she's a Hollywood veteran, she's only just now getting her flowers. Lathan recently received her first Emmy nomination this year for her guest role on "Succession," and "On the Come Up" is set to debut at the Toronto International Film Festival, one of the world's premier fests.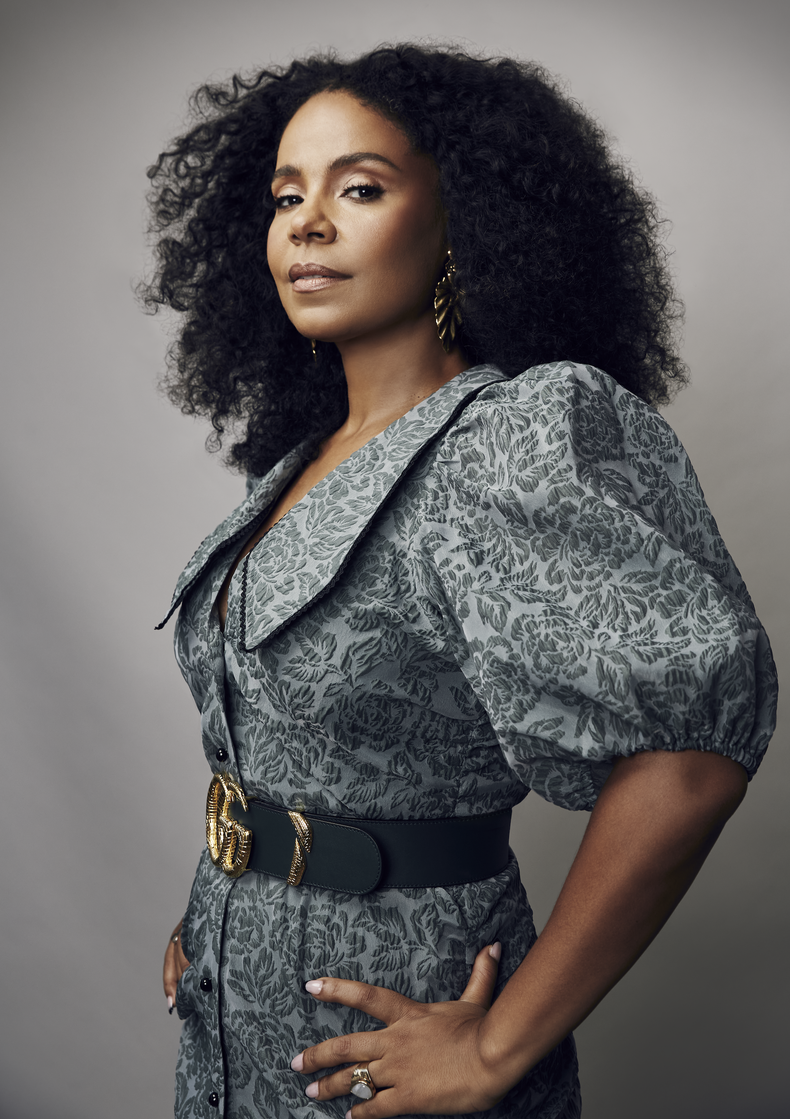 Thanks to her family, Lathan was basically born into the industry; but she didn't want any part of it for a long time—and she certainly didn't have a desire to step behind the camera. "I was just around it, and it was all I knew," she says. "I wanted to do the opposite, because it wasn't cool. Whatever your parents do, you want to do the opposite."
Her father is Stan Lathan, who directed episodes of beloved sitcoms like "Sanford and Son" and "Moesha," and produced comedy specials for Dave Chappelle and Def Jam. Over the course of his 50-year career, he's earned three Grammys, three Primetime Emmys, a Tony, a Peabody, and six NAACP Image Awards. Her mother, Eleanor McCoy, is an actor and dancer who toured the world with the iconic Alvin Ailey company. She performed in the original "The Wiz" on Broadway and in the musical "Timbuktu!" alongside Eartha Kitt.
Lathan recalls running around during one of her mother's performances at an early age. "Somehow, I got away from whoever was taking care of me backstage. My mother was in the chorus, dancing for a live audience. And she looks at me, and I'm like, 'Mommy!' and I rush to the stage. But just as I step on that stage, the manager whisks me up," she says with a laugh. "I almost made my Broadway debut much sooner."
Her parents' dedication to their craft sometimes made Lathan feel like a "latchkey kid," as she was often left in the care of relatives. Though her family put her in acting and dance classes, the appeal of performing soon wore thin. By the time she went to college, she says, "I was really interested in getting my English degree. I [also] had the idea of being a lawyer. I wanted to do something that was different." She continued acting in her spare time, unwilling to dive in fully, but reluctant to give it up. After earning a BA in English from the University of California, Berkeley, she was swayed by an undergrad professor at a theater workshop to apply to Yale's David Geffen School of Drama; she got in.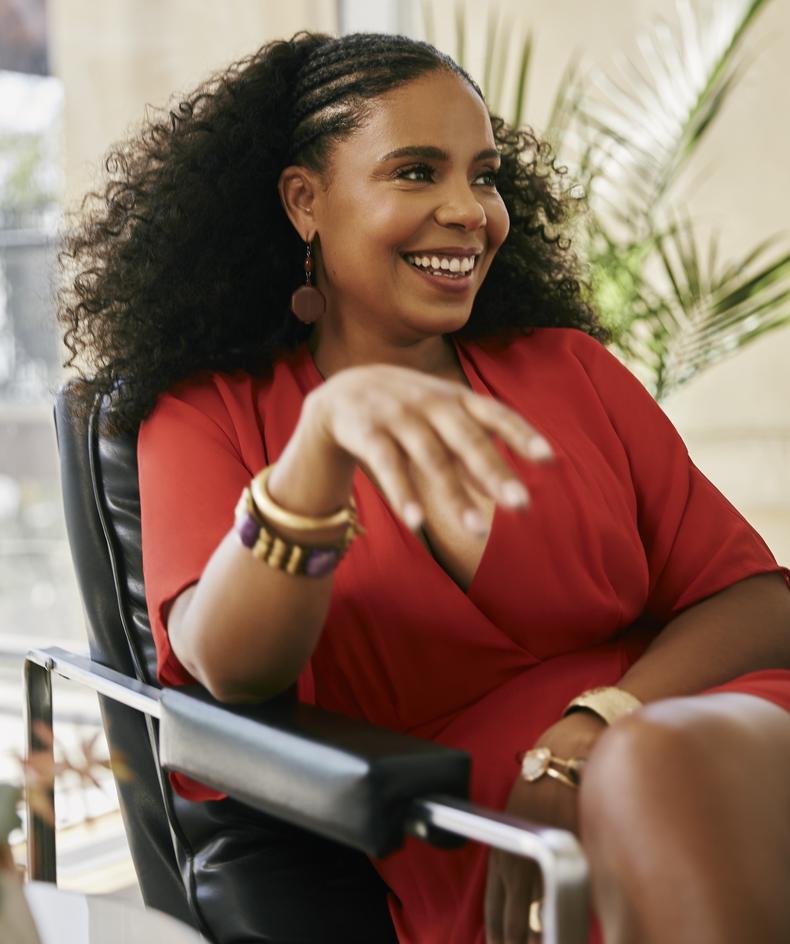 Growing up, she saw firsthand how brutal the industry could be, chock-full of heartbreak and rejection; but for her, getting an MFA in drama made her aspirations feel sturdier and legitimized the idea of pursuing a career in the arts. Once she graduated, she went all-in on an acting career. She landed guest spots on "Family Matters" and "NYPD Blue" before making her feature film debut in 1997's "Drive," a straight-to-video kung fu thriller starring Mark Dacascos and the late Brittany Murphy.
Lathan's career trajectory was full of hard right turns; but now, she's grateful for that path. She believes that every single aspect of her life informs her craft, especially when it comes to bringing a person to life onscreen. A deep immersion into her characters' worlds is a key part of her process. "I overprepare," she says. "Once you have the character inside you, then you're free to play on set."
She'll spend weeks or months reading and listening to stories and music—anything that will help her understand the human behind every role she inhabits. "When I was in drama school, my teacher always said to keep reading," she recalls. "All that acting is sourced from your imagination. The more vivid an imagination you have, [the more it] brings reality to the story that you're telling, and the more the audience will be brought in."
Lathan's progression to directing "On the Come Up" feels like a natural one. The film is an adaptation of Angie Thomas' 2019 young adult novel of the same name, which Lathan fell in love with after she read it. The decision for her to turn it into a movie came easily. "It felt like the right time," she explains. And if "everything informs everything," as she says, then she has been building up to this moment for years.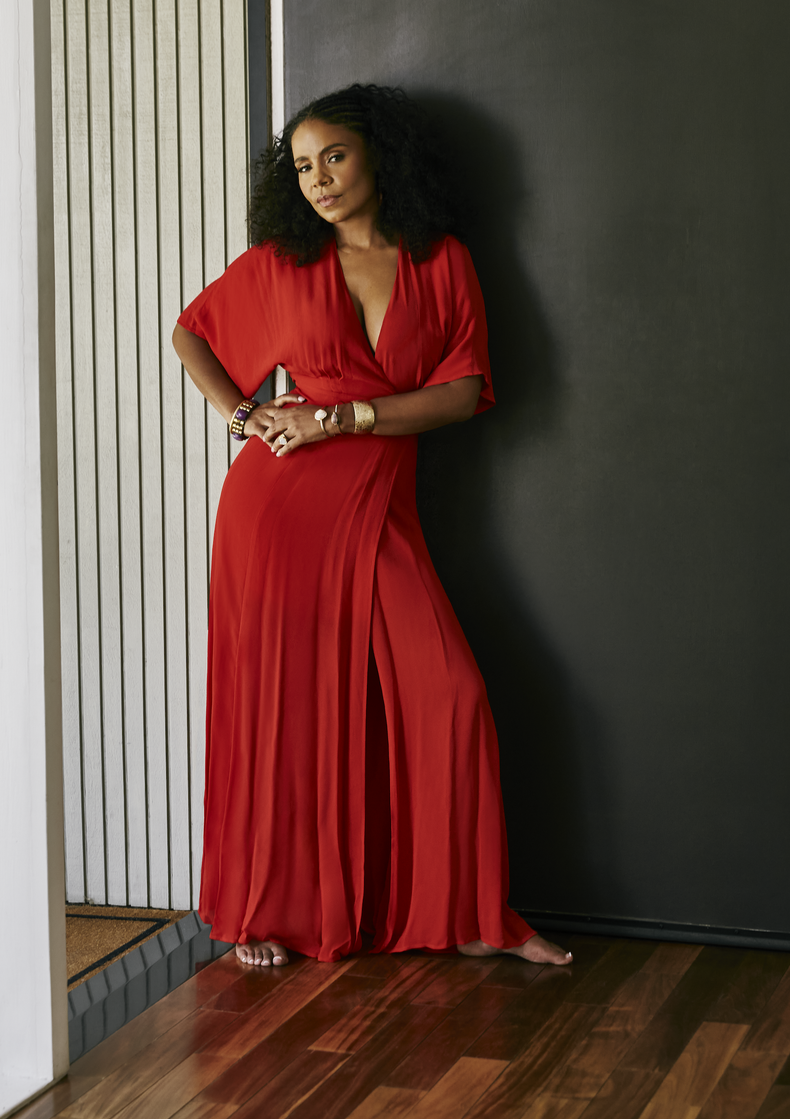 The film centers on Brianna Jackson (Jamila Gray), a 16-year-old aspiring rapper who sees her neighborhood's underground hip-hop competitions as her ticket out of poverty. But finally getting her shot at a recording contract comes with a price, and Bri must make a choice to either play a risky game in the industry that killed her father or try to rewrite the rules for her own career. The film feels both nostalgic and fresh, reminiscent of early 2000s competition films like "You Got Served" and "8 Mile," but from a contemporary—and female—point of view.
Gray says that when she landed the lead role, she "screamed at the top of my lungs. I danced around my house. Sanaa Lathan is Black royalty. It felt really surreal to know I was working with someone I grew up watching. It also felt great to know that I was working with somebody experienced in the industry. It's different when you have someone experienced with directing versus someone experienced with acting and directing. A person who knows how to act can better direct an actor."
In addition to helming the film, Lathan also stars as Jay, Bri's mother, a grieving widow and recovering addict who's trying to repair her relationship with her children. Lathan tapped into stories from her own family to bring the character to life. But switching between directing and acting wasn't an easy process for her. "I'd be thinking about the scene as a director, then hair and makeup would try to whisk me away for an upcoming scene," she says.
Gray confirms that Lathan "had different modes" on set, but both taught the young actor valuable lessons about the industry. "Because she played my mom, she had her mom mode and she had her director mode," Gray says. "Director Sanaa did not play any games. She really pushed me as an actor. Because I came from the theater world, she worked with me a lot to get better with film acting. She actually had rehearsals before we did the film, which is rare. Usually, you just get on set and then immediately meet everybody there [when] you start shooting. But she had me, Michael [Cooper Jr.], and Miles [Gutierrez-Riley] meet up in advance to rehearse some of our scenes together. I also got to do readings with Da'Vine [Joy Randolph] beforehand. It allowed us to build our connection and workflow before we got on set." As an early career performer, Gray appreciated that Lathan "was a lot more understanding as a director and actor. She gave me a lot more time, especially before emotional scenes, to ground myself and really get into it."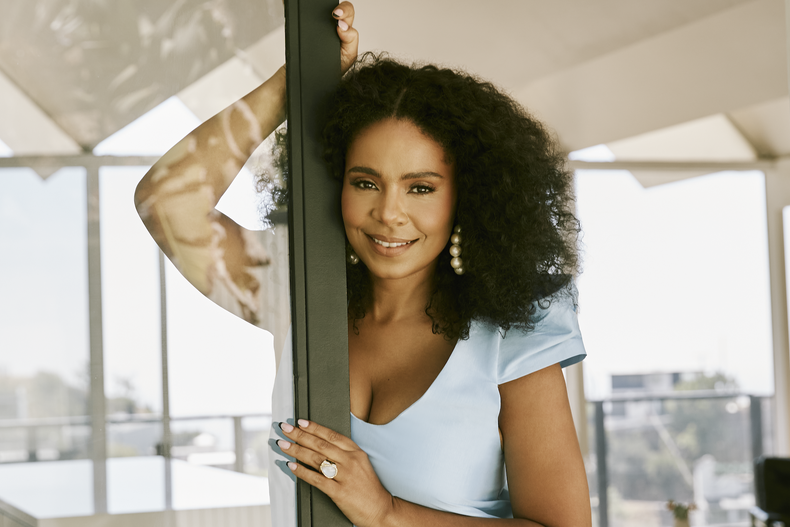 While juggling her dual roles was challenging for Lathan, it paid off: Her heartfelt performance as Jay is stirring to watch, and her empathetic spirit breathes life into the film from start to finish. "I have a bar for myself in terms of the kind of material I want to put into the world," she says. If quality is that benchmark, then the passion and care Lathan has for the story and characters is her way of getting there.
She's also able to switch tones entirely for her work on a very different project: "Succession," one of the most narratively engaging shows on television right now.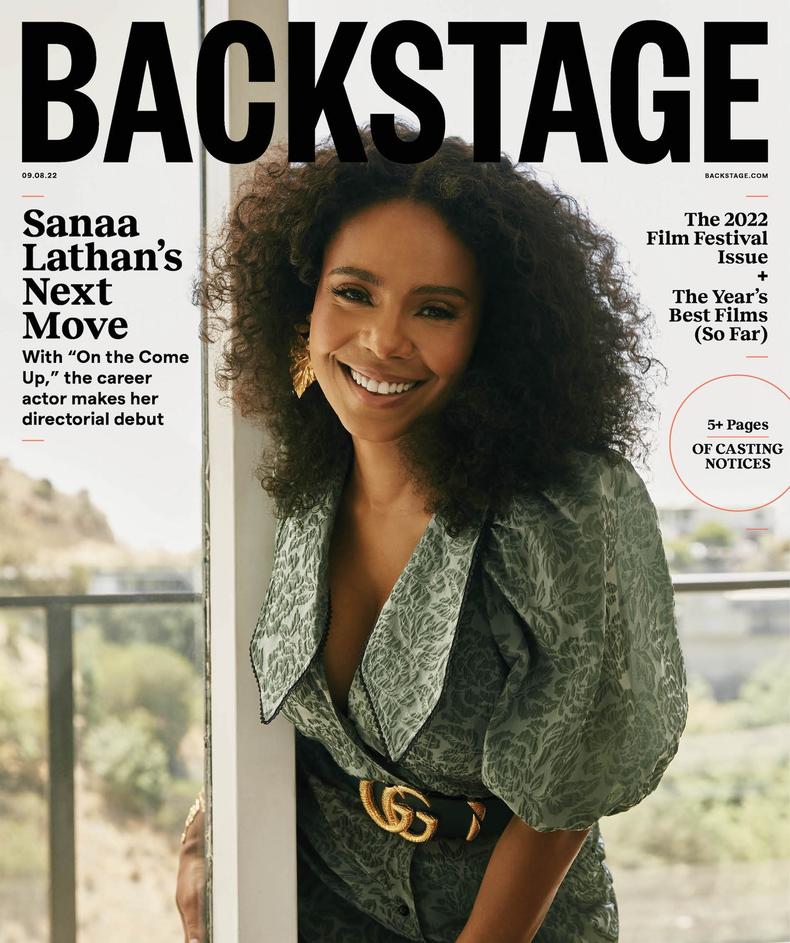 The series follows an aging business mogul and his family as they vie for a spot at the top of his media empire. After filming her guest spot as attorney Lisa Arthur, who plays a pivotal role in the Roy family power dynamics, Lathan largely moved on without thinking much about it. Then, she received the news about her Emmy nomination. "I didn't even know [the show] put me up for it," she says.
When every move in your career is driven by purpose, every project feels important. "I'm a storyteller whether I'm writing a poem or playing a character or directing a movie. That is my destiny in this life. I know that for sure," Lathan says. She's pleased with what she's built, and she's not overly concerned with fame, accolades, or how her work might be perceived by others. She's not out to prove anything to her fans or to the world; she's proving it to herself. This attitude keeps her humble, grateful, and passionate about what's in store.
With that in mind, what's next for her? "I don't know," Lathan says with a chuckle. With her next few months wide open, her mind wanders; but she seems to like it that way. "I used to write," she says. "Any time I go to an astrologer, they're always like, 'You need to write; you have a writing talent.' " The memory causes Lathan to think back on her undergrad years: "I was a really great poet back then."
This story originally appeared in the Sept. 8 issue of Backstage Magazine.