Sarah Snook is a few minutes late to our Zoom—and immediately apologetic about it—but it's for a good reason: She's spent the morning in her "Succession" character's shoes (and presumably her tailored suits and impeccably curated jewelry, too). The acclaimed HBO drama recently began filming its fourth season, and on this particular Friday, the actor has joined the call straight from a costume fitting.
"It's so bizarre—a strange feeling of anticipation, fear, and familiarity," she says of how it feels to step into Siobhan "Shiv" Roy's life again.
"I shot my first scene the other day with Matthew [Macfadyen, who plays Shiv's husband, Tom Wambsgans], and it was a huge scene in terms of intensity—four or five pages, a lot going on. And [doing] that as you first come back was daunting; but doing it with Matthew, it was really easy to get back into the groove." Yet, like a cutting remark from one of the Roys, there's still an edge to it all.
"Every so often, you step out of it again and go, [Gasps] 'Am I doing this right?' " she adds with a laugh.
Legions of "Succession" fans would say yes. The show has nine Emmy Awards to its name and a viewership that delights as much in the Roy family's dynamics as they do in dissecting the drama's commentary on the mega-rich. A few days after this interview, Snook received her second Emmy nomination for her portrayal of Shiv, the lone daughter in the Waystar Royco dynasty; hers is one of a pack-leading 25 nods for the show this year.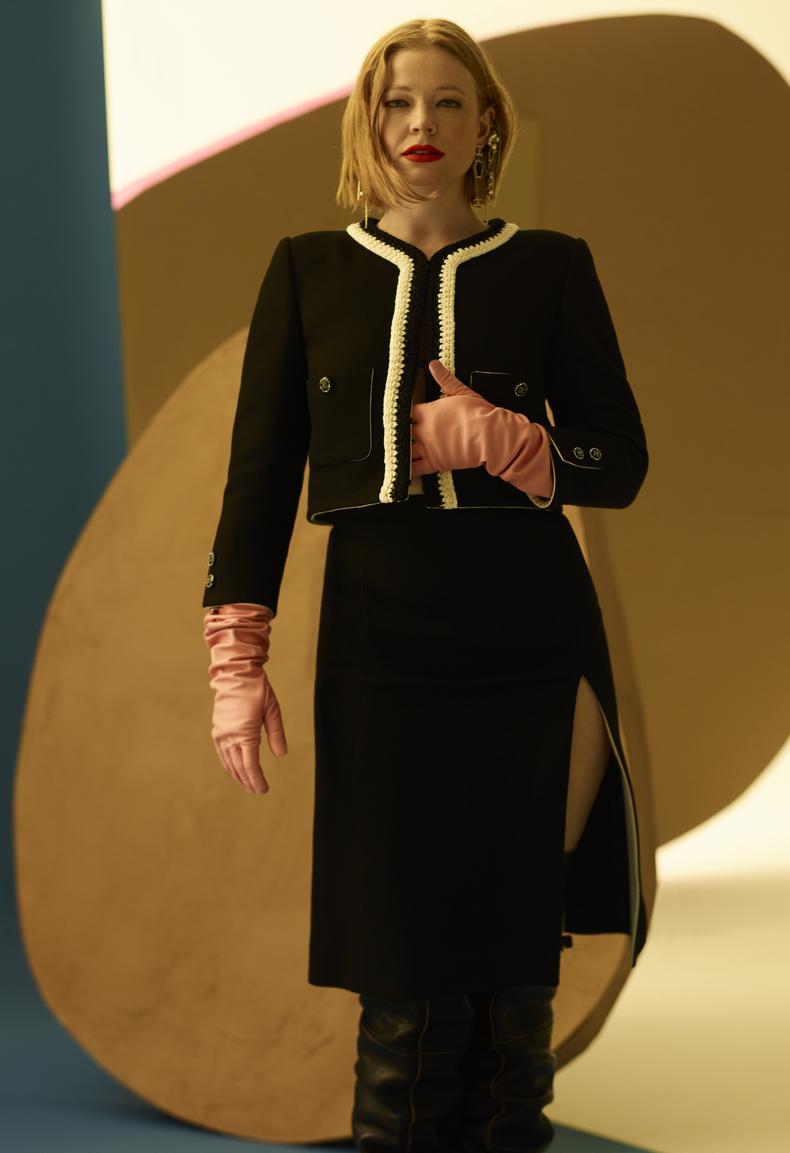 Shiv is a role she's made her own thanks to her studied approach to building characters. It's a mix of training, trusting her instincts, and cultivating the confidence necessary to play a woman who walks into a room like she owns the place—and as Snook points out, Shiv could buy the entire building if she wanted to.
Snook was born in Adelaide, South Australia, the youngest daughter of a swimming pool salesman and an elder-care provider. After high school, she attended the lauded National Institute of Dramatic Art in Sydney, where the actor says she "flew under the radar" but graduated with a wide variety of skills under her belt.
"Having a broad palette of things to choose from is really helpful; [I can] cherry-pick for each particular role," she explains. For some jobs, she'll work more loosely, but for others—particularly on television, where scenes are frequently rewritten or altered—she prefers a more detailed preparation.
RELATED: How to Get Cast on 'Succession'
"What I've found most useful [in those cases] is going through and writing what happens for the scene, and then asking a whole bunch of questions—so that when I come to do the scene, if you're in the moment enough, you're asking those questions and answering them as the character. I found that really helpful for Shiv, and for other roles, too."
That process came out of her work on the 2014 film "Predestination," a sci-fi thriller she starred in alongside Ethan Hawke. In that movie, Snook played both male and female versions of the same character in a story that jumped back and forth in time.
"Each scene had a designated cue card," she remembers. "I would write down at the top what the scene was, and then questions for the scene or where the emotional journey point was for the character, so that you could put them all out of order and they would still work—because the time travel element made it very unstructured in that way. Each [scene] needed to operate as a separate entity but link to everything else."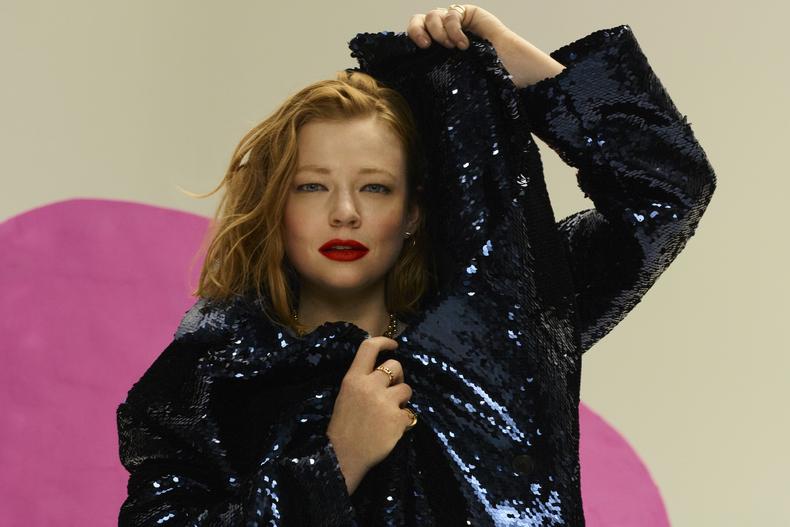 Over the course of her career, Snook has appeared on London and Sydney stages and accumulated credits in projects as varied as "Black Mirror," "Steve Jobs," and "Pieces of a Woman." But many know her best for her role on "Succession." It's a part she initially said no to, citing concerns that a female character could be sidelined in the hyper-male, business-driven world of the show. But the "intelligence of the script," she says, made her reconsider, and she soon realized it was a project that would excite and challenge her.
"It wasn't until we were starting to shoot the pilot that I was like, Oh, I really hope this gets picked up. There's a great team atmosphere here, and it's funny, and I've never been so challenged," she says, noting how she drew on her theater experience, drama school education, and burgeoning TV skills to craft Shiv's backstory and make her a fully realized character. "That feeling [was there] in the pilot, and the opportunity to rise to that for the rest of the season was something I really wanted to do."
"Stand behind whatever decision your character makes, even if it's the wrong one."
Shiv begins the series outside the family business but soon finds herself in the fold. As the show progresses, she matches her siblings (played by Jeremy Strong, Kieran Culkin, and Alan Ruck) in corporate ambition and backroom scheming as they jockey for power—and for the favor of their dad, media magnate Logan Roy (Brian Cox). The complexities of playing such a layered character—quietly calculating and frequently ruthless—helped inform Snook's portrayal.
"A lot of it came from the intimidation of: I've got to be so casual with these lines in an American accent and be a character I feel so distanced from. All those challenges made me stay really still and sort of step back, which actually works for the character really well," she says. "There is a front-foot level about her; but for the most part, I'm just observing—and then that became part of the character. So where I felt a personal shortcoming, instead, [I decided to] just make it a choice and make it work."
Her approach to analyzing a new "Succession" script—which the actors sometimes receive just days before they begin shooting an episode—involves that process of writing out what happens in a given scene and what the questions are for Shiv in each moment. The actor also likes reading the scripts with her husband, Australian comedian and actor Dave Lawson. "It's really nice to talk to somebody about a character we both find fascinating. It's nice to be able to work on something together, but also have to defend or question or change something. It's nice to be able to have another mind [thinking about] a character than just your own," Snook says.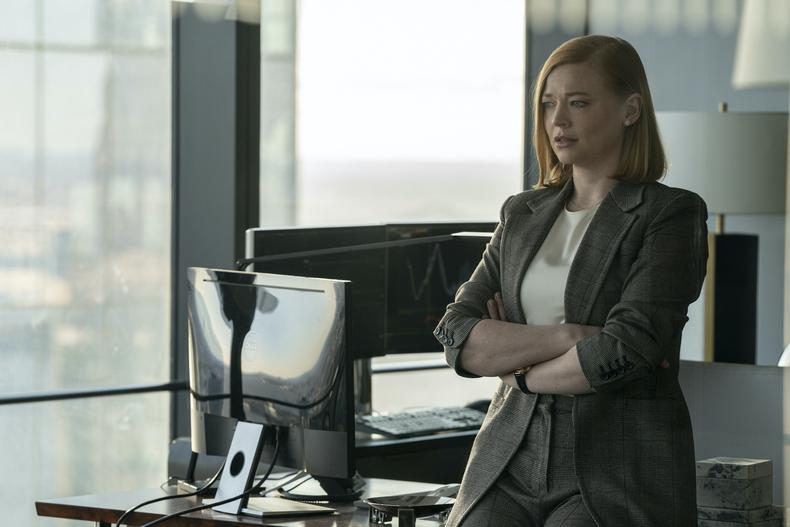 Macall B. Polay/HBO
She does feel like she has to be able to defend Shiv's actions, even when the character makes questionable (and sometimes catastrophic) choices. "Stand behind whatever decision your character makes, even if it's the wrong one. There's got to be a reason that they've done it in the first place," she explains. For Shiv and her brothers, she adds, "there's this mess from their childhood, how they were raised, and where they are now. And the impact their father has—all of that has to be taken into account with every decision."
"Succession" also allows its stacked cast a level of improvisation, or "fluidity," as Snook describes it. That means getting to try out alternate lines the writers may feed in for a certain scene or having the freedom to interpret something on the page. She shares an example: "There's a stage direction in one of the scripts coming up: [Shiv] hangs up the phone and then it says something like: 'Has a physical reaction, does something weird.' And when I read that, I'm like, 'Does something weird?! Oooh!' There's a trust there that goes: Yeah, try something. [The writers] probably know what they might want; but I think there's a trust that we know our characters just as well as, if not better than, they do, and there's a lived-in quality that we can bring to them."
That sense of trust played out on the explosive Season 3 finale. Shiv forms an alliance with her brothers Kendall (Strong) and Roman (Culkin) to block Logan from selling the company; but they soon find out their father has been tipped off and has already made moves to thwart them. The question of who sabotaged them is answered when Tom, the husband Shiv expects to remain loyal no matter how badly she treats him, enters the room with a pat on the back from Logan. It's a gesture no one clocks but Shiv herself. Tom's is a stunning betrayal, and you see the shock of it cross her face before she catches herself and regains her composure.
The way Snook remembers it, the moment was initially written to take place as Logan leaves the room, not as Tom enters; but the order of events changed due to the geography of the space. That switch gave the scene a different tone. "It meant there was a real push-pull dynamic between public and private faces," she says of Shiv's realization and response. "She looks hurt and panicked, and then has to hide it. It's something that she's learned, I think, [from] her father and her brothers. Keep neutral, give the impression of being on the front foot, but stay back so you can observe.
"It ends up working like a play in the end," she adds. "After Tom comes in, it's like: What happens next? Well, let's just keep doing the fallout. What's the next beat, and what's the next beat, and what's the next beat? And try to look for the ending, but [don't] try too hard. Let's just make it happen organically."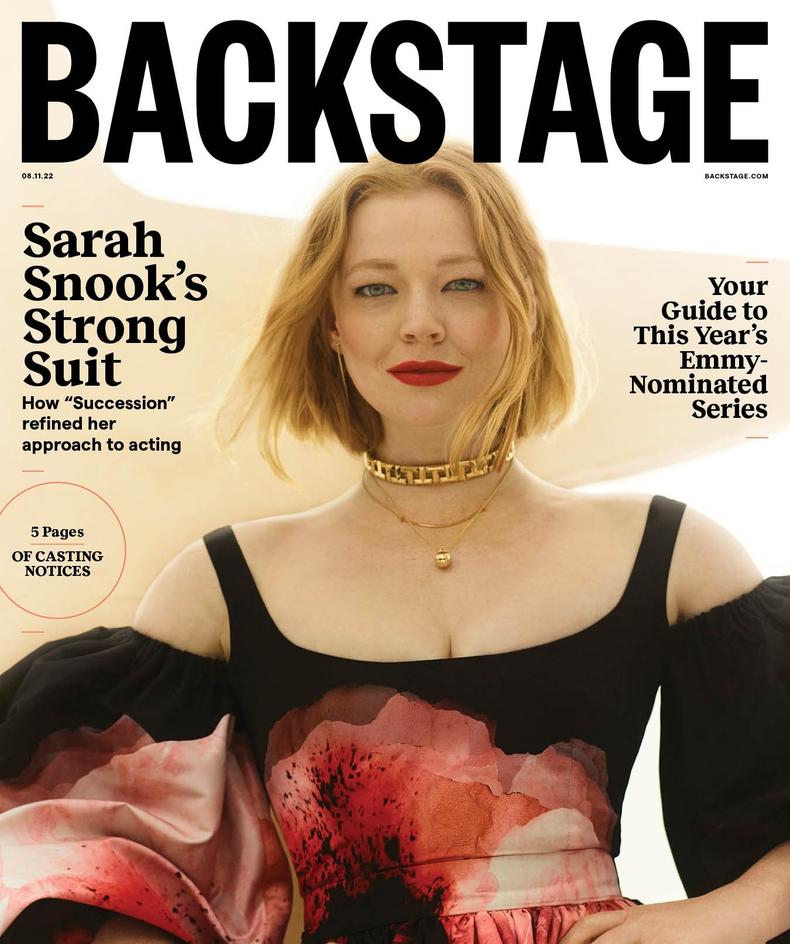 It's a twist Snook did not see coming—"I didn't think he had it in him"—that opens up many more questions that Season 4 will presumably answer. How will Shiv and Tom move forward from here? Will the siblings maintain their united front, or will that crumble? A log line released for the upcoming 10-episode season promises "existential angst and familial strife," which sounds as intriguing as any invitation to a Roy family gathering.
And while "Succession" has given Snook her highest-profile role to date, the things she's taken away from her work on the show run deeper. The experience of playing someone at ease in these high-powered spaces is something she's brought into her own life, in a way that feels less Shiv and more Sarah.
"I used impostor syndrome stuff with Shiv until about Episode 5 in the first season—and that's not an unusual thing for people to feel, for women to feel, certainly in new work environments," she says. "But having a character that feels so allowed to be anywhere…Coming into [that] space is really nice to try on for a day and then take it into the rest of your life in a way that's more accurate to yourself. [It's about] being grounded and saying you deserve to be somewhere, because everybody does. It's just whether you're going to allow yourself to take that space or not." Sounds like something Shiv would sign off on.
This story originally appeared in the Aug. 11 issue of Backstage Magazine.
Photographed by Simon Eeles/Hart and co. Cover designed by Ian Robinson.