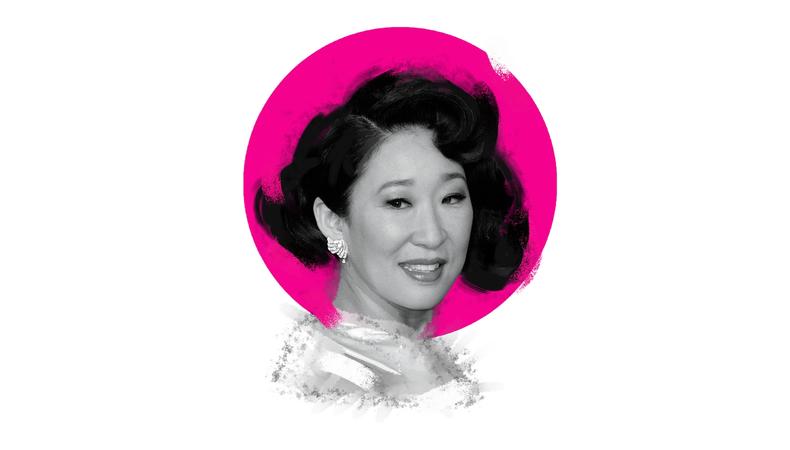 As British government agent Eve Polastri on BBC America's Emmy-nominated "Killing Eve," Sandra Oh serves us danger, tenderness, and obsession all in one. Combine that with the breakneck tonal shifts of the series' airtight scripts, and the series' two seasons have proven just the thing to highlight exactly what Oh is capable of. Sitting with Backstage, she reflects her brutal auditioning days, her advice for working actors, and what you can take from Beyoncé's "Homecoming" Netflix documentary.
The Interior Life of Sandra Oh
What one performance should every actor see and why?
Right now? Hello! Beyoncé's "Homecoming." Any performer, of any kind—watch that shit. Particularly for the stage, you see embodiment in such a huge way. You see she's resonating and moving very far, and I'm really fascinated by that. It's about what she knows; how she understands scale, how she understands the camera. But mostly, it's the body—walking into the clearest channel possible so you see all these movements. Their bodies are reverberating with this power. It's just a beautiful reminder of how important it is, how powerful it is, and how we're just telling stories through our bodies. To see all these black bodies with so much power… I don't have enough words for it. It's strength and power, but not only that—it's joy and communion and healing and discipline. I'm all about it.
What's the craziest thing you've ever done to get a job?
There's a lot of crazy I honestly can't put on the record! But the craziest and most demanding are the places you go in your head and in your spirit. I would say, right now, "Killing Eve" is at the height of the challenge.
How did you get your first big break?
I remember it so well and I remember the feeling of hearing about it. It was right after my first year in theater school. I lived on the East Coast, and my sister lived on the West Coast, and there was an ad in the paper in Vancouver that read, "Open Call Auditions for Young Asian Women Age 17–23." A friend of my sister [told her about it,] and she called me saying, "There's this [audition] and it's based on this book," which was written by a Korean poet about her life on the street. It was called, "Runaway: Diary of a Street Kid." The film was very much like "Basketball Diaries." I remember it exactly. They said, "We're doing auditions across the country. Maybe you can audition in Toronto." Then I started the whole process, [which lasted] six months. It's a six-and-a-half-hour flight between Montreal and Toronto, and I took the bus at midnight and I would sleep in the bus station, waiting for my audition at 10 in the morning. And then I'd come back. I did that a few times until it happened. That was my first big break.
What's your worst audition horror story?
It was for the American version of "Shall We Dance?" starring Jennifer Lopez and Richard Gere. My beautiful friend Audrey Wells wrote the script, and she said I should come in as one of the ladies in the dance studio. And I just thought, There's no way I'm going to get this part. So I'm going to try this the way I want to do it! You know the Korean lady grocery store owner? Not so nice, maybe. Not so friendly, maybe. Maybe has fake Fendi sunglasses. Maybe sometimes wearing something a little too much, not matching, not so nice. So I redid all the dialogue to make it in accent, and I went full-on. Like, I'm trying something here! I made a choice! I made a choice, and they were horrified. There are a bunch of things that I learned from it: I remember saying, "Thank you for letting me try something," and he said, "That's OK." I was extremely upset afterward because of his response. [It was] one of those [times when] you finish your audition and you just cry in your car for about half an hour. But I realized that white people were not yet ready to see Asian characters redefined. I know now I'm a part of that redefinition, but [at the time,] it was like, "This is my aunt, these are my people, this accent is mine, but I can see that you do not understand this yet." That was many years ago, and we're on the cusp of being, I think, ready to see it—as we see through a couple of television shows—but I could tell [he did] not understand what I was doing, and it hurt me.
Looking back now, what advice would you give your younger self?
Don't be so hard on yourself. I think that's probably something that we tell ourselves now.
Do you think you would be where you are now if you had not been as hard on yourself as you were?
There are a lot of ways to tackle it. All those things? Those have nothing to do with work ethic, drive, even luck—all the actual blocks of building a long-term career. There's just so much noise. It's just like, take it easy! But I feel like I was conditioned as a young woman, as a person and as a woman.
What's your advice to today's working actors?
Know your intention in this business and industry. People would ask me the question, "What advice would you give young actors?" And for a long time I had the same answer, until my best friend said, "You know, that's kind of harsh. Maybe you should change that." It was "If you don't have to do this, don't, because it's hard. It's very, very difficult. But if you have to do it, that's the kind of ideal drive you need to really be an artist." And now it's a little softer: If you know why you're doing it, or if you're just a little more in touch with your intention, it can be a real guiding force.
Want more stories and advice from the best in the biz? Read more from the Backstage 5 here!