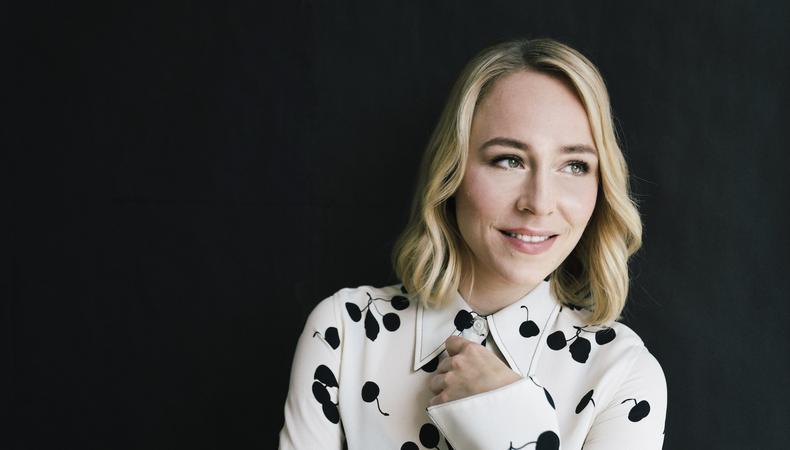 We all know a Sally Reed: the tunnel-vision actor who's moved to Los Angeles to doggedly pursue their career. And if you've been watching HBO's Emmy-winning comedy "Barry," about a hitman-turned-accidental actor, you've had a front-row seat to Sarah Goldberg's interpretation of the familiar trope. Goldberg's brilliance, however, lies in her ability to transcend the archetype, taking Sally—with the help of the writers' room—into a space of vulnerability actors can relate to. Goldberg, a classically trained actor, stopped by Backstage HQ to talk about playing such a meta role (and an unlikable one at that), and what it's like working with industry vet Henry Winkler and creator-star Bill Hader.
You play a narcissistic, almost cutthroat struggling L.A. actor. What drew you to this role?
The script was just so good and you just read so many bad scripts, which I'm sure plenty of your readers have experienced. And it just really stood out. It was like, "What is this?" It's sort of a "Breaking Bad" feel, and then suddenly it's like "Waiting for Guffman." And then the character, they moved away from any kind of cliché with her. Yes, she has many of the stereotypes of, like, "lost soul moves to Los Angeles, tries to make it in the big city," but they went dark with the part and made this complex female character. They started it with somebody so bubbly and buoyant, and I felt like there was this subversive little flip where it's like, "Oh, she's not a nice person," and I was really excited by that.
A lot of the feedback on Sally was, "She's unlikable; how am I supposed to connect with her?" How have you been responding?
It's interesting that people called her a sociopath, and [Barry] literally kills people and then he gets into bed with his girlfriend, but Sally's the sociopath. My big request from [creators] Bill [Hader] and Alec [Berg] was just, like, "Please don't dilute her. Please, let's push it as far as we can push it." I've wondered recently about it—why is there this response? And beyond just your old run-of-the mill sexism, it's that with the murder aspect of the show, it's so extreme and so it's very easy to dissociate yourself, where Sally's flaws are just much more mundane [so] maybe we all recognize a little bit in ourselves that [is] slightly amplified.
READ: 'In the Envelope' Podcast: Henry Winkler on Navigating Hollywood for Decades
What have you learned acting opposite Hader and Winkler?
From Henry I've learned that life is a celebration. I mean, that man comes to work every day like it's his first job and like it's his first day on his first job. He has so much compassion and joy and he just brings a sense of occasion with him. It sets such a lovely tone for the day. And Bill is the same, as well. He gives everyone in this cast so much room to do their thing, or to bring their offering. There's just no ego.
Bill, because he comes from improv and "SNL," it's been really good for me to work with him because I come from theater and I'm used to so much rehearsal and things being set, and he's so free and loose, so we're a good pair because he loosens me up and I make him learn his lines.
What did your research look like to get into Sally's head?
It didn't require all that much research because I feel like I'd been exposed to many Sallys going back to acting classes when I was a kid, and this sort of thing of, like, competitive grief in an acting class when you're 15. I'd get a ride to go to the Method acting class across town with 35-year-olds; I'm the one teenager in there. In terms of thinking about how to approach [Sally], I don't think it's difficult to relate to someone wanting something so badly...and for people to think you're a bit nuts for wanting to do that. It's the same desire—she's just tried to go the quick route, and I found it [in] the long game.
Hader says that you keep him on his toes because you make very deliberate choices and you're able to deliver a new choice that also works with every take, which I feel is a skill that a lot of actors struggle to learn. Can you shed any light on how another actor might be able to find their own process to make those strong decisions?
I tend to prepare things in the way I would for theater. The preparation would come from stuff like bringing ideas [to rehearsal] like, "Well, how would Sally go about doing this?" Not how I would go about doing this. So when I had to do Lady Macbeth, for example, I was like, Sally would want to do Judi Dench's performance, so I googled Judi Dench, and there's a YouTube video of her—it's actually amazing; you should google it right now—of her being Lady M, and she spits in her hands and licks her fists and she almost puts her whole hand in her mouth. And so I tried to imitate that performance because I feel like that's what Sally would do.
What is a film performance you think every actor should watch and why?
There are so many that I could think of. Like Wallace Shawn in "The Princess Bride." But I really, really think Annette Bening in "American Beauty." And I don't want to give any spoilers for Season 2, but I ripped her off; I definitely googled her a lot in my performance this year—that performance is astounding. She's astonishing in it, and the flips and the changes and that scene where she's talking to herself at the table—I mean, I just think she's extraordinary in that film. Truly sensational.
Want more advice from the best in the biz? Check out all of our Backstage Live interviews here!
This story originally appeared in the May 9 issue of Backstage Magazine. Subscribe here.