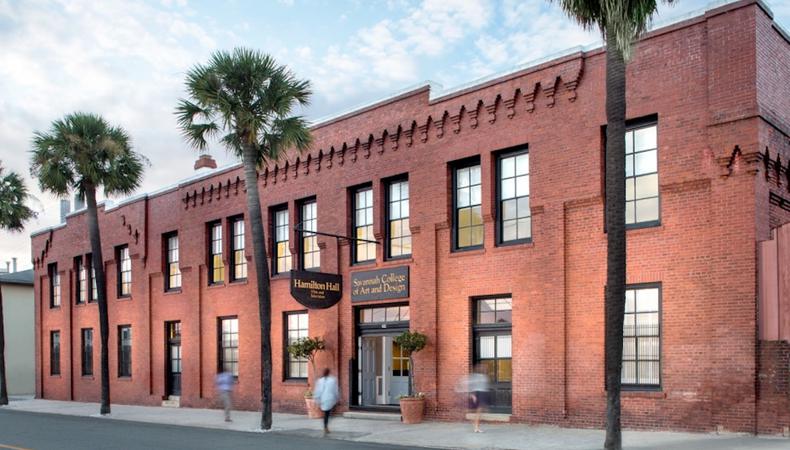 As the only university in the country that offers B.F.A, M.A., and M.F.A degrees in sound design, it would be easy for the Savannah College of Art and Design to simply tout that fact as a selling point. But of course, SCAD is not resting on its laurels. Instead, they back up those degree options with state-of-the-art studios, accessible top-of-the-line equipment, world-class faculty and guests, and, oh yeah, a long list of alumni who check pretty much every box on a "Sound Design Awards + Accomplishments" bingo card. For someone looking to take the next step in their sound design journey—no matter the medium—you'd be hard-pressed to find a more immersive education than SCAD.
Mitchell Gettleman, chair of SCAD's sound design program, spoke with Backstage about the various courses of study, the importance of faculty with industry connections, and why so many alumni are still employed in the business.
Tell me about the sound design program at SCAD.
The Savannah College of Art and Design is the only university to confer B.F.A, M.A., and M.F.A degrees in sound design. The program is interdisciplinary and aims to provide a solid foundation in sound design that can be used across a broad range of applications. Our curriculum models professional workflows. We focus heavily on sound design for film, TV and game audio, and support and encourage students to focus their studies on the areas of sound that match their interests and career goals.
SCAD offers minors in music production, production audio, and sound design for theater, animation, themed entertainment, AR/VR, sound art and more. The university believes in academic rigor and preparing talented students for professional careers across a broad range of industries.
What sets SCAD's sound design program apart?
The university's prominent sound design faculty includes industry leaders from around the world, who are recruited to SCAD to develop and deliver an innovative, professional curriculum that is lauded globally. These industry veterans have rich resumes that include Oscar, Emmy, MPSE Golden Reels awards and nominations. SCAD sound design faculty remain current and cutting-edge, boasting membership in Motion Pictures Sound Editors (MPSE), Audio Engineering Society (AES), and the Motion Picture Editors Guild.
Accordingly, faculty have professional contacts throughout the industry and regularly bring these to bear in the academic setting and beyond. As department chair, I recently brought to SCAD my friend and colleague, Tim Kimmel, who supervised the sound for "Game of Thrones." Tim gave lectures demonstrating his work on the series, participated in coffee talks, masterclasses and offered portfolio reviews for students. The entire sound design faculty regularly make introductions for our students to industry professionals that lead to internships and gainful employment.
The SCAD sound design department is distinguished from other universities by the amazing and unique opportunities students have to collaborate with students in other degree programs. Sound design students regularly perform sound design for film, television, game, animation, advertising, motion media, visual effects, performing arts and themed entertainment projects, fashion, user experience and more. This is a rich playground for student collaboration and it leads to awards.
Career preparation forms the very foundation at SCAD. According to a recent study, 99 percent of the university's Spring 2018 graduates were employed, pursuing further education, or both within 10 months of graduation. Examples of employment alumni employment include:
What facilities/resources are available for students?
SCAD has invested more than $1 million in custom-built sound design facilities to mirror the real-world environment. Students have full access to state-of-the-art equipment in Hamilton Hall, Crites Hall, and Savannah Film Studios. Our numerous performance stages at our locations in Savannah and Atlanta provide hands-on experience with sound management and live recordings. Students have access to 7.1, 5.1 and stereo mixing stages running Pro Tools and the now ubiquitous Avid S6 mixing consoles. We have two state-of-the-art recording studios for Foley, ADR and music production, all complimented with an amazing array of professional microphones and gear.
All SCAD sound design classrooms boast individual workstations for students featuring Pro Tools, Adobe Suite, and Microsoft Office. Students can check out a multitude of equipment to use for high-end productions.
What would you say to students who feel it's not necessary to get an academic degree in sound design?
For students who feel that it's not necessary to get an academic degree in sound design or who want to learn by doing in the real world, I would say there is nothing wrong with learning on the job or "on your own" but you will never be able to go as far or as fast as you will at SCAD. The support and guidance that students receive from faculty and staff are unmatched.
While SCAD helps students to build an outstanding technical acuity in sound design that is second to none, it also pushes students to develop something that is perhaps more important: the ability to communicate and collaborate effectively. Through experience, SCAD students learn about the importance of workflows, process, and innovation. They develop a deep understanding of how to work together towards shared artistic goals. This is perhaps the sound design department's greatest strength. Industry leaders who are hiring, reach out to SCAD faculty on a regular basis to put them in touch with our graduating students. This is because of the strength of our program, and the fact that students graduate with the tools they need to succeed.
For more on how to get work on a film crew, visit Backstage's crew hub!