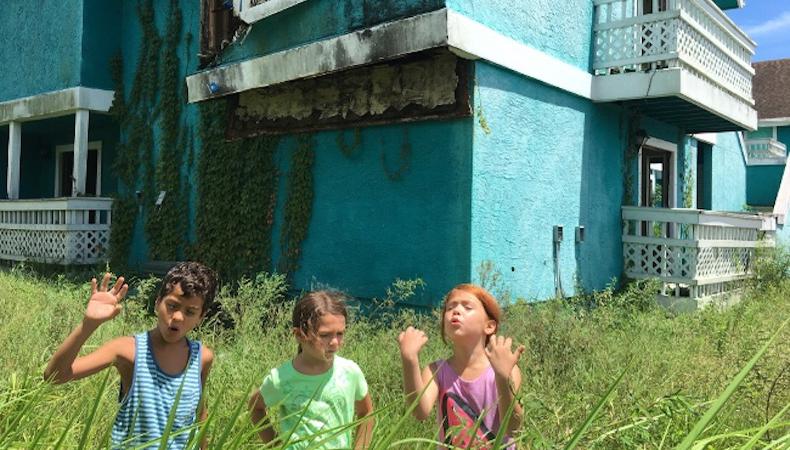 Sean Baker's "The Florida Project" is a confluence of wonder and agony—and is seemingly unlike anything ever produced onscreen. Baker, who both directed and co-wrote the film, clarifies, however, that that's not entirely true.
"I have been very inspired and influenced by 'The Little Rascals' my entire career," he admits, citing the series of short films produced from the 1920s to the '40s. "Most of the characters in 'The Little Rascals' were living in poverty, but they decided to focus on the joy of being a kid: the humor, the heart, the resilience."
In those terms, "The Little Rascals" is absolutely a precursor to "The Florida Project," which follows Moonee (Brooklynn Prince, in a supernova-making turn), a 6-year-old who lives with her mother in an extended stay motel just outside of Walt Disney World in Orlando. It is a brutally grown-up depiction of a barely-scraping-by margin—mere miles from what is considered the happiest place on earth—that, miraculously, never loses its childlike pathos.
That duality is intently reflected in the film's visual aesthetic: candy-coated pinks and purples of the motels contrast harshly against their dingily overstuffed rooms and the pavement grayness of the nearby highway. "There was a balance the entire time," Baker says of establishing the look of the film and the tonal equivalency between seedy and spectacular. "It is dealing with very serious subject matter, but we are going to approach it in a way that is, from the outside, entertaining, through the comedy of these kids—through a perspective of a child living in this situation."
In executing that vision, the unprecedented authenticity of the children's performances was paramount. It required that Baker and his co-screenwriter, Chris Bergoch, write with context-free simplicity, and that they grant the actors space to go where they needed to go. "We hate when we see child performances that are too adult-like," Baker says. "They learned all their lines, but then when we got to set, I encouraged improvisation. I always said, 'It doesn't have to be exactly the way we worded it if you want to word it the way you would like to word it,' allowing them to be free and experiment a little bit."
Baker's tendency toward binaries is prevalent again in his selection of talent; in this, as in most of his films, he combines veteran actors like Willem Dafoe with those newer to the business—some of whom, including Bria Vinaite, who plays Moonee's mother and whom Baker cast using Instagram, had never professionally acted before. The practice creates what Baker refers to as an "alchemy" of fresh and seasoned performances.
"I do feel that some [experienced] actors get stuck in their method, and sometimes they don't have that freedom, that naiveté that inexperience brings," he says. "There is chemistry when you mix people of different experience levels, because less experienced actors will almost try anything, [and] that actually rubs off sometimes on the experienced actors. Then the method of the seasoned actor rubs off on the newcomer."
READ: How to Shoot a Sundance Hit on Your iPhone
"The Florida Project" is subversive both in content and form, unsurprising given that innovation is a trademark of Baker's work. Up to this point, in fact, he was best known for his acclaimed "Tangerine," which portrays trans sex workers over the course of one Los Angeles Christmas Eve. That film was famously shot entirely on an iPhone.
"Nobody is going to just come and give you money unless you've proven yourself, especially if you're doing something that is unconventional or unorthodox and outside the way the industry thinks," he concludes. "All I know is this: The reason that I've gotten attention from this industry is that I just kept making films until they paid attention."
Are you a kid actor looking for your next gig? Check out Backstage's kids auditions!