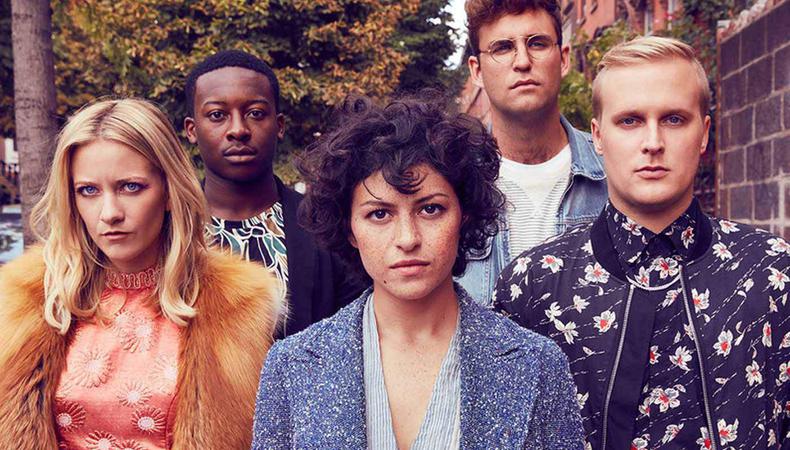 In an early episode on Season 3 of "Search Party," one character remarks that, "I don't think people really care about millennials anymore."
It's an almost throwaway line, but it's one that winks at the fact we've matured beyond the era of millennials-as-punching-bag. (Maybe it was the novel coronavirus becoming the third generation-defining "once in a lifetime" catastrophe that moved the needle?) But it's also a nod to the fact that "Search Party," which premiered on TBS in 2016 and debuts its third season on June 26 over at HBO Max, has matured, too.
"We never have gone into a season with the thought of, OK, but what's going to happen in the season after that, and after that? We just work on what we have at hand and worry about the following season when that time comes, for better or for worse," says Sarah-Violet Bliss, who co-created the series along with Charles Rogers. "We're always like, 'God, why did we do this to ourselves?' But then once we get to the next season, it's always a whole new ballgame and it's really fun exploring new genre elements."
Speaking to genre, one would be hard-pressed to ascribe one to "Search Party." As much a laugh-out-loud satire as it is a genuinely frightening mystery-turned-murder-mystery, it blurs lines of classification like tie-dye. A sort of modern, Brooklyn-set "Hardy Boys," the core cast is led by Alia Shawkat, John Early, John Reynolds, and Meredith Hagner, each of whom has been paramount in defining both the writing and timbre of the series since Day 1.
"People will describe the tone to us, and I'm always like, 'That's interesting!' " says Rogers. "I feel like people have a relationship to the tone of the show that's different from our relationship to it. Looking from the outside in, it feels like a more strategic approach, but for us, it's always been about the characters and how they're reacting emotionally to extreme situations. Because they're funny, extreme characters, they're going to have funny, extreme reactions, but we have to treat that realistically, otherwise it won't be suspenseful or scary or mysterious. It's really about putting extreme people in extreme situations and then trying to treat it as emotionally real as possible."
And that's only gotten truer with each passing episode and season. As Bliss adds, "When you know the actors' strengths and what they're so good at and know how to do, it flows a lot more easily when you're writing for them."
The series begins with Dory (Shawkat), an aimless 20-something who becomes obsessed with a former classmate who's gone missing, the seeds of which are rooted in millennial yore: "The search for meaning in your life and that being the most important thing and how that then becomes all about yourself," says Bliss. "It becomes more narcissistic, finding meaning when there wasn't any to begin with."
READ: The Secret to Writing Your Own Content
With Season 2 focusing on the core-four's covering of and fallout from a murder, the third installment of episodes depicts the very real adult consequences of their actions. And since the series has already been renewed for a subsequent fourth season, the characters' growing up will continue to coincide with that of the creators'—murder aside.
"Life is just a series of lessons, ideally headed toward some greater self-realization, and I think the creative process is part of that," says Rogers. "The one lesson I've learned is just to make your own stuff. I don't know that anyone has really ever asked me to make anything without me having made something first. Just constantly trying to express yourself and understand yourself through it, and it helps other people to understand what you're made of."
Looking for remote work? Backstage has got you covered! Click here for auditions you can do from home!