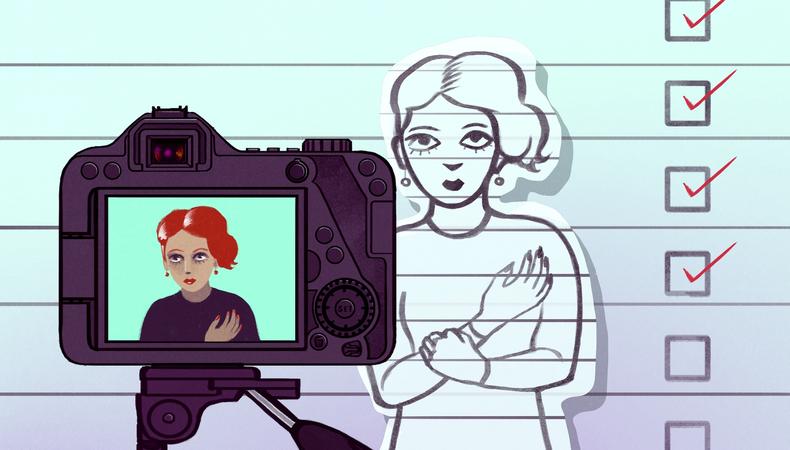 More and more often, casting directors are asking for self-taped auditions as the first step in their audition process. At this point in my career, I've seen hundreds of thousands of self-tapes, and I can usually tell in the first few seconds whether an actor has learned the basics of self-taping. With that in mind, it's time for a refresher course on common mistakes to avoid in your self-taped auditions.
1. The eyeline is wrong.
One of the first things I notice is if your eyeline is incorrect. Many actors make the mistake of placing their reader so far off camera that it looks like you're having a conversation with someone who's not even in the room. The most effective eyeline is when your reader is almost straddling the tripod, standing (or sitting) right next to the camera. If your reader is even a few inches too far from the camera, we will not get the full impact of your eyes.
2. The camera is too low.
Never place the camera below your eye level. Not even the most gorgeous actors look good at that unflattering angle! If you don't have a proper camera and are using your computer or phone, raise it (you can use books), making sure that the camera is at eye level or even very slightly above. Trust me: No one wants to see your nose hairs.
3. The framing is off.
You wouldn't believe how many auditions I've seen that have been shot in a full-body frame. Unless otherwise directed, your frame should be from your chest up to the top of your head. This is called a medium close-up.
READ: 1 Reason Why Self-Taped Auditions Are Preferred to In-Person
4. You don't have a tripod.
Have you ever watched shaky footage? No bueno. Tripods are extremely inexpensive these days; make sure you're always shooting your auditions with your camera attached to a stable one. (If you're using your phone, remember to have it in landscape mode.) If you don't have a tripod, you can jerry-rig one by placing your camera on a table.
5. You didn't follow the instructions.
In addition to casting film and television, I also coach actors, and I see my fair share of self-taping instructions from casting offices. Some of these offices will refuse to view your audition if you've failed to follow their instructions. Many of them are very specific on how to tape and what to show them. If you're not following the most basic instructions, how can they trust you on set? If you're instructed to sit, trust that there's a reason.
6. The light and sound are bad.
Test your lighting before you do your scene. Natural lighting is best. If that's not available, there are very inexpensive lighting packages out there. Test them out before you get your next big audition. Most video and phone cameras have effective mics these days, but make sure yours works well, and buy an additional mic if needed. If you have an overhead fan running directly above your head, it's going to be very distracting to the viewer.
7. You're still not off-book.
Just because you're not in a casting office doesn't mean you shouldn't fully prepare. Yes, it's still OK to use your sides, but you need to be as off-book as possible so you can engage with your reading partner and the camera can pick up on every nuance.
This story originally appeared in the June 20 issue of Backstage Magazine. Subscribe here.