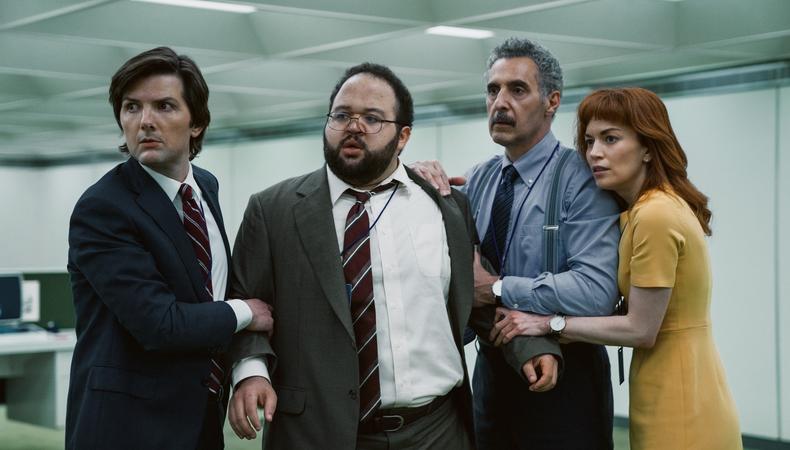 As we prepare for the 29th Screen Actors Guild Awards, Backstage is breaking down this year's film and television ensemble nominees for your consideration.
Main Cast: Patricia Arquette, Michael Chernus, Zach Cherry, Dichen Lachman, Britt Lower, Adam Scott, Tramell Tillman, Jen Tullock, John Turturro, Christopher Walken
Casting by: Rachel Tenner
Created by: Dan Erickson
Distributed by: Apple TV+
The workplace has ALWAYS been fertile ground for television writers; sitcoms and dramas from "The Office" to "Mad Men" have featured some of the 21st century's finest performances. Now, fans can add Apple TV+'s "Severance," one of this year's brightest newcomers, to that list.
Dan Erickson's series takes the familiar office environment and splinters it, exploring what happens when characters neurologically separate their working self, known as their "innie," from their personal self, known as their "outie." This arrangement sounds ideal for creating the perfect work-life balance; but "Severance" digs into the consequences for both the workers and their mysterious employer, Lumon Industries.
RELATED: How to Get Cast on 'Severance'
Given this off-kilter premise, the cast's down-to-earth performances are a grounding force; and it all pivots on Adam Scott's central turn as Mark Scout. The actor's ability to play both drama and comedy has served him well on critically acclaimed series like "Parks and Recreation" and "Big Little Lies." Here, he uses his everyman charm to play multiple facets of the same man, leading the audience through both Lumon's eerie corporate labyrinth and Mark's grief-tinged home life.
Sadness and existential dread ripple beneath the surface of Scott's dual performance, and his most compelling scenes highlight the parallels between Mark's severed worlds. The tender-hearted dynamic his innie shares with his team during work hours both complements and contrasts with his outie's bond with his sister, Devon (Jen Tullock), in the wake of a personal tragedy. Though these two Marks are very different people, Scott's performance carries hints of both throughout.
The rest of the impressive Lumon ensemble add to Scott's layered turn. In her breakout role as new recruit Helly, Britt Lower has the daunting task of serving as the audience's entry point into the series' world. Swinging from disorientation to defiance without ever going too broad, Lower keeps the already puzzling plot from spinning out of control. Striking up a rapport with her coworkers in the Macrodata Refinement Department is not on Helly's agenda, but Lower and Scott's will they/won't they chemistry makes it impossible for her not to get involved. Her transformation over the course of Season 1 is fascinating to watch.
Credit: Atsushi Nishijima
Zach Cherry's Dylan and John Turturro's Irving fill out the rest of the core team. the former's flippant one-liners and the latter's straight-man persona bring much-needed levity to this fluorescent hellscape. "Severance" gives veterans like Turturro and the masterful Christopher Walken new dimensions to play with—including an achingly sweet romance. The entire cast is asked to portray an emotional range that most actors would envy.
As Lumon enforcer Milchick, Tramell Tillman's scene-stealing presentation of the team's "music dance experience" prize injects sinister whimsy into the airless environs. The actor is just as dynamic when his character is performing grimmer tasks, like administering mind-numbing punishments to rule-breakers. And we suspect Dichen Lachman's star will only continue to rise on Season 2, given the subtly effective performance she delivers as the mysterious Ms. Casey.
Then, of course, there's the endlessly watchable Patricia Arquette, who crosses the work-life boundary as both Mark's calculating Lumon boss, Harmony Cobel, and his neighbor, Mrs. Selvig. The Oscar winner's stoicism propels the show forward as the plot unravels.
Mark's outie life is populated by equally wonderful players, including Michael Chernus as his well-meaning but pretentious brother-in-law, Rickon; and Tullock's Devon, who becomes her brother's sole source of emotional support. Together, the trio creates some of the show's most revealing scenes.
Ultimately, duality is the lifeblood of "Severance." And when it comes to delivering unforgettable and thought-provoking characters at least two times over, this ensemble is a unified force.
Want more? Stay in the loop with everything you need to know this awards season right here!