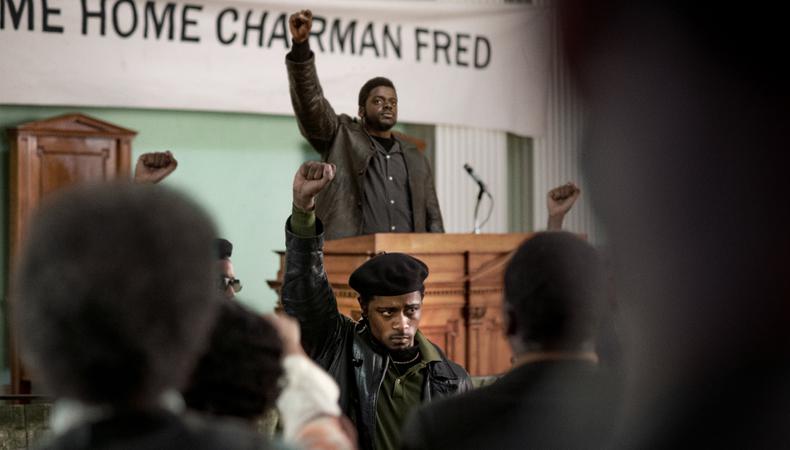 The goal of making any movie based on real events is to uncover important and sometimes little-told truths for audiences. In the case of "Judas and the Black Messiah," there were two such revelations. Based on his discussions with Fred Hampton Jr. (the real-life son of the film's central figure, late Illinois Black Panther Party chairman Fred Hampton) and firsthand accounts from the chapters of 1960s Chicago, director and co-writer Shaka King found himself course-correcting his tellings of moments that have allegedly been falsely reported for the last 50 years. In doing so, he has taken steps to amend our culturally embedded understanding of the Black Panther Party at large.
"Fred Hampton Jr. showed up on set to essentially be a consultant, and he often corrected us on information that I'd read in some kind of academic text," King remembers. "He'd say, 'No, that's not how it went down,' and then he'd pull his phone out, and he'd have me on the phone with the person who actually experienced it or the person who was adjacent to it so they could correct the record."
There's a reason such historical blind spots exist: According to historian Curtis Austin, 73% of all newspaper articles covering the Black Panthers at the time were written either by the FBI or by people the FBI recruited. Those biased accounts then infiltrated the academic essays and research materials King and his three leads—Daniel Kaluuya (who plays Hampton), Lakeith Stanfield (who plays FBI informant William O'Neal), and Dominique Fishback (who plays Hampton's bereaved partner, Deborah Johnson)—dove into during their prep work. And the cycle continued. (For more information on the phenomenon, King recommends checking out Austin's March 2016 Ted Talk.)
Specifically, the filmmaker cites the climactic shootout between Jake Winters (Algee Smith) and the police, and how some meaningful facts got misconstrued in his conception of the scene with co-writer Will Berson.
"We had bad information," King admits, "and Fred knew that this can't fly; this is not how it went down. So we had to dramatize and create characters and create a narrative that corrected it—that was closer to the historical record." To have the opportunity to correct the commonly understood facts in a studio feature like "Judas and the Black Messiah" is, simply put, "an honor."
"I feel really fortunate to be selected by the universe to get to do that," King says. "And I just hope I've done a good job with that responsibility."
Today, reflecting on his own journey, King says that this was the first time since his feature film debut in 2013 with "Newlyweeds" that he felt empowered to make another movie. Even picking up the 2014 Independent Spirit Award for director to watch was "prior to 'Moonlight' and what my friend calls the 'Black excellence industrial complex,' " so he turned instead to more diverse small-screen platforms like HBO and Hulu. "It was really a desire to tell this specific story that brought me back to the movie industry," he reflects.
It speaks to King's reticence to give "too much power to institutions or the opinions of others" as a creator. (The institutions responsible for our frequently false impressions of the Black Panther Party are just the tip of the iceberg.) That, too, is the advice he'd give to creators who are getting their start.
"For me, as an artist, I constantly have to remain in this place of discovery," he says. "What are my interests? What am I excited about? What intrigues me? And I allow that to be the sole motivating force in the things I make, as opposed to pleasing a critic or Black intelligentsia or the Academy, or seeking validation from outside forces. It's a dangerous place to be as an artist, and especially as a Black artist. Don't do it."
This story originally appeared in the Jan. 14 issue of Backstage Magazine. Subscribe here.
Looking for remote work? Backstage has got you covered! Click here for auditions you can do from home!