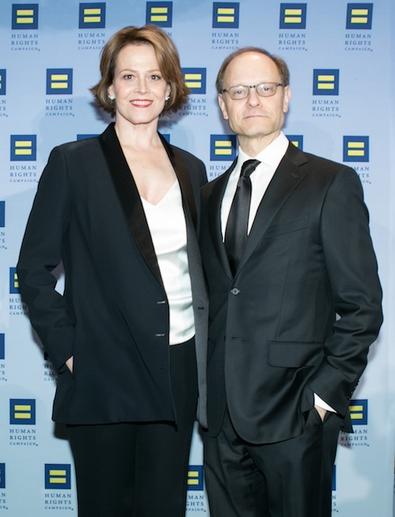 The Human Rights Campaign (HRC) honored three-time Academy Award-nominated actor Sigourney Weaver and two-time Tony Award-winning choreographer Bill T. Jones on Saturday, Feb. 6, at the annual HRC Greater New York Gala. Jones was presented the LGBT nonprofit's Visibility Award by actor and activist Kathleen Turner, who said of the "Spring Awakening" choreographer that "his work crosses all lines—class, race, sexuality." Emmy winner David Hyde Pierce presented Weaver with the Ally for Equality Award.
"I think the extraordinary thing about her is [that] in her choices of roles and films, and in the choices she makes as an actress, she reveals such humanity, such wisdom, such humor," Pierce said in his introduction. "We sit in the theater and we are empowered by osmosis."
When Weaver, also a Tony Award nominee, took the stage, she reflected on her start in the theater, calling it a "lifeboat for people who are different—a place where it is safe to be exactly what you are."
New York Governor Andrew Cuomo was also honored with the National Equality Award. In his acceptance speech, Jones thanked Cuomo and the gala's attending politicians (including U.S. Senator Charles Schumer) for continuing to fight for the LGBT community—and therefore, the arts.
"I want to thank all those brave soldiers who believe that art-making makes us better as a democracy," Jones said. "This art world, we need what this room has tonight. We are not a luxury. We are not something that you do as a charity. You're fighting for hearts and minds here. I want to thank all the artists who I call soldiers."
For more information on the HRC's work for equality in the Empire State, visit hrc.org.
Inspired by this post? Check out our audition listings!