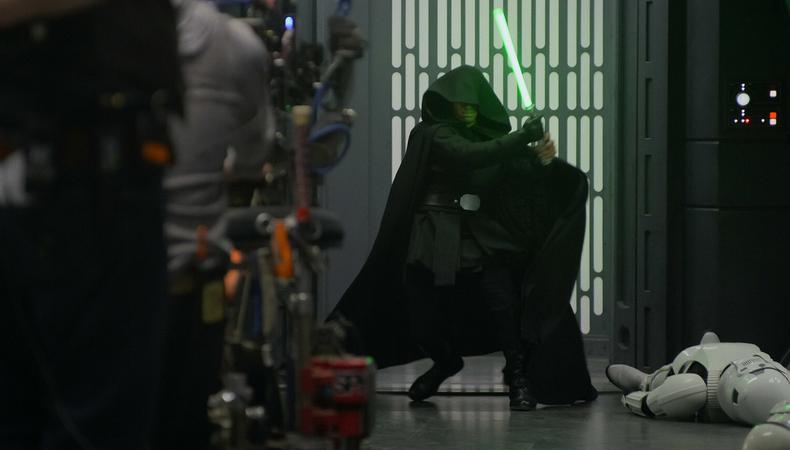 Have you felt a disturbance in the Force? It's probably because there's so much "Star Wars" to enjoy these days! Whether you're anxiously awaiting "The Book of Boba Fett' series or enjoying adventures in a galaxy far, far away by watching the whole Skywalker saga, now is the perfect time to use the Force and audition for these productions. Your sci-fi and Disney itch is sure to be scratched by applying to these gigs!
"Ohryis Project"
Jump into a new space adventure with this all-new feature film looking to cast named roles. The production is looking for female talent, aged 30-50, male talent, aged 35-60, female talent, aged 18-25, and more! Many roles require nudity. Zoom auditions will be held, with in-person callbacks scheduled for a later date. Production will be Mondays-Fridays from April 4-22 and pays $100-$200 per day, depending on the role.
Want this gig? Apply here!
"Aladdin"

Disney is casting equity actors of any gender, race, or ethnicity, aged 18 and older, for possible replacements in the Broadway run of "Aladdin". It's now running at the New Amsterdam Theatre. Join the hit Disney production by submitting a video audition today. Pay is $2,323 per week per Disney's equity contract.
Want this gig? Apply here!
"Star Wars" Fan Film
Ever wonder what it would be like to fight in a galaxy far far away? Then you'll love this gig. Suit up to carry the torch of your favorite characters with this "Star Wars" fan film. Following the events of "The Rise of Skywalker", the film follows a series of groups vying for control of the galaxy. Shooting all over New England and New York City on TBD dates, the project is looking for talent of all genders, races and ethnicities, aged 8 and older. This is an unpaid gig.
Want this gig? Apply here!
Indie Film, Lead Actress
This science-fiction love story is looking for female talent, aged 38-57, to take on the leading role! The film is a sci-fi epic, tackling hot topics of today through film. The production is looking for conservative, Christian talent to helm the film. Filming is slated for January in Nashville and pays $1,000 and 10% of all sales.
Want this gig? Apply here!
"The Pegasus Incident"
This sci-fi/horror short film is set in the 1960's that tells the story of a U.S. Air Force Pilot who goes missing. Need a male performer, aged 32-42, and a female performer, aged 25-35. Rehearsals will be over Zoom. Shooting dates are TBD due to COVID-19. Pays $100 for a 10-hour day. Lodging, meals, and travel expenses are a provided bonus.
Want this gig? Apply here!
"Musk Factor"
"Musk Factor" is a pilot for a sci-fi comedy about a unicorn startup business. Production team needs a male lead, aged 32-38, two supporting male roles, aged 29-36, and other performing characters. Filming will take place in the United States and internationally in April 2022. Professional pay will be offered based on roles.
Want this gig? Apply here!
"GAEA"
Join the "GAEA" team, a sci-fi short film about the metaphysical and existential concept of memory and meaning. A female lead, aged 18-30, who has experience in dance training. Rehearsals are TBD and shoots are early next year in New York. A deferred pay is offered and will be split between the cast and crew. Travel, food, and lodging expenses are all covered.
Want this gig? Apply here!
This is the way. If you're looking for remote work, Backstage has you covered! Click here for auditions you can do from home!