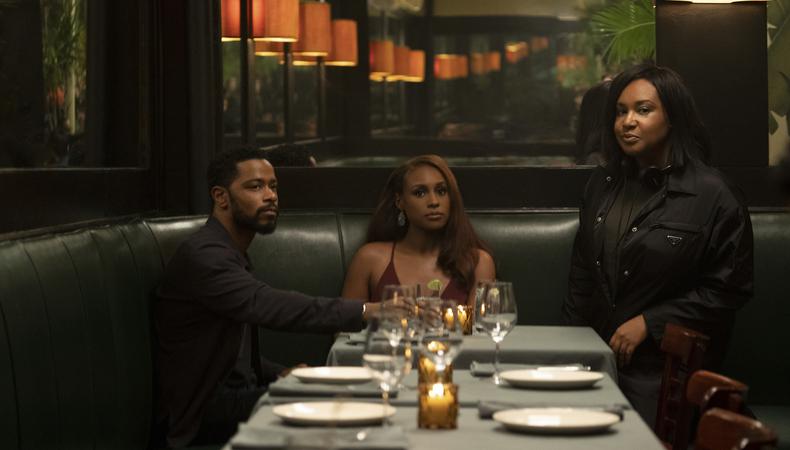 "Sometimes you can feel like a bit of a matchmaker," Stella Meghie teases of casting her new romantic drama "The Photograph." The Universal Pictures feature stars Issa Rae and LaKeith Stanfield, and Meghie says the former was the natural fit to play Mae, a young curator at the Queens Museum who, while reconnecting with her roots in the wake of her mother's death, begins falling for Michael, a famous photographer played by Stanfield.
Rae and Meghie had worked together on a Season 3 episode of Rae's HBO dramedy "Insecure," "hit it off and had a good time," and stayed in touch from there.
"So that was a happenstance connection," the filmmaker says of tapping Rae. "I thought about her, we sent it off, and she really connected with Mae. [She] agreed to do it a week later."
Stanfield came into the mix further into pre-production—just two weeks before filming began. "[But] as soon as I got on FaceTime with LaKeith, he was very obviously the right guy," Meghie says. "He has that great mix of a quiet guy and sensitive soul; it was just perfect between the two of them…. The chemistry was very natural."
While Meghie was interested in playing matchmaker this Valentine's Day, she also emphasizes what doesn't check her boxes creatively. In essence: If it's not a personal story, she's not interested in telling it. "The Photograph," for one, draws on her family's own experience with long-estranged relatives—specifically her grandmother's reunion with daughters she'd had very young. And, she adds, all her work to this point (notably the indies "Jean of the Joneses" and "The Weekend") in some way mines familial bonds and inherited behaviors, good and bad.
"I come from a very large family of women originally from Jamaica, so I'm kind of always tracing my history and comparing and contrasting my great-grandmother to my grandmother, from my grandmother to my mother, and from my mother to me," she says. "Your family can affect the way we relate to people and open up and love people, and I guess that's something that I'm kind of obsessed with. I need to write about it."
READ: How to Make an Indie Film
Meghie's efforts to bring the personal to the big screen are further seen in her films' presentations of blackness. "The Photograph" features a cast of almost entirely black actors, a gorgeously "meditative and romantic and dark" jazz score from Robert Glasper, cross-country set pieces in the heart of black neighborhoods in New York and New Orleans, and the list goes on.
"It's important for me to tell my everyday story, my friends and my family's everyday story," Meghie says. "Obviously, in the marketplace [of studio films], it's not the norm, so it feels distinct, and I have a personal reason for writing what you know, as they say. It's important to write it and have it produced so that there are more examples of different kinds of love, different kinds of people falling in love, different stories about family. And I know for me, it's hard to write [about] or direct anything else because the onus is on me to kind of push those stories forward in a landscape that's kind of one perspective, for the most part."
She admits, too, that her experience bringing those narratives to life in the indie film space differed a bit from her experience on "The Photograph," which marks her first studio feature. "I feel like at the end of the day, I don't really have to answer many questions," she says. "I can tell the story I want and present it as opposed to working at a studio space where the people greenlighting films don't really look like you. There's more explaining—they might not get the joke, they might not get the nuance of a situation, they might not understand the music and how it might make the core audience feel. So there's just a lot more hand-holding, in a way, to explain why you're telling the story you're telling and how."
So, to early career filmmakers who aspire to make similar inroads, Meghie offers the advice she received from her own mentor when starting out.
"When I was in school, my mentor gave me a great piece of advice when I was deciding what to write. I considered writing something very commercial that I saw was, like, sellable, and she was like, 'No, absolutely not. Write something that someone won't pay you write,' " she recalls. "And all of my own scripts are stories I don't think anyone would have paid me to write, they were all written on spec, and that's why they could be distinct and personal and unique to the marketplace. So don't worry about what the marketplace looks like, to a degree: Write something personal that's gonna stand out and feel like the original voice. And write every single day."
Want to hear more from the best creators in film, TV, and theater? Get it right here!