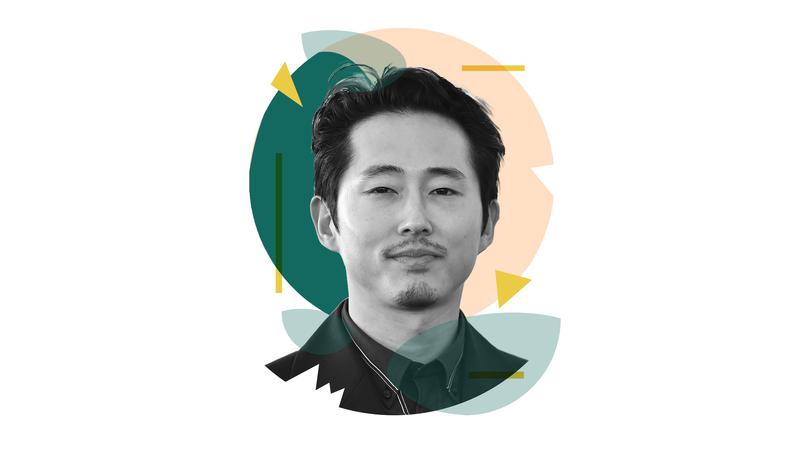 Steven Yeun is the first to acknowledge how fortunate he was to book his breakout role on "The Walking Dead" less than a year after moving to Los Angeles. "Nobody says that to me, but I'll say it for them: I'm so lucky!" Prior to that, he was an aspiring actor and improv comedian in Chicago hustling for local commercials to pay the bills. Read on for early memories and career advice from the leading man of "Minari," including a nightmare audition story that might sound all too familiar to other Asian American actors.
How did you get your SAG-AFTRA card?
I got my SAG-AFTRA card doing a Blue Cross Blue Shield commercial with Phil Morrison, the wonderful director of "Junebug." He cast me, and I was just this floating head talking about insurance. That was in Chicago. I got to do a Best Buy commercial and that Blue Cross Blue Shield commercial. Then I moved to L.A. and booked a Milky Way commercial and an Apple commercial that never got seen. Then "The Big Bang Theory" sustained my SAG card.
What is one performance you think every actor should see and why?
In Lee Chang-dong's "Secret Sunshine," Song Kang-ho, who was the father in "Parasite," he plays this kind of bumbling country bumpkin guy, and he's so good. He's so—I don't even want to use "natural," he's just existing. Whatever he does is true. That is the coolest thing I've seen. That was where I [learned]: Oh, we can be true.
Do you have a worst audition horror story?
Oh, my gosh, how many can I name? [laughs] I mean, they weren't that bad. I think one that felt bad to me, I did this one called "Awesome '80s Prom" that was my first audition ever when I was in Chicago. They wanted me to do an '80s monologue. And as I was doing the "Ferris Bueller" opening sequence, they stopped me about halfway and said, "That was good. Um, could you do that in an Asian accent?" They wanted me to play Long Duk Dong! And, look, I'm not going to forgive it, but at the same time, that was the early 2000s, so let's not be surprised. That bummed me out.
Have you ever done anything wild to book a role?
When I was in Chicago, I had to do this industrial one time where I was supposed to do a live, eight-page speech in character, playing Hiro from "Heroes," selling a microchip, and it was all technical jargon. They had to hire me because they needed an Asian guy to play that role, and they were like, "OK, we're just going to give you an ear prompter so you don't have to memorize all this stuff, because it's nearly impossible." And I don't know how to do an ear prompter and I tried and it was horrible, I couldn't do it. All of a sudden, I was on a plane, and I had to memorize, within, like, 20 hours, eight pages of technical jargon. And I somehow pulled it off. You know what? That was actually a pretty profound inflection point for my life, artistically. Because I realized all these insurmountable tasks that are in front of you that feel impossible, if you just—excuse my French—just fucking try hard, you can do it.
What's one piece of advice you would give your younger self?
I wish I'd known that the journey continues to be the most interesting part of all of it. The life you live really gets to inform the work that you create. Not has to, but gets to. Don't forget to live a life.
Looking for remote work? Backstage has got you covered! Click here for auditions you can do from home!