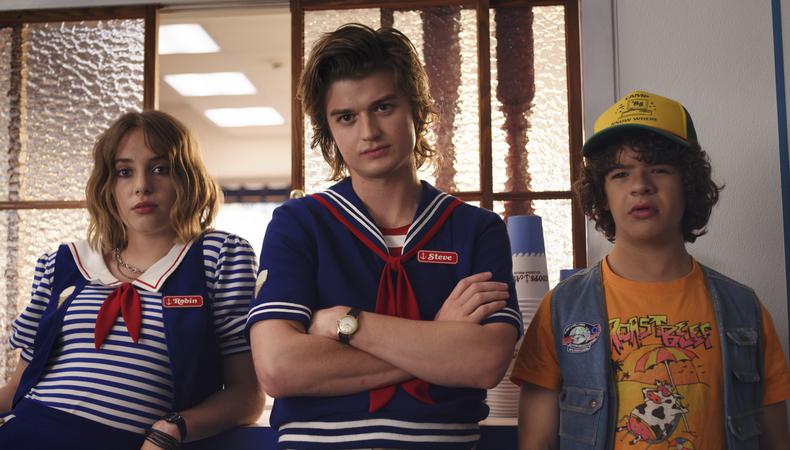 Prolific casting director Carmen Cuba has become known for casting fresh faces. Even in the last couple of years, her numerous projects span the spectrum of genre, with casts full of actors of all types. From "Stranger Things" and "The Chi" to "Devs" and the upcoming "Matrix 4," Cuba's résumé is packed with exciting and boundary-breaking projects. In a Backstage webinar on The Slate, Cuba talked about her work on "Stranger Things," casting during the COVID-19 quarantine, and where she finds new talent.
How to get cast in "Stranger Things"
Quarantine doesn't mean projects aren't moving forward.
"On the front end of sheltering at home, I continued work on Season 4 of 'Stranger Things,' mostly because they were kid roles which are the easiest thing to do from home because everyone's self-taping in the first round anyway. Then my projects from before quarantine started ramping up. I honestly have no idea if they are or aren't going to film soon, but I'm happy to play along and do what I can. Agents and actors all seem very motivated to engage so it's happening. The good news is that everybody really wants to find a way to make this happen in a safe manner. I'm the translator to the agents and the actors of what our plans are for moving forward, too. That's been added on top of my work, trying to figure out the logistics of how we move ahead."
Self-tapes were a big factor in casting "Stranger Things."
"[Self-tapes] have increased over the years, and certainly now with COVID, that's all there is. Also because we're getting [actors] from all over the world. Finn [Wolfhard] came from Canada, Caleb [McLaughlin] and Noah [Schnapp] came from New York, Millie [Bobby Brown] came from London. In the semi-final group, there were some kids from L.A., but mostly they were from all over the place. Even back then, a lot of it already was self-tapes and Skype where I'd speak to them first to get to know them and I can talk to the Duffers about them as people, and then we'd get the Duffers with them, and maybe we'd have them do more material."
"The original cast members are all real individuals. None of those kids cross over into the same space as another, energetically and emotionally. To add to that and add more singular types was challenging, but I always go back to the writing of the show and the truth is that the writing helps in lots"
The show's success changed casting.
"For 'Stranger Things' it was bananas because the show was so huge and well-loved and widely received, and then also because the kids became so famous, it sort of elevated. It made me feel like I needed to find someone who could be as famous, could live in that fame themselves because they were clearly going to be thrust into it. They needed to be as good as the kids were because those kids were amazing. There were also famous people who were reaching out offering to be on the show. That was very exciting, when a famous person who isn't even doing TV says, "I'll do anything." That became a hurdle for us because we wanted to keep the show feeling authentic to what it was. If we were to lose ourselves and get super excited and put someone that didn't make sense in it, it would be pretty obvious what we were doing. We had to practice restraint and still look for that authenticity and uniqueness that made the original cast work. The original cast members are all real individuals. None of those kids cross over into the same space as another, energetically and emotionally. To add to that and add more singular types was challenging, but I always go back to the writing of the show and the truth is that the writing helps in lots of ways because it is just so strong."
The key to cracking the "Stranger Things" cast was individuality.
They first did material that wasn't even from 'Stranger Things.' I think it was from 'Stand By Me.' Then they were all reading the same thing, so that actually was helpful in seeing how different they all were. We didn't actively talk about it, but that's something inherent to what casting directors do in general because no one's happy when they look at their cast and people feel the same as each other."
Why "Stranger Things" has one of the best acting ensembles.
Cuba is always looking for new faces to potentially cast.
"I think because I started out as a journalist, I'm very curious about humans. I'm constantly reading things. If I read something in the New York Times about like the first African-American dancer in the Joffrey Ballet then usually the following week I go into my office and ask to Skype with that person. Then I'm Skyping with all these people who interest me, and things come out of that. Janet Mock was just a writer when I was casting 'Sense8,' and I really was impressed by her. I had never met her, but I reached out to her and said, 'Hey, you've never acted, but would you be interested in trying out for this?' I paired her with this acting coach in New York City and after one session he was like, 'She's a natural.' When I have breakdowns, I often send them to theater actor friends to send to actors who don't have agents who I should know about. I reach out to theater schools, to alumni. Heidi Marshall, who's an acting coach in New York City, was actually a casting scout for the original cast of 'Rent'—she has a real special eye and she's someone I reach out to often. I definitely want to try to access people who don't have agents, but it's challenging. Once I've seen them, I keep them in my records and go back to them and try to pursue that. I also have favorite casting directors who I steal from, who do their own work. Like any time I see an Ellen Lewis film, I am so amazed that she finds these people I've never seen. Laray Mayfield, Nina Gold. When I see their work, I'm always slightly jealous and I take what I can from their projects."
Casting a show outside of L.A. requires collaboration with local CDs.
I work with Feldstein|Paris in Atlanta, and they're fantastic. We work very closely with them, and then everything goes through me. I narrow things down, and I present to the Duffers, and the Duffers and I go over everything. We keep finding great talent in Atlanta. If there are certain parts that we know might be challenging to find in Atlanta, we look simultaneously. Even Joe Keery in Season 1, we got him through local casting even though he was in Chicago. We cover territories. Generally, most recurring guest stars come from L.A., but we have found more and more that we can find talent for guest star roles in Atlanta as well. That's actually evolved. Atlanta in general has so much work; if I were an actor starting out, I would go to Atlanta."
How "Stranger Things" got made.
"Atlanta in general has so much work; if I were an actor starting out, I would go to Atlanta."
The key to a great self-tape is still all about the performance.
"I think the bottom line is that if a performance is great then nothing matters and it's pretty clear. I can say things like don't come up with some stunt-y kind of thing but then you look at Dacre Montgomery's audition for Billy on 'Stranger Things' Season 2 and he's topless with sunglasses on and dancing to this music, which normally I would say don't do that but it was amazing, it totally worked with the character. But also his performance was fantastic, so it was undeniable. I think if he had done that and the performance was terrible, I would've been like, 'Ugh, he shouldn't have done that dancing thing at the beginning.' Things that I appreciate about actors who really move me on self-tape and now on Zoom is considering the depth of field of the camera and actually being able to come in closer and move away. I think there's real power in a self-tape when you use the space between the camera and where you would normally stand because it's really engaging and takes away from the stuff you can't do outside the scope of the [screen]. And a blank wall behind you, if possible, so I'm not distracted trying to see what books you have on your bookshelf or food in your kitchen. But even if that's not possible, and I understand in many cases that it's not, it's not that big of a deal. My job is to create the best piece of material to send to the director in the way that I know the director will respond to it."
Casting is more than just auditioning actors, and you need to know that to work in the field.
"The entry-level job in casting is a casting assistant, but the problem with that being the entry-level job is that you sort of have to have already done it to know the process. There are various programs that are paid internships that then place you with casting offices, and if you're still in school, you can do internships. Having been through that process as an intern at least once, you know what it even is. I think unless you do that, you think it's, 'I'm auditioning people, and then they're in the movie.' I would look into those programs [if you're interested in casting], for sure."
Looking for remote work? Backstage has got you covered! Click here for auditions you can do from home!