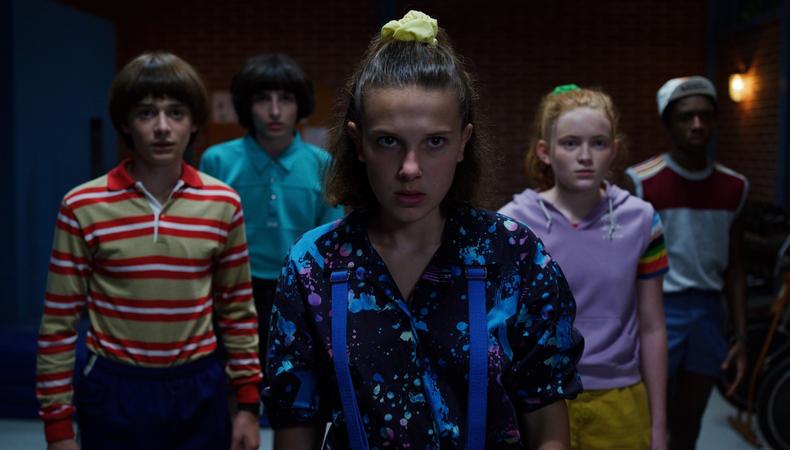 With this Year in Review, we at Backstage have picked through the weeds and found 2019's true gems of the best big- and small-screen ensemble work. And don't worry: We've got you covered with everything else you need to know this awards season right here.
Distributed by: Netflix
Created by: Matt Duffer, Ross Duffer
Casting by: Carmen Cuba
Cast: Millie Bobby Brown, Natalia Dyer, Maya Hawke, David Harbour, Charlie Heaton, Joe Keery, Gaten Matarazzo, Caleb McLaughlin, Dacre Montgomery, Winona Ryder, Noah Schnapp, Finn Wolfhard
You know it's going to be a good summer when there's a new season of "Stranger Things" to binge. While we bemoaned the SAG Award-winning sci-fi series' absence in 2018, its third season proved that sticking it out until July 2019 was well worth the wait. Matt and Ross Duffer—more commonly jointly referred to as the Duffer brothers—have never been better, with scripts and horrifically fantastical concepts that get bigger in scale by the hour. But they still know how and when to focus in on their character-driven roots. And with Hawkins, Indiana, residents new and old being front and center on Season 3, there was plenty on which to focus.
READ: 'Stranger Things' CD Carmen Cuba Reveals How You Can Get Cast
The kids are the heart of the show, and they've only gotten better with age. Not so much "kids" now; they're teens grappling with coming of age amid the Mind Flayer's Hawkins-wide mind-fuck, and the issues they face are ones any teen today can relate to—and any adult can nostalgically recall.
Led by a heart-on-his-sleeve Finn Wolfhard, who thanks to "Stranger Things" has become a horror genre "it" boy (the "IT" franchise, "The Turning") with indie rock credentials to match (his band Calpurnia played Coachella this summer), the AV Club heroes astounded this year with more emotional heft, greater plot twists, and higher save-the-world stakes. Noah Schnapp and Millie Bobby Brown are particular standouts, both needing to grapple with the supernatural in previously unseen and emotionally trying ways. Caleb McLaughlin and Sadie Sink play off each other with ease while also playing the straight man and woman to the ever-heightening antics around them. And while Gaten Matarazzo was MIA from the group for much of Season 3, he got plenty of scene-stealing, comedic-relief screen time with Joe Keery's Steve Harrington and series newcomer Robin Buckley, played by Maya Hawke, a true breakout and welcome addition to this installment.
With Steve otherwise occupied by villainous Russians in an underground lair, his ex-Hawkins High peers get up to adventures of their own. Natalia Dyer and Charlie Heaton's Nancy Wheeler and Jonathan Byers are a couple we can't help but root for; the fact that the actors are a real-life couple only adds to their allure and chemistry.
Speaking of chemistry, David Harbour and Winona Ryder take their Jim Hopper and Joyce Byers into uncharted territory on Season 3. Already well-versed in the workings of the paranormal, the two dive headfirst into uncovering the government conspiracy in the dark underbelly of their small Indiana town. And in the aftermath of Bob's (Sean Astin) death in Season 2, Joyce is doubly a woman in grief; this year required rich emotional notes that Ryder embraces. It's a pitch-perfect hit.
But the runaway star from Season 3 has to be Australian actor Dacre Montgomery. He was all brawny heartthrob upon being introduced on 2017's second season, but as the core villain this round, possessed by the Mind Flayer, he navigates an emotional high-wire act, giving a complex, demanding performance worthy of our applause.
Matched by the series' bit roles who are all ready to follow the Duffers down their rabbit hole, the ensemble of "Stranger Things" is simply one of the most entertaining and best acted groups of the year—ain't nothing strange about it.
This story originally appeared in the Nov. 13 issue of Backstage Magazine. Subscribe here.
Want more? Stay in the loop with everything you need to know this awards season right here!