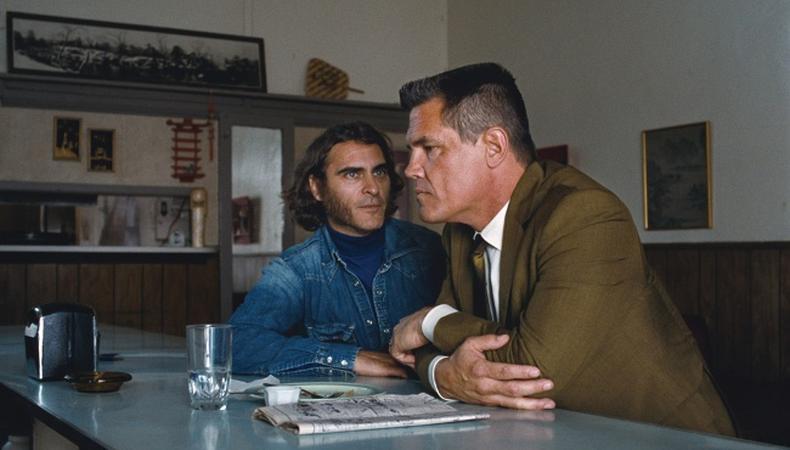 "'What the fuck' makes me happy," says Josh Brolin.
That phrase neatly sums up the actor's reaction upon reading Paul Thomas Anderson's screenplay adaptation of "Inherent Vice." Originally a novel by Thomas Pynchon, the '70s beachside noir feels a bit like stuffing Cheech and Chong and a Los Angeles crime drama into a bowl and taking a big hit. Growing up, Brolin was always drawn to absurdist works by Beckett, Ionesco, and Antonin Artaud. "There was something I really appreciated about that kind of experimental study of absurd human behavior—this reminded me of that. Even though I didn't understand it at all," he adds.
Brolin likens Pynchon's kaleidoscopic style to hearing Tom Waits' music. "He comes out with a new album and you're all excited. And then you listen to it and you go, 'Aw shit' "—he stops to bark a series of staccato gibberish—"Like, OK, it's the same. And then you listen to it again...by the time you listen to it for the 10th time it's one of your favorite albums." The process by which Brolin grasped his character, LAPD detective Christian "Bigfoot" Bjornsen, unfolded in much the same way. Together he and Anderson zeroed in on how this glowering, hippie-hating buffoon fit into—and outshone—an ensemble of burned-out maniacs.
"I know, given the tone and era of the film, there was a lot of color," says Brolin. "[Anderson] had this idea of desaturating Bigfoot a little bit. And then when we started working on it we decided to resaturate and then oversaturate and by the time we got on the set we were kind of just pouring buckets of Day-Glo paint on him. It was fun."
For such a bizarre character—Bigfoot lustily consumes frozen bananas without explanation—Brolin believes the craziest risks are the artist's bread and butter. In the midst of Anderson's famously lengthy takes, he asked himself questions: "If Bigfoot takes off his pants, does that make sense? If he sticks his head in the freezer, does that make sense?" In many cases, responding "no" ended up informing Brolin's approach. Understanding who your character isn't, he says, "gets you away from, 'How should I read this line?' If you know who the guy is, then how he reads the line is just always right." Of course, to accomplish that familiarization, the most outlandish of whims must be followed.
The actor is quick to praise Anderson for his openness to such impulses; not having answers works, provided the questions come from within established parameters. "There's such a fine line with playing that, being the Three Stooges," Brolin points out. "You don't want to lose the heart of it. We always went back to the relationship between Doc and Bigfoot." Joaquin Phoenix's stoned private eye, Doc, has what Brolin calls "a dysfunctional, professional romance" with Bigfoot, an antagonistic friendship that keeps both characters grounded. "You have to have Darth Vader, you can't just have Obi-Wan Kenobi."
Bigfoot is also, as it happens, a part-time actor who finds his extra work drying up. Although it has little bearing on the psychedelic machinations of Pynchon's plot, Brolin marvels at how integral that detail became to his portrayal. "I love that, because he's too self-conscious to be a good actor," he says with a laugh, remembering a shot of Bigfoot lingering awkwardly in the background of an "Adam-12" episode. "He actually looks at the camera once. It's quick. My favorite part of that scene is he doesn't know where to put his hands."
Step one of reaching the kind of outrageous level of artistry Brolin achieves in "Inherent Vice": know what to do with your hands.
Inspired by this post? Check out our film audition listings!