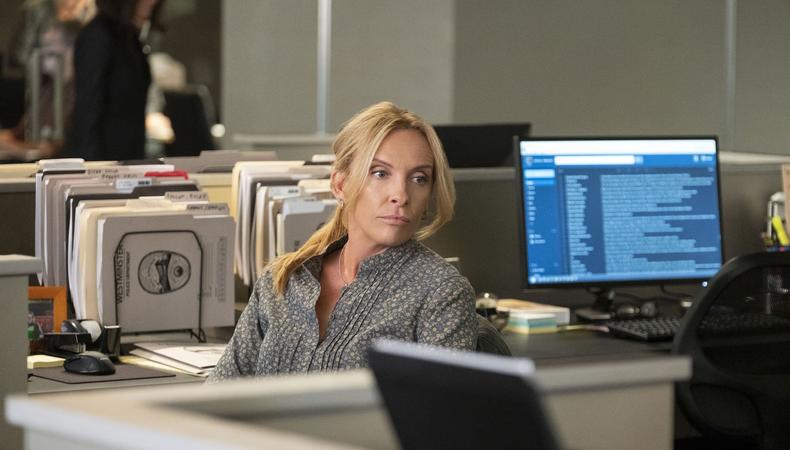 In 2015, writer and director Susannah Grant read the searing account of a teenager charged with filing a false report about a rape. The Pulitzer prize–winning essay by T. Christian Miller and Ken Armstrong, titled "An Unbelievable Story of Rape," is about the detectives who uncovered the truth about the report and pinned the case to a serial rapist. "I thought it was fantastic and would lend itself well to another telling of it in another medium," says Grant of the essay.
The harrowing, real-life crime story is the basis of her new miniseries "Unbelievable" on Netflix. The limited series follows Grace Rasmussen (Toni Collette) and Karen Duvall (Merritt Wever), two detectives in neighboring districts who discover their units have similar cases. They team up to connect the dots between a string of rapes that occurred between 2008 and 2011.
Grant is no stranger to narrativizing true stories; the screenwriter penned the biographical film "Erin Brockovich" in 2000, which earned her an Oscar nomination. For "Unbelievable," the creative team—which also includes writers Michael Chabon and Ayelet Waldman and director Lisa Cholodenko—looked to the actual case files and interviewed the detectives to storyboard their adaptation.
A new book about the criminal case also added context for the project. "It was an incredibly useful bible because the reporting is so great," says Grant. "There was enough interesting storytelling to fill eight hours. It has just the propulsiveness that you need to tell a serialized story; it has it in its DNA. So, it seemed like we could do more with it in the expanded format."
READ: How to Audition for Netflix
That eight-episode order allowed the team to contextualize the case with the history of the way rapes are investigated in the United States, and to include facts about the challenges of solving sexual assault cases. "The number of news reports I've seen about similar cases in the time that we've been making this is really remarkable," Grant says. "This is not a one-off; it's probably not even a rare occurrence." She hopes the story will spur important conversations and "people will be engaged, interested, and emotionally affected by it." She adds, "If it wakes people up to this really pervasive issue in our culture—great."
Even though the story was mined from reality, the project's ensemble brought their own spin to the characters. "The cast was just fantastic and surprised us every day with what they did with the material," she says. "That's always the sign of a great collaboration—when you have written something and then others find something in it that you had no idea was there."
As such, the facts of the real-life case were kept intact, but the creative team in front of and behind the camera took some liberties in fictionalizing the inner lives of the detectives and victims to respect those who had been through traumatic experiences. "The detectives didn't sign on to have their personal lives dissected by us," Grant concedes. "At the same time, these characters need to be dimensional and you need to show how the pressures of their job might affect the other aspects of their life."
An example of an added story element is the dynamic between the two lead detectives. While the case unfolds, Rasmussen and Duvall's working relationship evolves into a mentorship, a partnership that Grant says was a "really wonderful relationship to write. It seemed like a good opportunity to tell a story about women in the workplace and that kind of mentorship or fellowship that can develop."
It calls to mind Grant's own mentor in writing, Nora Ephron. Grant recalls this bit of advice the filmmaker once shared: "Don't write what they want; they don't know what they want. They want something good. Just write something good!"
Grant also advises emerging screenwriters to be true to their own voices. "The hunger for unique voices is greater than it has ever been," she says. "Shut off your internet while you're writing. Just sit and listen to yourself for as long as you possibly can, which is harder and harder to do in this world."
While there is merit in solitary creation, Grant also recognizes the power of collaboration in making a television project. "One of the actual detectives told me how important it was to her that we acknowledge that this was very much a team effort," Grant recalls. "She said it is very easy for the lead detectives to get all the attention. And that's true for a limited series, as well. We had a wonderful team of people who worked with great integrity and brought a tremendous amount of talent to it, so it was a real honor to work with everyone on it."