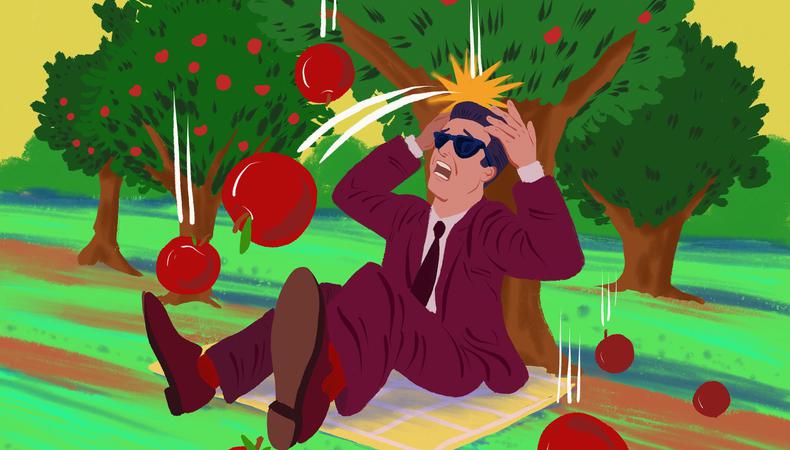 Some of the topics I've wanted to address here don't always add up to an entire column. Instead of hitting the delete key, I've decided to take a more potluck approach this week. So here are a few random thoughts I've been wanting to share:
1. Sir Isaac Newton is a name that doesn't come up much these days. If you don't remember him from high school science, the dude is considered to be one of the most influential scientists of all time and a key figure in the scientific revolution. He made his bones by formulating three laws of motion that are still the foundation for modern physics.
"You should always be studying, practicing your self-tapes, creating content, and more. Sitting at home grumbling about the business will get you nowhere."
Let's focus on the first: the law of inertia. In simple terms, it states that an object at rest stays at rest, and an object in motion stays in motion.
Now, let's apply some of this science stuff to your acting career. I believe your chances at success increase dramatically if you're constantly moving forward. That means you should always be studying, practicing your self-tapes, creating content, and more. Sitting at home grumbling about the business will get you nowhere.
Be the object in motion.
2. I recently spoke to a line producer friend who works on a one-hour drama. He's the guy responsible for budgeting and scheduling. Looking back over the last year, he explained how the pandemic has destroyed his bottom line. It turns out that COVID-19 safety protocols added about $400,000 to the cost of each episode. That makes his show less profitable and a target for cancellation.
Even worse, they had to shut down every time someone in the inner circle tested positive. I was shocked to learn that each day, the cast and crew sitting around doing nothing added another $100,000 to the budget. It also complicated my friend's life in a major way, because those delays screwed up delivery dates, post-production costs went up, and they lost directors who had to move on.
His annual hiatus is almost here, and he's looking forward to getting vaccinated and doing a great deal of drinking.
READ: How to Become a TV Actor
3. I've lost track of how many TV shows are out there. The number is insanely high when you factor in network, cable, streaming, and a few other sources. My parents like to remind me of the good old days when there were only three networks, and everyone laughed when Fox announced it was going to be the fourth.
The misconception actors share is that this increase in production creates more opportunities. There's some truth to that, especially if you're high-end talent, but the working-class actor rarely sees the same benefits.
Why isn't there more work if there's more content? One of the reasons is the increase in competition between these shows. They need to attract eyeballs, and a lot of them do that by casting established and known actors. Another reason is that these productions are spread out all over North America, and the majority of roles are local hires in those cities. That means my clients get a shot at the large guest-starring roles that are cast out of Los Angeles, but they rarely get to read for the smaller parts.
By sharing these nuggets, I feel like a weight has been lifted from my shoulders. Now I can return to the usual irritants and frustrations that agents face on a daily basis. Hooray for Hollywood!
This story originally appeared in the March 25 issue of Backstage Magazine. Subscribe here.
Looking for remote work? Backstage has got you covered! Click here for auditions you can do from home!