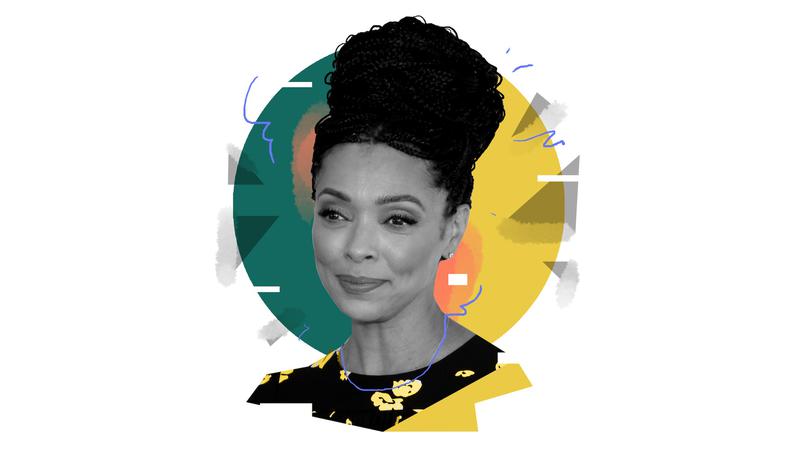 After visiting her best friend in Los Angeles, Tamara Taylor took a shot and moved from Toronto to Hollywood to pursue acting in the early 1990s. The gambit paid off—eventually: After a number of commercial and TV roles, Taylor booked the role of Debrah in Tyler Perry's "Diary of a Mad Black Woman." Since then, she's had a successful TV career on the long-running "Bones" and last year's "Agents of S.H.I.E.L.D." She returns to the small screen alongside Christopher Meloni on NBC's "Law & Order: Organized Crime" playing math professor Angela Wheatley.
What advice would you give your younger self?
Have fun. I was so busy trying to be good that I missed some of the ride. And, truthfully, this crazy thing that we do is such an incredible journey and there are so many things along the way that are worth paying attention to and are worth appreciating. The destination isn't the only thing; the job isn't the only thing.
What is your worst audition horror story?
I think I was auditioning to play Morgan Freeman's daughter. I don't know if it was "Kiss the Girls" or something [else]… I get really nervous with auditions, super nervous. And nerves, as we know, are the most perfect way to wreck a performance. I remember I was wearing Converse, and I only remember because they got hooked on the rug. I jumped up, my keys went in one direction and my sides went the other way, so I had to bend over to pick them up. I pick up my keys, I pick up my sides, and I'm trying to be super casual as I do a slow jog toward the casting director. My shoes got hooked on the carpet, I tripped, and when I say it was a colossal trip, it was so big that I grabbed the casting director's lapels to break my fall. I was staring at her half on the ground, holding on for dear life. Then I had to go in and do my audition, and all I wanted to do was run out of there like my ass was on fire and hide for the rest of my life. I think I was probably trembling through the whole thing. I think I was as red-faced as a brown girl can be.
"I moved to L.A. and figured if I'm going to fall on my ass, I'm going to do it in a big way."
What's the wildest thing you ever did to get a role?
I did go out on a limb for "Diary of a Mad Black Woman." When that came across my path, my agent had just told me, "Well, honey, there's a couple of things you're never going to play: You're never going to play a drug addict or a hooker." Tyler Perry's script came across my path and I thought, OK, I don't know if I can get this role, but I'm certainly going to dive in and have the experience. Because of my nerves, my fear of auditions, I play it a little safer sometimes than I should. And with Debrah, the character in "Diary of a Mad Black Woman," I didn't bathe for a week and a half, let my hair get all funky, sat in the mirror and figured out how to get inside this junkie and who she might be. I scared the hell out of the casting director and Tyler. I was a little more unhinged than they expected me to be, and I got the job.
You've had tons of experience on television, but what has playing Angela on "Law and Order: Organized Crime" added to your acting skills?
I'm not speaking ill of network television, but often there are formulas that work, that they stick to, [for which] you can't do a deep dive. The characters are very archetypal, there's a beginning, middle, and end of the episode and it's all wrapped up. This character was intriguing to me because there's a lot more to her than meets the eye. I found myself surprised as I was getting to know her. Initially, you get a basic character description. I was like, She's already intriguing; I really like her. Then, as the scripts started coming in and I was talking to the writers and executive producer and showrunner, it became clear that she's much more complex than I thought, in a really lovely way—complex, but absolutely grounded in truth and clarity and really, really fun. It's always fun to play a powerful, smart woman, which she is. She's a math professor at Columbia, and I think [she] can go toe-to-toe with the best of them in terms of strength. She's often the smartest person in the room, if not in truth, in her own mind. She's a real interesting one.
What performance should every actor see and why?
I would say anything Meryl Streep has been in [is] an acting clinic.
How did you first get your SAG-AFTRA card?
My best friend, Cree Summer, was on a show called "A Different World." That was maybe my first speaking part. That's how I got my SAG card. It was either that or a California Lottery commercial. You're Taft-Hartley-ed with your first job, and your second job gets you in the union.
"She's much more complex than I thought, in a really lovely way—complex, but absolutely grounded in truth and clarity."
What was the moment you decided you wanted to be an actor?
I don't think I came about it in a traditional fashion. A lot of actors felt they had this yearning or had this talent and knew this was what they were supposed to do. I came to it through a back door. I was incredibly shy, and my mom put me in a modeling school when I was little just because she recognized my shyness might be an impediment and she wanted me to get out of my shell. I did my modeling school stint when I was around 9 or 10. I think that it sowed a very quiet little seed that gestated probably for a decade. My best friend in the world moved to L.A. from Toronto, and I went to visit her and was like, Well, I'm in love with California, I want to live there, and this acting thing, maybe I can be good at this. Of course, I didn't do any formal training, didn't take it in university or high school. I moved to L.A. and figured, If I'm going to fall on my ass, I'm going to do it in a big way. Why start in Toronto? That was my thought.
Tell us about your first day on a professional set.
I did commercials first, then slowly graduated to TV. My first job was a show called "Freshman Dorm." It was with Matthew Fox, which is hilarious, because years later, "Party of Five" ended up being my official first job where I had a character that lasted for a season. But [on] "Freshman Dorm," I played a waitress; I had one little line and I had to carry a tray. You think I could've done that really well, because I was a waitress in real life. So I showed up with the glasses of water and I remember there were salt and pepper shakers on my tray only because I hit my mark [and] dropped the tray, dropped the water, the salt, and everything all over Matthew and his co-star, and I felt like they were very quickly going to replace me if I couldn't get it right and not drop the water and the tray. It was not the most elegant entrance into showbiz. But years later, I rectified it. I ended up working with Matthew, which is oddly and bizarrely full-circle. It was one of the things I mentioned in my audition with him: I bet you don't remember, but I dropped water on you.
Did he remember?
He totally did. He said, "Oh, my gosh, I remember that day." We were at Point Dume, which is a beach past Malibu, and we were at a beach restaurant, it was right on the ocean.
Looking for remote work? Backstage has got you covered! Click here for auditions you can do from home!