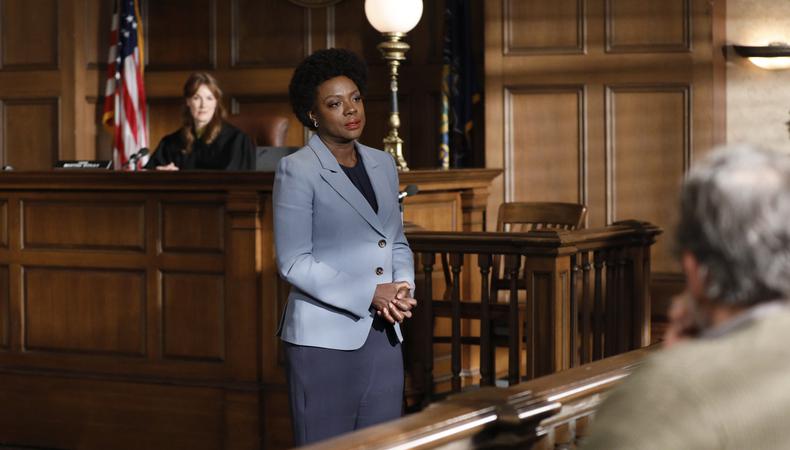 Do you feel like you scrolled through 100 pages of search results and still can't find a monologue that works for your upcoming audition? Everything feels dated or overdone. You want something powerful and heavy-hitting. Something fresh and surprising. Well, have you been watching television this past decade? There are more TV and streaming series than there are hours in a lifetime to watch. Major film stars are flocking to the small screen to be a part of the groundbreaking storytelling that exists in modern series. Episodic scripts are bursting with speeches by characters introducing us to a new world, heating up the second act, or dropping bombs to hook you into the next episode.
Considering monologues from TV shows will open up an entire world of audition material. I'll get you started with some of the best TV monologues I've seen (although there are plenty more out there!). Delivered by iconic characters from Leslie Knope to Analise Keating, these seven monologues encourage strong performances and feature brilliant writing. Some you may want to shorten—or contain curses you might want to remove—but they're all worth considering for your next audition.
1. "How To Get Away With Murder": Analise Keating's Closing Argument
"How To Get Away With Murder" focuses on the leading character Annalise Keating, a professor and lawyer played by Viola Davis, who teaches a popular course on escaping punishment for murder and ironically is in her own murder trial. The six-season series culminates on the verdict and fate of this woman. Davis does not disappoint in this closing argument where she takes off the mask and confronts her actions and begs for mercy. This monologue gives an actor a chance to show vulnerability in a raised stakes life or death situation.
2. "Parks and Recreation": Leslie Knope's Debate Speech
Sitcoms rarely are places to look to when searching for the right monologue. But single-camera series have scores of hidden gems with heart and personality. Amy Pohler as the ambitious civil servant Leslie Knope crushes her opponents in her bid for a city council seat by delivering from the heart. "When you love something…you fight for it." The quirkiness of this show adds humble texture to a local patriotic promise.
3. "Black Mirror": Bing's Speech
"Black Mirror" is an anthology series with unique episodes that comment on our current society with a dark often dystopian point of view. In this monologue from the episode "15 Million Merits," actor Daniel Kaluuya plays Bing who forces his way onto a popular reality TV competition and continues to meltdown on live TV by delivering an impassioned rant about their social obsessions and glaringly narrow world vision. The sheer desperation of this monologue makes it compelling and powerful.
4. "Barry": Sally's Monologue
"Barry" is a favorite series amongst actors because it takes viewers on a comical and raw look at a group of actors in an acting class. Before you roll your eyes about a monologue about a monologue, do yourself a favor and watch. Sarah Goldberg secured herself an Emmy nomination with this neurotic ramble about a monologue she is afraid to do in class. It's a crafted ramble that runs through the character of Sally's gamut of feelings in relation to her worries and issues with doing a monologue that is eerily truthful to her own life. This is a treat for an actor to show off skilled comedic timing.
5. "Ozark": The Ben Davis Taxi Monologue
This haunting flashback with the fan-favorite character of Ben Davis, acted impeccably by Tom Pelphry on "Ozark," is almost certainly going in the books as one of the greatest character speeches from television. This stream of consciousness piece from a disturbed man is tender and enthralling. A perfect choice for the blue-collar type that wants sincerity with an edge. It's long but within itself are many moments that provoke intrigue, display humility, and showcase an unraveled man.
6. "Newsroom": Will McAvoy's America is not the Greatest Speech
You'd be hard-pressed to find a list on television's greatest writing that doesn't include Aaron Sorkin. There could easily be a list dedicated to his greatest monologues that would serve any actor well. Sorkin is honest and clever and sprinkles shock value that reverberates long after you first witness the writing. Jeff Daniels plays a cynical journalist who has no choice but to preach to a crowd about the declining state of America. This is dialogue with a purpose and grabs attention in a powerful thought-provoking way. It provides an actor with an opportunity to command attention.
7. "Shameless": Fiona on Monica's Death
"Shameless" dips into the well of painful emotions often with gritty results. A series about a struggling, impoverished family who relies on their street smarts to survive is eye-opening and racy. What makes it compelling is the brutal honesty that is spoken between these family members who only know to use tough love. Emmy Rossum plays Fiona Gallagher, the oldest child who grew up quickly to keep her siblings alive when the drug-addicted parents proved over and over again to be unreliable and dangerous. Fiona doesn't hold back her feelings about her mom preceding her sudden death. What you get here is an angry heart-wrenching outburst about the estranged relationship with her mom who was reckless and never there to the man who is heavily grieving his soulmate. This monologue is great for showcasing complex and deep-rooted emotions.
It's crucial to keep in mind that monologues are a part of a scene. They're spoken by a character with a life full of stories and events that make them who they are. The monologue itself is spoken to somebody else that the character wants something from. In order to really nail the performance and be impressive, you must establish that you understand why the character is speaking. You must connect yourself with the emotions of the character to have empathy.
Imagine that we're a picture with hundreds if not thousands of colors and in order to render a portrait, you must have access to all the colors that are needed to create a believable rendering. You may already have many colors in common at your disposal. The script may give you some more. But in order to create a realistic version of them, you'll have to find as many colors as you can. The brighter shades and the darker ones. The unique colors and the ones that are faded and ones that are vibrant and bold. A monologue is a tiny slice of the character's life and an actor should seek to understand them so they can honor them by showing us this important moment in their life.
What is great about a successful television series is the viewer is privileged to follow and witness years of a character's life. The viewer is impacted by performances by actors playing these characters because they too know where they have been and what makes them the way they are. Do your research before choosing a piece so you can make informed acting choices when delivering your next TV monologue.
Looking for remote work? Backstage has got you covered! Click here for auditions you can do from home!
The views expressed in this article are solely that of the individual(s) providing them,
and do not necessarily reflect the opinions of Backstage or its staff.