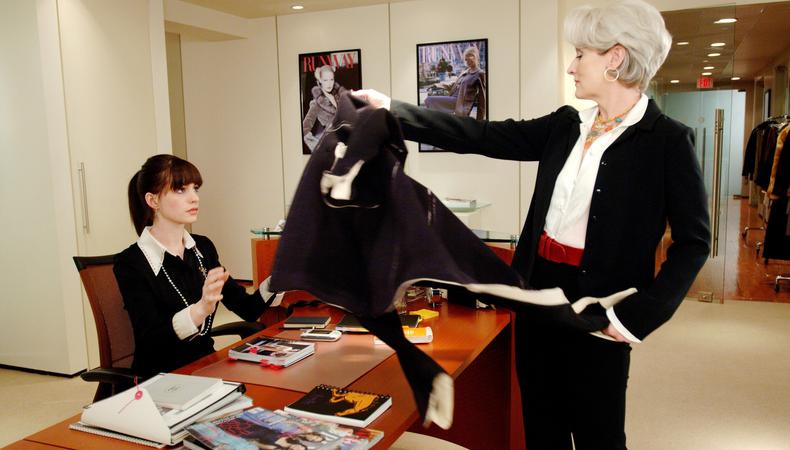 Meryl Streep has frequently talked about how she normally prepares for roles: by using in-depth research. But there was one time Streep tried the method acting approach—and then promptly abandoned it. It was when the three-time Oscar winner was playing Miranda Priestly, the frightening fashion magazine boss in the 2006 film "The Devil Wears Prada."
The character of Miranda was based on Anna Wintour, the editor-in-chief of Vogue, who had a reputation for being a tough and exacting boss. In playing Miranda, Streep used method acting, inhabiting the character even when she wasn't on camera. In an interview with Entertainment Weekly for the 15th anniversary of "The Devil Wears Prada," Streep said her experience with the Method made her "miserable" because she couldn't interact with her co-stars as herself.
"It was horrible!" said Streep. "I was [miserable] in my trailer. I could hear them all rocking and laughing. I was so depressed! I said, 'Well, it's the price you pay for being boss!' That's the last time I ever attempted a Method thing!"
Said Emily Blunt, who played Streep's assistant in the film: "Meryl is so gregarious and fun as hell, in some ways it wasn't the most fun for her having to remove herself."
Streep also inhabited Miranda when she was meeting with studio heads, who objected to the character's now-iconic white hair. "Meryl channeled Miranda in that meeting, and there was no conversation about the hair; they looked into Meryl's eyes and never said a word," said the film's director David Frankel.
Streep also said she wasn't trying to imitate Wintour, though the production team did build a replica of Wintour's office for Miranda. Streep based the way that Miranda spoke on fellow actor Clint Eastwood, especially how Eastwood could command a room without ever needing to raise his voice.
"It was a direct steal from the way I saw Clint Eastwood run a set," said Streep. "He's someone that guys really respect, and he never raises his voice, ever; the one time that he did, it so terrified people for two weeks, they were traumatized. In drama school [a teacher] said, 'How you play a king has nothing to do with you—you're just you—it's how everybody else in the room acts when you enter it that makes you the king.' It was all up to them to have this reaction. I could just speak and be slightly nastier than I normally am."
Even though Streep went method for "The Devil Wears Prada," her co-stars say that they still felt safe around her, unlike their characters in the film.
Said Anne Hathaway, who played the film's lead Andy: "I did feel intimidated, but I always felt cared for. I knew that whatever she was doing to create that fear, I appreciated [because] I also knew she was watching out for me."
Though the Method made Streep miserable, it was effective. Streep received an Oscar nomination for playing Miranda. And over the years, Miranda has become a beloved antihero and an example of a powerful woman who occupies a male-dominated world on her own terms.
Though Streep used the Method to inhabit Miranda, she hasn't depended on it for her other award-winning roles. Streep has previously talked about who she gets into character: "Acting is not about being someone different. It's finding the similarity in what is apparently different, then finding myself in there."