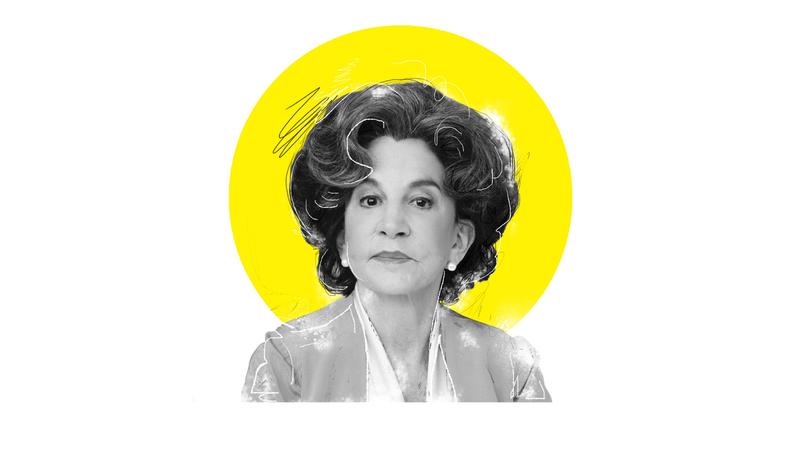 Academy Award and Tony Award winner Mercedes Ruehl is making her grand return to Broadway's boards in the acclaimed revival of Harvey Fierstein's "Torch Song." She co-stars as the prickly Ma to Michael Urie's lovelorn drag queen, Arnold, and the two are forced to reacquaint themselves with one another in the shifting social landscape of 1970s New York City. Here, Ruehl catches up with Backstage to offer her best audition advice and reveal how playing the Statue of Liberty got her Equity.
How did this role in "Torch Song" first come about for you?
It's so interesting how things tumble into your lap that weren't in your lap the day before. I got a call, I guess it was toward the end of last summer, saying Harvey [Fierstein] was interested in me playing Ma in this play. So I went back and looked at the role and I said, "This is good. I know what this is. I can actually have some fun with this." It's been a great experience, and I have to say that coming back, everybody is deeper, more detailed, and full of surprises the second time around.
Why do you think this material still resonates today?
Because the judgements and the prejudices are still intact. We can see that even in the current court hearings. There are three bodies of people in our culture who are used to judgements and prejudices being in place, and that is African Americans, the LGBT community, and women. These certain prejudices are so ingrained that people are not [always] conscious of them. You don't realize that the prejudgments that you inherited from parents and grandparents and great-grandparents are still in the unconscious, and that is very true of what the gay community faces. It's amazing that while there has been so much of a seen change in our culture's acceptance of the LGBT community, there's still so much hostility. It's amazing the play is still very, very powerful with audiences. We're still fighting the fight.
READ: Why All Actors Should Be Their Own Source of Validation
What has playing Ma taught you about your acting?
Well, let me tell you: Even at this age and this stage in my career, I'm apprehensive. I'm nervous before I go on. I can't stop this human organism from getting nervous 30 seconds before I have to step out onstage in front of hundreds of strangers. I think it happens with most actors. Without it, somehow the luster of the performance is dimmed a bit. Without that nervousness, without that heightened sense—you feel it in your body; it's physical as well as mental and spiritual. Without that, you don't come on reverberating with the same kind of energy, and you don't engage the audience in the same way. So it's a small price to pay. But yeah, I am a little bit scared every time.
Do you have a history with Backstage?
I myself was a Backstage- [and] Showbiz-reading 21-year-old back in the day. Every Thursday, Backstage came out and we all flocked to the newspaper stand to get them, because that's where you found out what was auditioning, what was going on. That was your only toe in the door at that point. I was wandering around thinking, How do I get in the union? How do I get an agent? How do I get people to know I'm good? How do I get good? So I have great empathy for my students and for all young actors.
What advice do you have to help actors build relationships in the industry?
It's very hard to know how to talk to producers, to talk to casting [directors], to talk to agents. [As an actor], you know who you are: You are Mr. Nobody walking in fresh from wherever at 21, 22, 23, 24—anywhere in your 20s or even your early 30s. They don't know who you are; they haven't heard of you. What I have told people is you'll probably never develop a really cool, suave way of dealing with producers and casting [directors] and even agents as a young actor because they hold all the power and you have none. It's really hard to be suave in that formula, you know what I mean? The best thing you can do is keep working every day in an acting class, an acting workshop, an Off-Off-Broadway play, an improv group. Keep what you do in front of an audience as many times a week as you can, even if it's class. Because it's through word of mouth that those doors that seemed so locked and bolted and closed against you open up. It's from people seeing you—even in classes—and talking about you that eventually your name and what you do gets known, if you care passionately enough about the art of acting.
How did you first get your Equity card?
I got my Equity card playing the Statue of Liberty. This is lost in the mists of time because I can't remember who the woman who produced and directed this was, but I did a play at the foot of the Statue of Liberty about immigrants coming to the United States.
How do you typically prepare for an audition?
I still have to audition sometimes. Almost everybody does, because as much as they know you, so much money rides on [it]. Whether it's television, a Broadway show, or a film, they know you're great, [but] they want to see what you'll do with this material. I came to understand and accept that long ago. I do occasionally read for things, and I have to say that I feel like every other young actor who is nervous before an audition. Even now, I still hate auditioning. I never liked auditioning. I think any actor who says [they] love auditioning is lying.
I think the best thing to do is to love the material and to think to yourself, I'm going to do something with this that the writer is going to love and say yes to. Try and do it in a way that nobody else could have thought of doing it. That's it. And sometimes, if you're really scared, you have to just admit how terrified you are. And then go out there and kill them with love. Some actors get their courage from contempt for the audience, but I think going out there and killing them with love works just as well or better. Love trumps everything; it trumps fear.