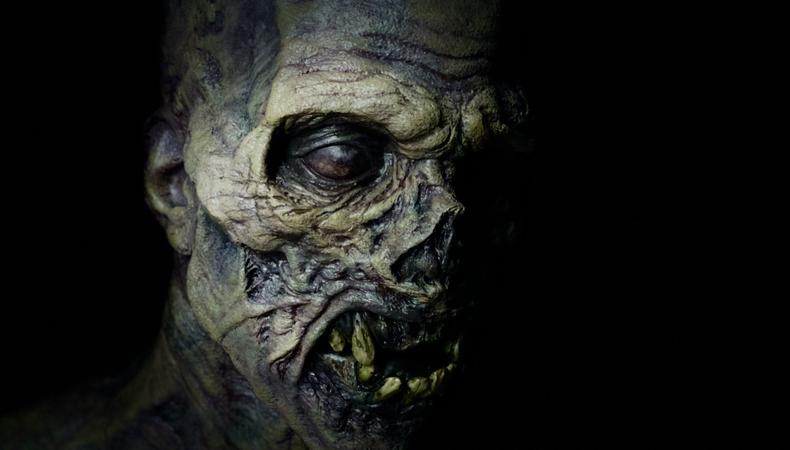 The zombies on "The Walking Dead" may be dead, but the show is still very much alive in the time of the coronavirus. The popular AMC show has resumed production in Atlanta, shooting six episodes in October that are set to air at the beginning of 2021.
Already, things are looking different on set: for one, there's a mobile testing center on-site for rapid COVID-19 results, and shoot days are only 10 hours; there's also a former medic acting as the health and safety supervisor. The virus has also affected artistic elements of the show, namely the makeup.
"The six episodes we're about to shoot are really specifically designed to be very COVID friendly: very few people on the set, people outside, things like that," says showrunner Angela Kang. The episodes will air as the show's 10th season. "We're going to come back with more scope and scale for season 11."
There is another big change the show has instituted that will be seen on-screen, but audiences won't realize it: the zombies themselves. Normally, in order to transform into a zombie, actors have to sit three to four hours in a makeup chair. But because of social distancing guidelines, "The Walking Dead" aimed to cut the time that an actor would have to sit in makeup to minimize contact and potential points of infection.
Executive producer and special effects supervisor Greg Nicotero has figured out a way to cut the zombie makeup time down to 50 minutes. "As soon as all of this kind of started to go down [COVID-19], I really started in my head thinking about how we were going to maintain the visual aesthetic of the show without feeling like we were handcuffed by safety measures," explains Nicotero.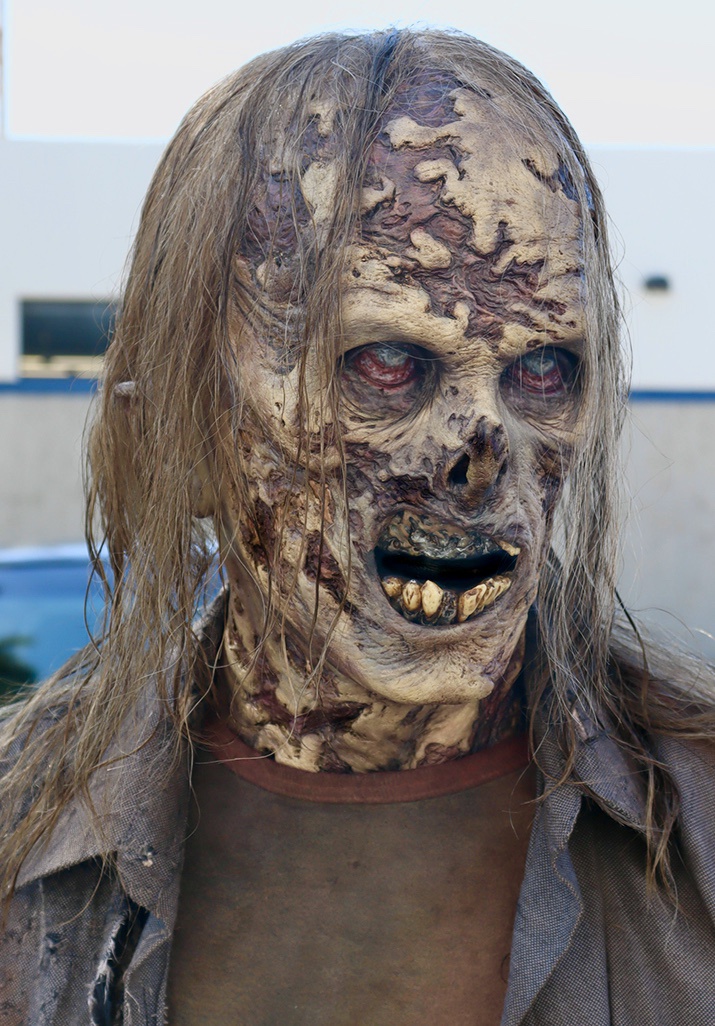 The Challenges of Creating Zombies During a Pandemic
Emmy-winning special effects artist Nicotero and his team came up with multiple strategies to make zombifying actors as low-risk as possible. Prior to the pandemic, in order to get that undead, decomposed look, the actors were accustomed to wearing a full face of makeup, special contact lenses, and dentures. But Nicotero quickly realized that having makeup artists touch actors' eyes and mouths was problematic, and putting that much makeup on would be time-consuming. So while the show was on hiatus, he had his special effects crew craft special undead masks in their home basements.
The "walker" masks are now made up of multiple prosthetics. One piece—which is pre-painted with hair attached—covers the forehead and the ears, back and down to the neck, with a second pre-painted prosthetic applied to the actor's face; the dead walker eyes are then created using makeup, so they look more like shriveled grapes.
As for the teeth (bites are usually how the zombie virus is spread on the show), "we velcro the teeth in and then pull them out between takes so that the performer can actually breathe and eat without having to stick dentures into their mouths," explains Nicotero.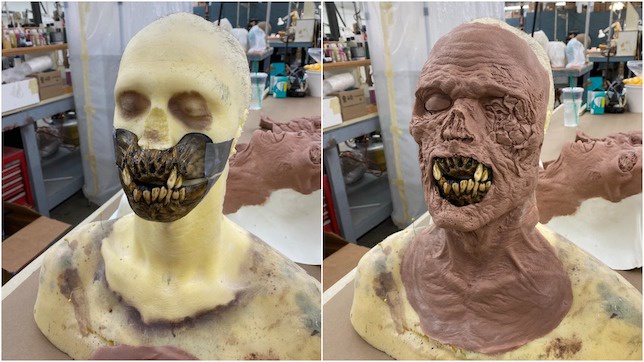 This care and attention is mainly used for what the crew calls "hero walkers": zombies that require a lot of close-up shots and interact with the main cast. For the background actors, Nicotero and his team figured out an even faster way to create zombies using good, old-fashioned costuming. The background actors are given screen-printed zombie-design spandex and a mask—and they're reusable.
"At the end of the day, you take the masks and you throw them in the washing machine, and you wash them and you sterilize them, and you can reuse them," says Nicotero. "I kind of kicked myself in the butt a little bit because I was like, I can't believe I hadn't thought of these before. We used to have crowds of 200 or 300 people, and there was a limit to the number of walkers that we could physically paint because you just don't have the time." Now becoming a zombie will be as easy as pulling on a pair of pants.
Nicotero has done screen tests with these new zombies and he promises they look as ghoulishly undead as before—possibly even more so. Additionally, because of the added bulk on the top of the head with the zombie masks, "it makes the face look thinner, it's like an optical illusion," he says. "So by doing that, we're actually accentuating the decomposition in the skull forms by making the tops of the heads taller. It therefore makes them look thinner. We want them to look like they're corpses."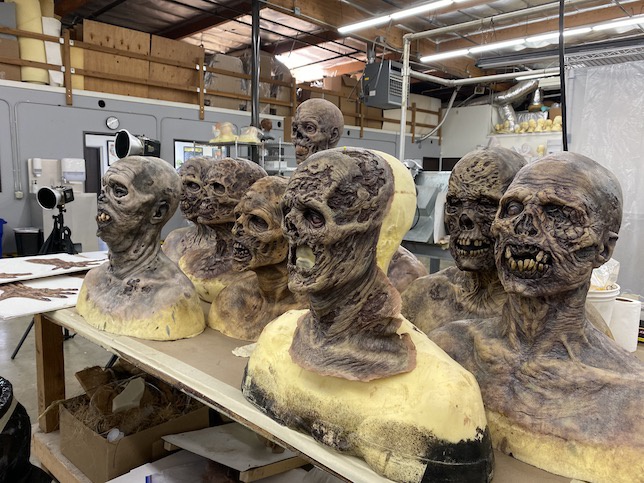 Unforeseen Blessings From a New Process
These new changes will keep both the actors and the crew safe, and they'll be beneficial for AMC as well. The makeup team can now get more zombies prepared in the same amount of makeup time, and cleanup is faster, too; actors just need to take off a mask, instead of spending an hour washing up. Nicotero expects to retain these new techniques when everything goes back to normal.
"The amount of labor it takes to get people ready and to clean people up has been reduced significantly," Nicotero says. "I really do believe between the amount of labor that it's going to take, and the amount of time it's going to save on set, this is going to save the production hundreds of thousands of dollars."
Nicotero is a veteran in the zombie and horror genre; his first film was George Romero's 1985 classic "Day of the Dead," but he's worked on myriad projects including "Pulp Fiction," "The Green Mile," and this year's Emmy-winning limited series "Watchmen." For him, COVID-19 has been a mixed blessing. It's held up production but it's also given Nicotero a rare commodity: time.
READ: How Co-writers Damon Lindelof + Cord Jefferson Made 'Watchmen' So Watchable
"It gave us time to entertain new ideas. I really feel that what we're going to contribute to the show is going to be better because of it," he says. Plus with shoot days now dropped to 10 hours, Nicotero has been able to spend quality time with his family.
"Why the hell would anybody want to work 14 or 16 hours a day ever again?" exclaims Nicotero. "You get to go home. You have dinner with your family. You go to bed early, you get up early. You're well-rested, which means you're more efficient and more effective at your jobs. The 10 hour days are actually more humane to the crew, and gets you a better product because the crew's more efficient."