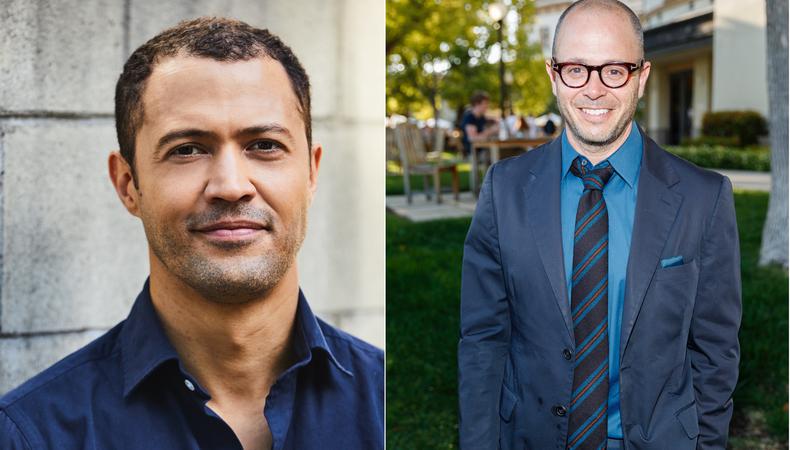 "In the Envelope: The Actor's Podcast" features intimate, in-depth conversations with today's most noteworthy film, television, and theater actors and creators. Full of both know-how and inspiration, "In the Envelope" airs weekly to cover everything from practical advice on navigating the industry, to how your favorite projects are made, to personal stories of success and failure alike. Join host and Awards Editor Jack Smart for this guide on how to live the creative life from those who are doing it every day.
Like any good collaborators, co-writers Damon Lindelof and Cord Jefferson can find common ground despite drawing from different inspirations. One similarity they share may be familiar to artists on any career path: relentless imposter syndrome.
"All of us [have] some degree of imposter syndrome," says Lindelof. " 'I don't belong here. I don't deserve to be here. These people are going to figure out that I'm completely and totally winging it.' " Jefferson agrees: "I'm terrified all the time of what people will think of my work. I'm incredibly insecure."
It may comfort film or TV storytellers early in their career to hear such an admission from Lindelof, the Emmy-winning creator of "Lost" and "The Leftovers," and Jefferson, a journalist-turned-screenwriter and 2020 WGA Award winner for "Succession" and "The Good Place." In their joint "In the Envelope" interview, recorded remotely via webcam, the two peel back the curtain on their creative routines, the ingredients of a great TV writers' room, and even childhood inspirations. Lindelof grew up in New Jersey and moved to L.A. to pursue screenwriting upon graduating from New York University, inspired by Stephen King novels and blockbusters from George Lucas and Steven Spielberg. Jefferson hails from Arizona; as one of "very few Black people in Tucson," he says, he was steeped in the music of Wu-Tang Clan and the films of Spike Lee.
READ: How to Make Your College Application Stand Out for
NYU Tisch's Film + TV Program
Emmy-nominated together this year in the limited series writing category for HBO's "Watchmen," their sequel to, and radical re-imagining of, the alternate-history sci-fi graphic novel from writer Alan Moore and artist Dave Gibbons, Lindelof and Jefferson also tell Backstage about the often difficult process of bringing that show to the screen.
"I think that the 'Watchmen' writers' room worked for a couple of reasons," explains Lindelof, who is credited as the show's showrunner and creator. "The first was that we were able to develop camaraderie as we went because many of us were strangers.... You have to confidently present ideas, and then fight for those ideas, and then employ some level of group-think—it requires a tremendous amount of trust.
"The work was really hard because we all cared very deeply about it. And we all had a sense of ownership from the jump because we had pre-existing relationships with the source material. Everybody just glommed on to a certain part of the story that felt very personal to them. When you take everything personally, it's very intense, but it actually generates incredible work."
Jefferson adds, "It was genre, but it was also incredibly grounded and full of rich details that I was super interested in, like generational trauma, like [the Tulsa race massacre of] '21, all of these things that I was really, really captivated by, along with the genre stuff that people know and love from Damon.... You're dealing with sexual violence and racial violence and secret identities and things that you hide from your loved ones, and anger that you carry with you throughout the course of your life, not to mention things like reparations. All of these issues, it's hard to talk about with your closest friends and family, let alone a bunch of your coworkers that you've just met."
Asked for their top piece of advice for other screenwriters, both reiterate that the life of an artist usually entails a lot of internal insecurity. "The thing that I always say is, don't get stuck on the one thing," says Lindelof, who recommends churning through tons of first drafts that may never see the light of day. "So many people, they've been writing one piece of material and rewriting and rewriting, and they give it to their friends and they get notes, and then they rewrite it and it's like, three years of your life and all you have to show for it is this. It may be exponentially better than it was when you started! But just put it away and write the next thing."
For Jefferson, working on several different writing projects is key to retaining peace of mind and being in control of your career. "There are so many obstacles to getting stuff made in this industry, and so many people who need to read a script and give it their go ahead and then they give it to their boss, and their boss has to give it the go ahead, on and on and on like that. Sitting around and waiting for everybody above you to say yes can feel maddening.... The thing that's kept me from losing my mind and going crazy every time that happens is just working on a new thing, coming home every night and saying, 'This is my thing. Nobody can say yes or no to this.' "
To hear more of Lindelof and Jefferson's thoughts on screenwriting and collaborating—as well as why actors like "Watchmen" stars Regina King, Jean Smart, Tim Blake Nelson, and Yahya Abdul-Mateen II grab their attention on-camera—hear their full interview at any of the below podcast platforms.
Listen now on:
Looking for remote work? Backstage has got you covered! Click here for auditions you can do from home!