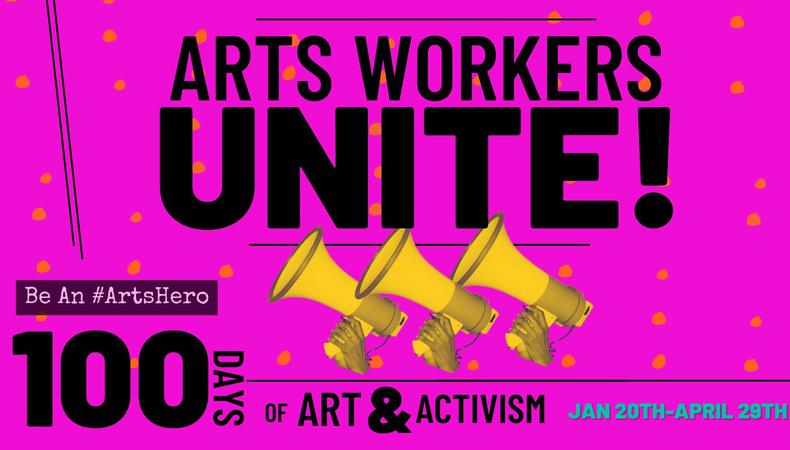 Be an #ArtsHero, an advocacy group founded by actors, have launched a letter-writing campaign aimed at President Joe Biden and Vice President Kamala Harris. More than 200 artists have written letters to the new administration, to encourage them to make arts relief a priority—among them Jeremy O. Harris, Heidi Schreck, and Anaïs Mitchell.
The campaign is called "Dear Mr. President and Madam Vice President," and it is organized in partnership with the Dramatists Guild of America. They are currently collecting letters from artists of all disciplines.
"Arts and culture not only adds $877 billion in value added to the economy while employing 5.1 million people, but are also uniquely suited to save our democracy from the threat of racism, sexism, white supremacy and fascism by fostering discourse and emphasizing our common humanity," said Be an #ArtsHero co-founders Brooke Ishibashi, Carson Elrod, Jenny Grace Makholm and Matthew-Lee Erlbach in their letter to the president.
"The arts can usher in a new era of citizenship rooted in compassion, affection, and respect; values handed down to us in our shared American story. That is why it is imperative that the arts and culture sector survives the devastating impact of Covid-19."
Congress recently passed the Save Our Stages Act, which allocates $15 billion to the live entertainment industry in the form of grants. But Be an #ArtsHero says that is not enough, and individual arts workers, who are usually gig workers and would not be the main beneficiaries of SOS, need more assistance.
According to Be an #ArtsHero, 2.7 million arts workers are unemployed due to the COVID-19 pandemic.
Among the priorities that Be an #ArtsHero is advocating for: "Federal Pandemic Unemployment Compensation at a full, retroactive $600 until this crisis is over and we are safely able to return to work when our institutions fully reopen. We need COBRA subsidies to keep our workers insured in a deadly pandemic. We need direct grants and commissions to make up for a year's worth of lost income. And the institutions that employ and hire arts workers must be stabilized so that there remains an arts and culture sector on the other side of COVID-19."
The letter-writing campaign was inspired by a number of concurrent advocacy efforts. One was an open letter written by Tony-winning director Rachel Chavkin and theater director Jenny Koons, which encouraged the Biden-Harris administration to appoint a Secretary of Arts and Culture.
"This is both an issue of values, and a labor issue: arts workers are vital members of the American labor force. Yet as an industry and workers, we have been largely left behind by the federal government. The lack of arts and culture representation at the highest levels of government contributes to this state of affairs," said the letter, which has been signed by over 10,000 arts and culture workers and 18 organizations and labor unions.
The other advocacy effort was from "Slave Play" playwright and actor Harris, who sent in his own letter advocating for a revival of the Federal Theatre Project, which was an initiative launched by President Franklin D. Roosevelt.
The Federal Theatre Project, "used tax money to invest in the necessary work and livelihoods of thousands of out of work artists during the Great Depression. This could be how we help rebuild the spirit or 'soul' of our nation in this new administration," he wrote. Harris has also advocated for a new Federal Theatre Project on "Late Night With Seth Meyers."
Those two letters have been folded into the "Dear Mr. President" campaign. With the help of the Dramatists Guild, the campaign includes letters from actors, directors, playwrights, composers, lyricists, and librettists.
One letter writer is playwright and actor Schreck, whose play "What the Constitution Means to Me" was touring around the country when the pandemic hit, "putting hundreds of people out of jobs," she wrote. "I don't know when we will be able to reopen or if the theaters we booked will still exist."
Schreck also encouraged the Biden-Harris administration to recreate the Federal Theatre Project, writing: "We cannot achieve a full economic recovery without the recovery of arts and culture. Beyond that though we need art for a different kind of recovery. We need art because… Well because we're human. We need art to delight us and to make us laugh. We need art to remind us of our mortality. We need art that doesn't do anything useful at all. We need art that tells us the stories of our ancestors and art that helps us imagine our futures. We need art that shows us how the hell we ended up in this terrifying predicament. We need art that reminds us that who we are now does not have to be who we become."