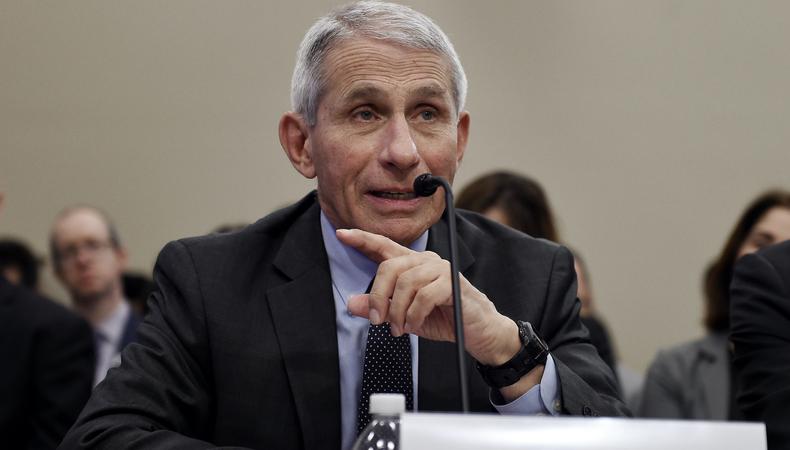 Dr. Anthony S. Fauci has said theaters might be able to reopen in fall 2021—but with a crucial caveat: 85% of the U.S. population must get the COVID-19 vaccine.
In a Zoom conference on Jan. 9, hosted by the Association of Performing Arts Professionals, Fauci provided a light at the end of the tunnel stating that if 70–85% of the U.S. population is vaccinated, theaters and other live performance venues can reopen. "If everything goes right, this will occur sometime in the fall of 2021," he said, "so that by the time we get to the early to mid-fall, you can have people feeling safe performing onstage as well as people in the audience."
According to the New York Times, he also said theaters might want to look into improving ventilation and installing air filters, and that audiences will still need to wear masks. But if proper mask-welling, ventilation, and sanitation are in place, "I think you can then start getting back to almost full capacity of seating," he said. Fauci also suggested having audience members show proof of a negative COVID-19 test.
The main necessary element, mass vaccination, is a big "if." Currently, the coronavirus vaccine rollout has been slower than expected. According to the Center for Disease Control, in the first month of vaccinations, nearly 9 million people have received their first doses of the vaccine—two doses are required for full immunity. That number falls well under the CDC's initial estimates of 20 million distributed vaccinations in the first month.
Twenty-five million total doses have been distributed across the country. Some states have started setting up "super distribution sites." One super site: Disneyland, which has been closed since March 2020.
According to the Pew Research Center, though American willingness to be vaccinated has increased in recent months, 2 in 10 American adults don't intend to get the vaccine. And 62% of those surveyed said they are uncomfortable being in the first wave of vaccinations.
World Health Organization's chief scientist Soumya Swaminathan recently said in a briefing that herd immunity worldwide will not be reached until 2022. "Even as vaccines start protecting the most vulnerable we're not going to achieve any levels of population immunity or herd immunity in 2021 and even if it happens in a couple of pockets, in a few countries it's not going to protect people across the world," she said. "It takes time to scale the production of doses not just in the millions but here we're talking about the billions."
In the meantime, Congress has passed the Save Our Stages Act, which will allocate $15 billion to live performance venues and cinemas. And the latest COVID-19 relief package extended unemployment benefits to March 14, with an additional $300 a week in unemployment compensation.
The $600 stimulus checks that also passed as part of the most relief package are currently being distributed. President-Elect Joe Biden has promised $2,000 stimulus checks and more unemployment benefits after he is sworn into office.