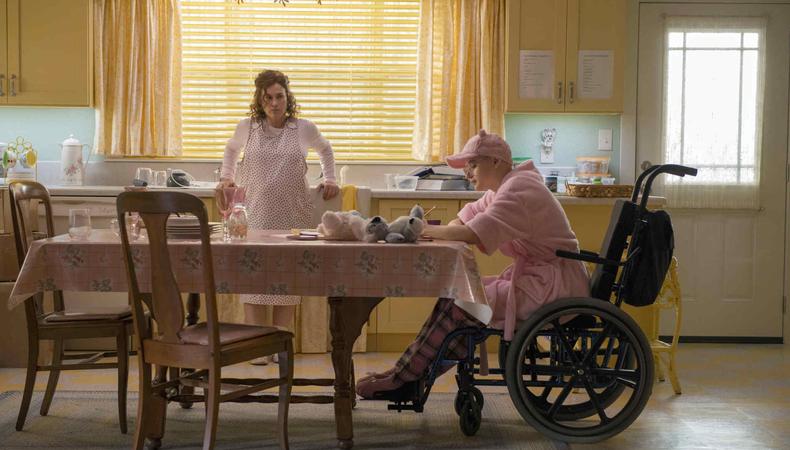 The headline for Michelle Dean's 2016 BuzzFeed article about the murder of a 48-year-old woman in Missouri was as eye-grabbing as they come: "Dee Dee Wanted Her Daughter to Be Sick, Gypsy Wanted Her Mom Murdered." It was simple, to the point, and immediately made readers want to know the whole story. Now developed for television by Dean and Nick Antosca as the first season of Hulu's anthology true crime series "The Act," this eight-episode adaptation is intent on digging beyond the clicky title.
Dee Dee Blanchard (a de-glammed Patricia Arquette) is, to onlookers, a devoted mother whose entire existence revolves around her sickly daughter Gypsy (an unrecognizable Joey King). She keeps tabs on Gypsy's endless illnesses, makes sure she gets enough to eat via her feeding tube, and maneuvers her around in a wheelchair. Only, there's more to both women than meets the eye, and their secrets eventually culminate in Dee Dee's death.
Immediately after Dean's piece was published and went viral, she was approached by several parties interested in adapting it. In an era where true-crime stories are all the rage on the small screen, this lurid tale was ripe for the taking. But Dean had apprehensions about letting others take the reins for the screen. "I thought about how to make a version of this story with integrity and tried to choose some partners who would do that," she tells Backstage. "I wanted it to be done in a certain way."
READ: 3 Tips for Portraying Real People
"We wanted to do a version that honored the humanity of the characters," Antosca adds. "We wanted to tell a story about the human beings and the relationships that led to the crime, rather than about the murder itself." Drawing inspiration from films like "Boys Don't Cry" and "Heavenly Creatures," they aimed to create a show that would portray the warped emotional logic at the heart of the titular act.
When it came to casting their two leads, the showrunners knew they needed actors who could navigate that tricky ethical and emotional territory. "We were looking for a grounded quality in whoever was going to play Dee Dee," Antosca says. "Because the character does such objectively monstrous things, we didn't want her to come off as purely a monster. We wanted to see the emotional and psychological stuff that was going on in her life. We wanted to get inside her skin."
Arquette was at the top of their wish list. "She is so thoughtful about the characters and the roles that she takes, we knew that we were right. She was the perfect person for it," he adds. Just as she did in her Golden Globe– and SAG Award–winning role in "Escape at Dannemora," Arquette finds in Dee Dee an almost Tennessee Williams-like tragic air; she may do monstrous things to keep her daughter close to her, but she imprisons herself in the process, building a world of fragile fantasy that eventually comes crashing down.
"We were looking, too, for actors who were not simply interested in imitating the real-life figures but who were going to build out their performances into something that was truly theirs," Dean notes. King's take on Gypsy, at times cloyingly babyish, at others cunningly mature, is almost uncanny—not because it's pure mimicry, but because "there's also something to it that is very Joey-specific."
The goal to serve the "emotional truth" of the story, especially one that hinges on so many deceptions and lies, was at the heart of the series. "A thought I often had while reporting the article is just, I don't really know what went on in that house," Dean admits, "and I may never know it fully. But you can make connections between the things that you do know and try to depict those in a way where they have truth in them. The truth is maybe not a strict reported truth, but it's the truth that comes from the original story. And that's what we tried to do."