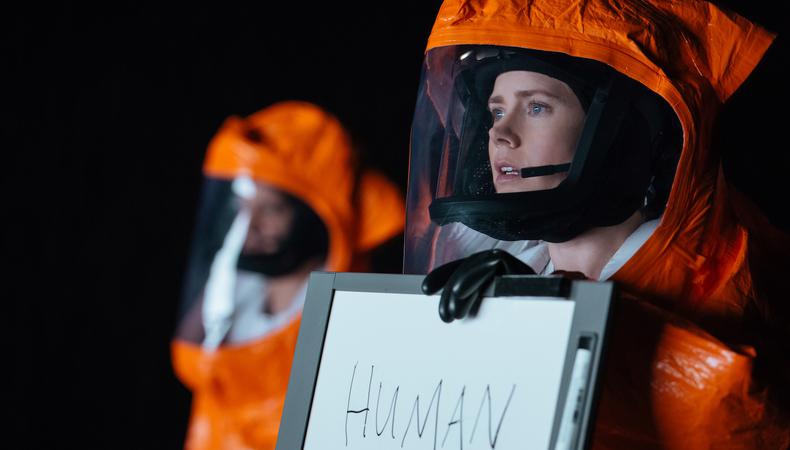 Cinematographer Bradford Young says that his main concern on set is making an actor's work the best it can be.
"[Cinematographers are] there to serve the narrative, and the narrative is always driven by the actors. The actors are leaders," he tells Backstage on a Skype call from London. "When my camera responds to something or my camera decides to make a particular move or do something different with lighting, it's generally because I was inspired by what the actors are doing."
Though he's worked on acclaimed films as varied as "Selma," "A Most Violent Year," and the HBO documentary "Everything Is Copy," his latest, "Arrival," proved a particularly enticing actor-cinematographer collaboration. Starring Amy Adams as a professionally renowned but personally adrift linguist and translator, the film sends her Dr. Louise Banks into perhaps the most exhaustively hypothesized phenomenon in cinema: an alien invasion. Banks is hired by the U.S. government to communicate with a pair of aliens who've landed their egg-like ship in the States; theirs is just one of 12 other UFOs scattered around the globe, and her job is to find out what they want.
Co-starring Forest Whitaker as Col. Weber and Jeremy Renner as physicist Ian Donnelly, the film may not immediately appear to be a seamless fit for Young and his director, Denis Villeneuve ("Sicario," "Prisoners"). Both behind-the-camera talents are known best for character-driven, emotionally grounded features. Are they familiar with high stakes? Sure. But as a science-fiction genre film, "Arrival" seems a bit out of left field. Young, in short, agrees.
READ: "Amy Adams Is Backstage's Performer of the Year"
"I never imagined that I would be working on a science-fiction film," he admits. "But at the same time, we were also trying to get away from some of those science fiction tropes.... It became less about science fiction as a platform but more science fiction as a sort of backdrop to this human story." Rather than bulked-up aliens versus mankind action, "Arrival" feels subdued, focusing primarily on Banks' personal relationship with these extraterrestrial visitors. "I didn't feel arrested by this idea that I had to bring out a bag of tricks to tell the story. It's about trying to figure out that fine balance between being procedural but also being committed to emotion."
This is especially seen in Adams' character, who, as established at the film's onset, is haunted by dreamlike memories of her daughter succumbing to cancer as a teen. To properly reflect Adams' emotional trials onscreen, Young recalls how physically close his camera lens had to get to her face, because cultivating an intimacy between her and the audience was essential. What may at first seem a discomforting invasion of personal space soon evolved into a bond between the film's lead and the man "in charge of the look of the film [and] giving audiences perspective on characters."
Young says production on any set often begins with determining how he and his director visually imagine the film and what is required of him in relation to the actor. As filming progresses, "it just becomes the culture of how we make the film," and the need for instruction fades away. Such was the case with Adams.
"All those sequences with her and the baby [were] a beautiful sort of dance between Amy being able to do what she needed to do for the character and me being able to do what I needed to do for the character," Young says. "She knew where the camera needed to be, and she knew I was basically following her lead, so she did what she needed to do to make sure the camera got there. When those things happen, you realize how much power actors have and how it does require really powerful symmetry and really powerful social harmonics to get the shot and the mood for the scene."
Ready to "dance" with a cinematographer? Check out our film audition listings!