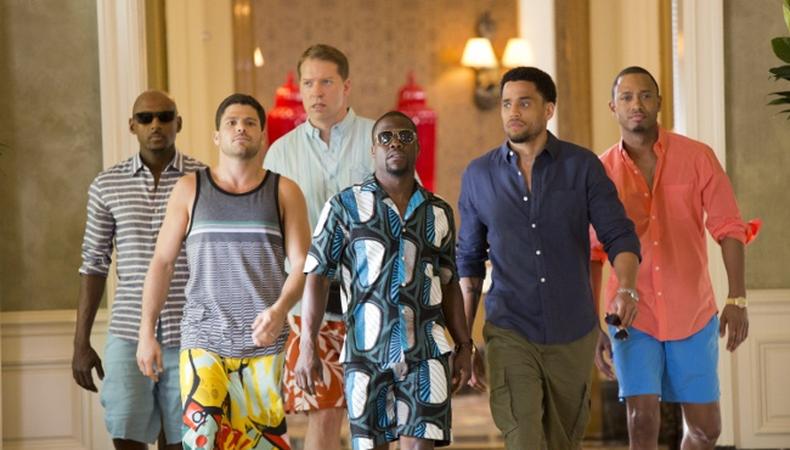 With any relationship, searching for one's other half is only part of the journey—"It's after you've found your quote unquote mate that the real adventures begin," says director Tim Story. For "Think Like a Man Too," the onscreen relationships Story built the first time around have grown and deepened.
Two years after "Think Like a Man" introduced us to four couples, Story and his cast—which includes Kevin Hart, Gabrielle Union, Michael Ealy, and Meagan Good—are back for another roll of the dice in the game of love, this time with a romp through Las Vegas.
"I wouldn't miss being with these guys again for the world," says Story of his cast. "We just have a lot of fun, and for us to all be cooped up in Vegas, you also have fun behind the scenes!"
The director says the trust that he and the cast built last time, combined with their matched work ethic, made continuing the narrative feel like "coming back together with your brothers and sisters."
"One thing I've learned in my career is that once you and the actor—or actors—see the story eye to eye, there's not a lot of problems with how you tell that story once we all know, 'Here's where we're trying to get to,' " he says. "Here I have a situation where I adore my cast and they're so intelligent and so funny and so great that getting to the end result is the easy thing."
The product is a fresh look at familiar relationship issues such as dealing with in-laws, fear of commitment and sacrifice, and planning the bachelor and bachelorette parties. Throw in the temptations of Vegas and you've got a colorful backdrop to the vivid narrative Story brings to the screen.
"We had no control over Vegas," he admits. "Although we had Caesars Palace and all of their casinos behind us—we couldn't have done this movie without them—they can't shut down their floor of gambling. You're shooting with everyone in back of you still talking as loud as they want, so we had to have the best mics. We didn't have control over lighting beyond the area where we were. We barely had control over music that would be playing through the speakers. You're in the chaotic world that is Vegas and you really can't control it—that's why you're there."
But according to Story, Sin City's curve balls kept him on his toes and provided a setting he could have never re-created. "There were times where we were in these huge high-roller suites. We learned real quickly that our little budget to do our movie is nothing in comparison to how much these big—they call them 'whales'—spend in Vegas. These guys, they spend so much money that if that person calls up and says, 'We're on our way,' you gotta get out of that suite"—which is exactly what happened one day. Luckily, the crew relocated to another suite, where Hart's character slid across the floor in his socks—think "Risky Business" with a hip-hop soundtrack.
"We went through so much on the first [movie] that we really figured out who these people are," says Story about the film's characters. "We never thought in a million years that we'd be doing a sequel...but it was definitely one of those, 'Oh yeah, we can definitely come up with more stories.' "
Inspired by this post? Check out our film audition listings!