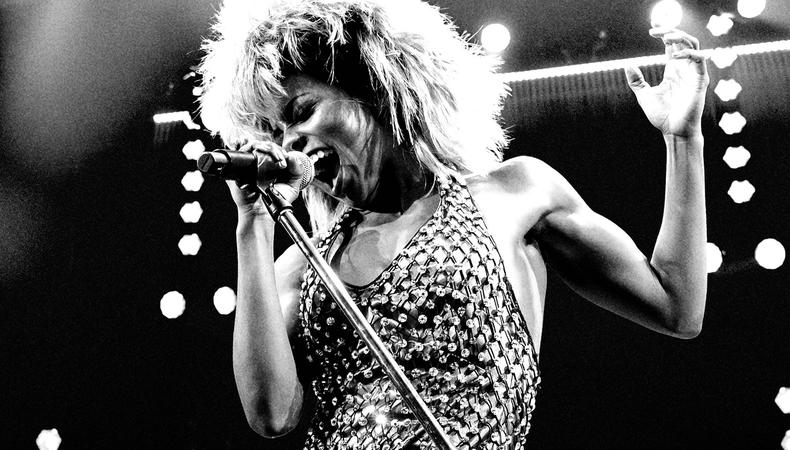 Sometimes, when writing, it's best to play by the rules. Other times, it's better not to know the rules at all. Just ask Katori Hall.
"I had never been part of a creative team that was putting up a musical," Hall says. "I didn't necessarily adhere to the usual rules when it comes to biomusicals—I didn't know what the 'rules' were."
Hall is discussing her first book of a musical, for Broadway's "Tina: The Tina Turner Musical," which, as one could infer, is a biographical voyage into the life and career of the ponying superstar, told in part using her songbook. That this particular icon's life is defined as much by glitter as it is by grit is just one reason Hall felt intrinsically drawn to both Turner and "Tina."
An accomplished playwright, Hall became the first black woman to win the Olivier Award for best new play in 2010, in recognition of her Martin Luther King Jr. drama "The Mountaintop." (The play later transferred to Broadway, where it starred Samuel L. Jackson.) She also has a television series based on her play "Pussy Valley" heading to Starz and has begun directing on-camera projects. And though it seems a departure from her work prior to this point, "Tina" is in fact squarely in her wheelhouse, resonating deeply on personal terms as well as professional ones.
READ: How 'Moulin Rouge!' the Movie Went Broadway
"My mother loved Tina [Turner] so much that she named my oldest sister Tina," Hall says by phone while the musical is in rehearsals. (It is now in previews at the Lunt-Fontanne Theatre under the direction of Phyllida Lloyd.) "Tina was the soundtrack in the background all my life, and being from Memphis, Tennessee—which is so close to Tina's hometown, Nutbush—I just felt, as a black woman who had a particular lived experience that had a lot of overlap with hers, that I could infuse the book with and provide cultural context and social context in ways that someone who hasn't lived the life of being a black woman might not be able to."
That deep connection notwithstanding, the musical, which arrives on Broadway after a smashing run in London's West End and is led by Adrienne Warren, was still Hall's first book-writing experience. And any first experience in big-budget commercial theater has a high-stakes learning curve, particularly when that piece of theater comes with an ardent, built-in fan base.
"In a weird way, writing for a musical made me less selfish as a writer," Hall says. "When I'm writing in my own place, I'm oddly writing for me, or for one person. But with a musical, especially a musical that is of an icon, I knew I was writing for an already [existing] audience, and just thinking: I saw my mother moved by her music when she was listening to it; how do I replicate that for the stage?"
Despite the pressure to imbue her "Tina" book with the sparkle of Turner herself, Hall's intent when it comes to actors—whether she is writing for a play or musical or television—is the same: "I always come to the page wanting to create and give this gift of complication and nuance to the performer—particularly performers of color, particularly performers who are women, because I know they don't get the opportunity to do things like that very often," she says. Chances to do so, she adds, are "always a dream for me, and I feel a responsibility any time I get an opportunity like that, to just go balls to the wall and create a story [depicting] flesh-and-blood human beings."
Further, as a former actor herself, Hall pushes herself to create particularly chompable dialogue and scenes, because she understands exactly how much actors must give of themselves to go there, wherever "there" may be.
"I know how hard their job is [when asked] to use their pain or to do dark scenes," she says. "I just love them so much, and I think that's why I try so hard to give them what they are always looking for, which is very complicated, nuanced, heartfelt portrayals of human beings. I always felt like that's the actor's dream."
Hall expects that high standard she holds herself to as a writer to be reciprocated by her actors, whether it's in performance or rehearsals or the audition room. That doesn't mean perfection; it means perseverance.
"I'm always interested in [asking,] 'Are you brave enough to try and go there and meet that character where they are?' That's all I care about. And if you can do that, the imperfections that come out, you can use them as an actor to help portray that character more truthfully," she says. "Actors who are so confident in being in the moment and being present that they don't care about the mistakes they just made and they're not thinking about the mistakes they might make, that's what I'm always searching for. I'm looking for actors who can use parts of themselves for a role, so that the character feels truly real. Most of all, it takes bravery. That's mostly what I'm looking for in actors: bravery."
To be brave in your approach to the work is the ultimate message of Hall's writing advice, as well: Dare yourself to go there—even, or perhaps especially, when it is hard. The rewards will only multiply.
"It's challenging, embracing who you are and writing parts that are a reflection of that experience of being a woman or being a woman of color," she says, her tone firm. "Despite that, I urge and implore writers to keep going. That's really the only advice that I can give: Write, and write when no one is asking you to write. The one question you always have to answer as an artist is 'Why are you writing?' That should provide the fuel so that you don't have to wait for other people's permission to do the things that are required of you—which is to be a writer."