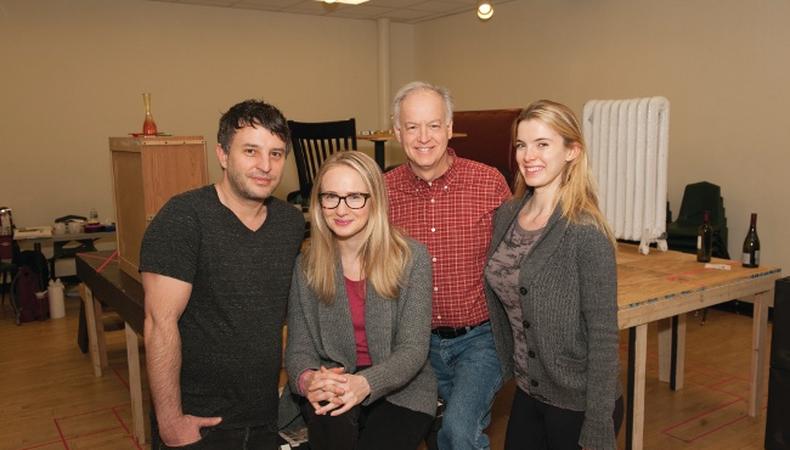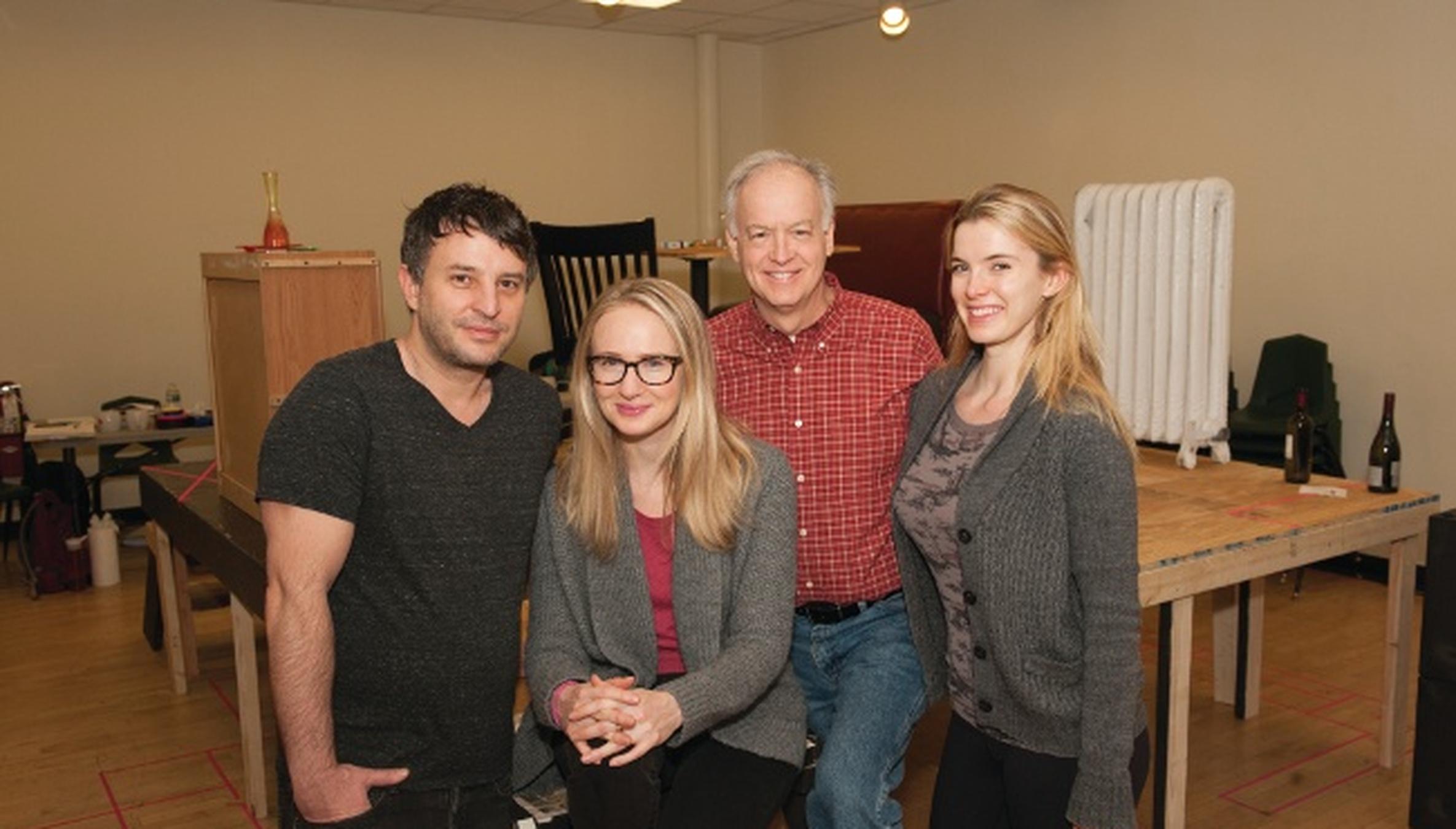 As both an actor and a playwright, Halley Feiffer is a fan of artistic compartmentalization. "The two crafts inform each other but I never imagine myself acting in my own plays, because that would give me paralyzing, crippling fear," she admits. During rehearsals for her new play, "I'm Gonna Pray For You So Hard," which began performances at Atlantic Theater Company Jan. 7, watching other people act has helped fuel the development process.
"Mostly I just get up and act out all their parts for them and then I say, 'Do it like that,' " she says. "Just kidding. That would be every actor's nightmare."
Since its first draft four years ago, "I'm Gonna Pray" has transformed in several ways, the most drastic being its shift from a three-character story to a two-hander. Following director Trip Cullman's suggestion, Feiffer cut one of the characters entirely, shifting the story's focus to the fraught relationship between an actor and her accomplished playwright father. Feiffer and Cullman also benefited from a test run at the Eugene O'Neill Theater Center's 2014 National Playwrights Conference, where actors Reed Birney and Betty Gilpin started to provide crucial input on their characters.
"They're acting like dramaturgs," says Feiffer, who is quick to praise the abilities of her cast. "It's very unusual, in my experience, and I love it." While she understands that the playwright's role in the rehearsal room should be limited to an extent—"I think it's good for the playwright to not be there all the time so actors can be like, 'This line is terrible' "
—she thrives on the medium's collaborative nature, incorporating ideas big and small into the ever-evolving text. "I, as a playwright, love it because I feel like I have .00001 percent of the answers. And I need help!"
The only area where Feiffer's onstage know-how influences the writing process is when she reads her words aloud. By momentarily slipping on her actor identity, she can test lines to determine the most comfortable or efficient way to deliver them. Does she ever get on her feet or slip into characters to the point that she inhabits their development? That, she explains, is Birney and Gilpin's job. As she points out, "They've been living with them for a while and in some ways they know them better than I do."
Feiffer doesn't write to give herself her own big break (her acting résumé includes several Broadway and Off-Broadway productions, including a Theatre World Award for the revival of "The House of Blue Leaves") but for actors who do, or want to, her advice is simple: Just sit down and do it. "Everything feels so much harder in theory than it actually ends up being," she adds. "For me I'm like, 'Write a play? That's impossible!' And then I sit down and spend a month doing it and I'm like, 'Oh, I wrote a play, cool.' " She also recommends thinking of it as a desk job; if a daily schedule includes two designated hours of writing, a month may be all it takes.
"Just go home and write the really dumb, bad version," she says, echoing advice she received from a friend. A self-confessed perfectionist, Feiffer is wary of the trap facing many beginner writers: The urge to produce a masterpiece is squashed by the improbability of such an outcome, resulting in zero productivity. "If you just take the pressure off yourself and sit down regularly, you'll have something," she advises. In fact, she says, looking back on the first draft of "I'm Gonna Pray" makes her want to cry "because it was so dumb and bad. But there was a kernel of a good idea in there. It needed to be dumb and bad for a while to get good."
Inspired by this post? Check out our theater audition listings!