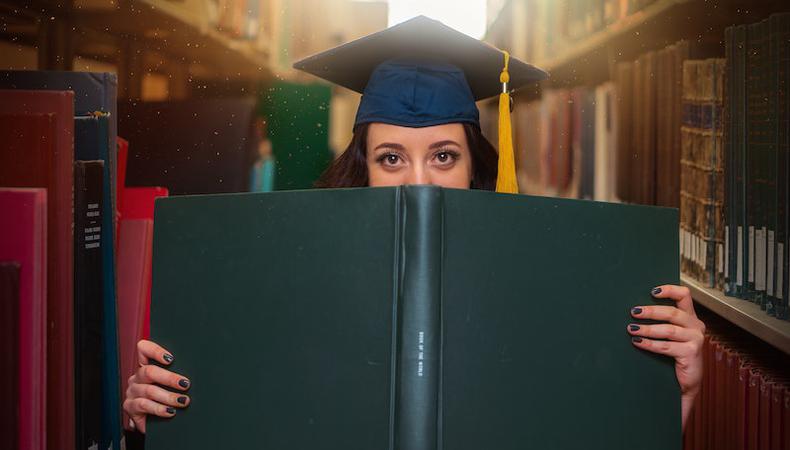 Pre-screen audition season is upon us. For most students auditioning for BFA musical theatre or acting programs, recording and submitting pre-screen audition video clips with a monologue, song, and/or dance material is the first step to securing a college audition slot at their dream program.
In recent years, the pre-screen has become incredibly popular, with both new and storied college programs alike adding themselves to the pre-screen list every year. So as you prepare to film your session, here are eight tips to get the most out of your pre-screen college audition video.
1. Plan out the shoot.
One of the worst feelings is to finish filming and to realize you forgot an introduction video requirement or didn't film a monologue or song in the specific way a school requested. If you forget something, it's very important that you re-shoot.
Colleges receive thousands of pre-screen videos and you don't want to not pass a pre-screen because you did not follow directions. Think of it as your first college test: being thoughtful about making sure you have everything you need to film, as well as planning out the structure of your shoot, will allow you to have a smooth filming experience.
2. Apply and reapply (makeup).
I am not a makeup guru, but it is important that you look fresh throughout your shoot. This is your first visual impression, so you want to budget time into the shoot to make sure your hair and makeup stays consistent.
3. Pay attention to background, lighting, and sound balance.
Background, lighting, and sound balance are the most important technical elements you want to keep in mind wherever you film. You are the star of the tape—not your life-sized "Frozen" cut-out in the background and before you ask, yes, I've seen this in a pre-screen video.
The background should be clean and simple; if you use a sheet, make sure it's not too wrinkled. The lighting should be bright enough to see you and your facial expressions. The sound should be balanced; if you're singing, make sure the piano doesn't drown out your voice (this could make or break the song component of your pre-screen).
4. No more than three takes per requirement!
There's a common misconception that you can just keep recording until you get it perfect. If you were already "perfect," then what would you spend four years in a BFA program working on? The college audition faculty is looking for potential, not perfection. If you muscle in too many takes, you'll get into your head and begin to doubt yourself. You'll also start to strain your voice, which you'll need for the rest of the shots in your filming.
5. There's a difference between direct-to-camera and off-camera focus.
The general rule that you want to follow is that slates and any video introductions should be filmed looking directly into the camera lens; monologue and song material should be filmed with you looking slightly to the left or right of the camera. You would never deliver a monologue or song in a college audition using the audition panel as your scene partner, and the same rule applies to pre-screen filming.
6. Establish your physical parameters before filming.
You want to stay in frame at all times, so if you're moving at all in your audition material (Texas State University's BFA acting program wants you to move in your pre-screen), make sure you know what your physical boundaries are to stay in frame. This is definitely an interesting challenge when putting material on-camera that's intended for a physical, in-person audition—you'll have to adjust slightly for the film medium. If you move out of frame or get too close to the camera, your brilliant take might not be usable.
7. Be mindful of the framing specifics that each college asks for.
Some pre-screen schools, like the University of Michigan's BFA musical theatre program, want a mixture of "full-body" and "waist up" shots." Indiana University's BFA musical theatre program wants "full-body" shots. Carnegie Mellon wants one "shoulders up" and one "full body." Depending on your combination of pre-screen schools, this might require you to budget more time in your filming to readjust your framing.
8. Don't forget the pre-screen supplemental essays!
If you're waiting until the final deadline to film, I want to alert you to some hidden elements you might not have considered. In addition to the typical headshot and resume, some programs ask you to submit an additional arts-based supplemental essay or offer the possibility of sending an optional video. For example, Indiana University is asking this year's applicants to answer the following question in a required essay: What work of literature or movie do you think would make a great musical, and what role would you have for yourself in this production?
If you haven't thoroughly checked your pre-screen requirements, these supplemental essays might come as a surprise when you go to submit. If you see this requirement when you try to submit at 11:59 pm on the deadline date (not advisable to wait until the last minute regardless), your stress level will be at a volcanic high. Programs wouldn't ask you to complete these extra essays if they weren't important; they use essays like this to get to know you better, to see how you write and think, and to measure your seriousness about the program. As much as I know it is annoying to write another supplemental essay, it is important that you don't slap something together at the last minute. And if a program allows you to send an optional video, it's always a good idea to consider putting together this material if it applies to you.
The pre-screen is the dress rehearsal before the college audition. Although filming a pre-screen video might seem intimidating, this part of the college audition process can really help you to focus your attention on the programs that are most interested in seeing your live audition; if you find that you don't pass a lot of pre-screens, you also have enough time to re-evaluate your college list and add new programs that might be better matches.
Remember that you love what you're doing and have chosen to dedicate your college education to training in the performing arts. Don't let the fear of the college audition process and your first big on-camera experience paralyze you. Stay passionate throughout your pre-screen filming and share your heart in every take.
Get all of your college audition questions answered by peers and experts on the Backstage Community forums!
The views expressed in this article are solely that of the individual(s) providing them,
and do not necessarily reflect the opinions of Backstage or its staff.