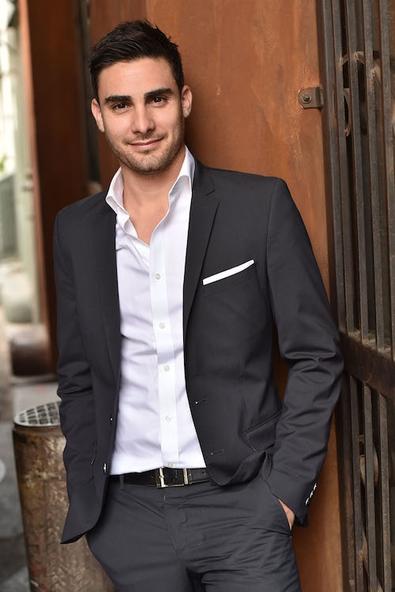 Grinning from ear to ear over his cup of tea, it's obvious that Tommy Savas knows how good he's got it. In New York on a short break from filming the highly anticipated NBC series "State of Affairs," he laughs as he corrects himself over the usage of the word "seamen" when talking about his co-stars on TNT's "The Last Ship." As he discusses the biggest year of his career thus far, Savas exudes a boyish enthusiasm, referring to everything from his co-stars to his recent trip to the CIA headquarters as "awesome."
"Going from being a Navy SEAL to a CIA agent, the 10-year-old version of myself is like, 'Yes!' every day I go into work," he says.
Though he's been appearing in mostly guest-star roles on television for more than half his life, the 29-year-old New Jersey native has been best known for his work as an actor and creative producer on the YouTube sketch comedy channel Reckless Tortuga until recently.

Savas opens up to Backstage about his most recent projects, the path he's taken to get to this point, and how he intends to make the most of this experience.

Find an audition method that fits the part.
While on a brief break from filming "The Last Ship," Savas was called in by casting for an audition for the role of Dashiell Greer on "State of Affairs." With only two days to prepare and a dense one-page monologue filled with CIA jargon, he decided on a safe plan of attack that emphasized both the technical content and his own strengths. "I remember looking at it and going, 'OK, if I can just memorize this verbatim and really understand it, I think I can book this job because I don't think anyone else will be able to do this,' " he says. After taping the monologue to his speedometer to memorize while driving around, he aced the audition and got the role.
Or take a risk.
For "Last Ship" fans who've come to love Savas' character Cossetti, it may be surprising to learn the character didn't even exist until Savas got his hands on the script. Though the one-episode part he was auditioning for was written as a "farm boy from Iowa," he decided to take some creative liberties.
"I remember reading it going, 'I don't think this is interesting enough. I feel like on a navy battleship you need a little more diversity than just all-American white boys,' " he recalls. "So I went in there and I was like, fuck it, I'm gonna make this guy an Italian kid from Brooklyn."
Week after week, he received calls from producers asking him to come back and film the next episode until he had a role in eight out of the season's 10 episodes.
"When you've been… playing the audition game in L.A. for 11 years, you kind of get to a point where you realize you have to take those risks in order to succeed," he says. "Everything on the page goes out to, like, 1,000 actors and 990 of those actors look at what's on the page and perform what's on that page. If you can do something that they haven't seen before and execute it well, I feel like it shows that there's more to you than just somebody who can read lines off a page and be believable—it shows that there's somebody behind there."
Create your own launchpad.
Deciding to give your character a complete overhaul before even landing the part is a gutsy move, one Savas was prepped for largely in part by his background with Reckless Tortuga.
"I always say that [Reckless Tortuga] has been the best acting school I ever went to because it gave me a lot of confidence," he says. "When you're with friends, you can try the craziest shit and see if it works. We encourage each other to fail. We're like, 'Say the craziest shit, make up the craziest character. Let's fucking try it and if it doesn't work, it doesn't work.' We're not going to judge each other. And that gave me confidence to be able to be like, 'I'm gonna try anything.' "
Savas formed Reckless Tortuga with a small group of friends in 2009 as a means of "continually creating things and working even if we weren't booking work professionally." Now, Savas has not only an extended network of actor friends that enable him to grow, but also a fan base of over one million subscribers. He's even gotten fan mail from prison inmates.
"The online fans are kind of like cult following fans," he says. "They're so loyal, they're so much fun. They discovered me before anyone else did, so whenever they see me doing things outside of the YouTube space they're overly stoked, which is cool."

Find the best way to channel your character.
In researching a character, Savas places a heavy emphasis on exploring the environment he would embody.
Filming "The Last Ship" on an active duty naval ship with the aid of military operatives was an opportunity Savas relished. While running across the set in a heavy Hazmat suit in 90-degree heat, Savas used the realization that he was experiencing a lesser degree of what Cossetti would be to put himself in the character's shoes.
For "State of Affairs," shot in Los Angeles, getting a feel for the environment required the opportunity for research in Washington, D.C. In an effort to understand Dashiell, Savas went as far as to have a CIA analyst bring him to the bar he goes to so he could sit on the barstool. He also rented a car to drive from his character's apartment to the CIA headquarters six times to fully understand how much time Dashiell would have "to think about what I'd want to think about before I got to work [and] really put this guy's skin on."

Take a tip from the masters.
Doling out praise for his talented co-stars, Savas knows how privileged he is to be working with established actors like Katherine Heigl and Alfre Woodard. He regards the experience of watching them as "a masters class in acting in itself" and makes a concerted effort to have a student's mentality.
After noticing Woodard's tendency to remain entirely still while delivering a line, he decided to act on his curiosity, pulling her aside to ask why.
"She explained to me—coming from how long she's been acting—fields of focus," he says. "This is the kind of thing she thinks about that actors today just don't think about." In addition to helping the puller maintain focus for a usable close-up shot, he found it to be dual-purpose as a lesson in character development. "I love how it [also] translates into this stoic strong woman—the president of the United States. It's wonderful."
Inspired by this post? Check out our television audition listings!