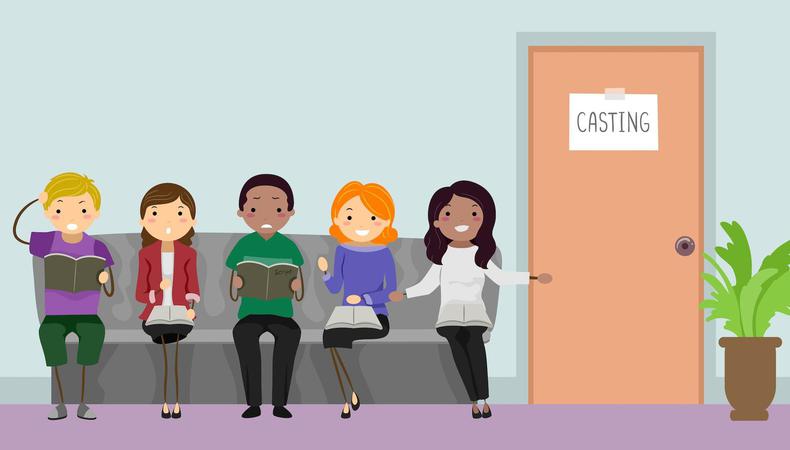 The time has come for the moment that will most likely influence the next four years of your life: the short interaction that will show what you're capable of to college faculty! Most of the work of finding a well-suited college has been done. Research has been completed, applications sent out—now it's about the audition.
"Monologues are horrible animals," admits Lucien Douglas, a faculty member at University of Texas at Austin. "We all hate doing them, we all hate looking for them, listening to them—but they're a convenient way to get to know another person who wants to be an actor. We can see if you have talent, any sense of instincts, a creative imagination, if you're able to access emotion freely—and I don't mean a frenzy of emotion, but allowing yourself to come from a real place. Anything apart from that is distracting."
Actors would do well to avoid distractions when competing against 800 other applicants for the 14 spots in UT Austin's theater program, according to Douglas. With eight main-stage productions casting undergraduates, as well as other student-driven projects, UT Austin is selective with those who receive the same "skill-based training" in film, television, and digital media that Oscar winners Matthew McConaughey and Renée Zellweger did.
"Some people have the audition all worked out—how they're going to say every little word and where they're going to breathe and where they're going to pause and all the blocking—and anything that threatens that, their feathers get ruffled," says Douglas.
Keeping figurative feathers smooth is instrumental to a successful audition, as is keeping nerves at bay. "[Students] need to relax and not let [nervousness] overwhelm them," says Ashley Avola, assistant director of fine and performing arts admission at New York–based Marymount Manhattan College. "Just come in and give us your best you. We're looking for students to be themselves, show us who they are as performers. They don't have to be perfect in their singing or acting because that's why they're going to school—to get that training!"
However, you should do your homework before you ever set foot in a school. For auditions, be sure all materials (applications, monologues, sheet music, documentation, headshot, and résumé) are in hand and organized. Some schools require two contrasting songs and/or monologues, so make choices that showcase talent and range both technically and emotionally.
"Have the diversity they're looking for," warns Avola about each university's specific requirements. "If they require two contrasting songs, it's not just about finding an uptempo and a ballad—especially for females. They want to hear that you have a belt voice and a legit sound to you, too."
Rehearse with friends or a coach beforehand, because "it will help you discover what that scene is about in ways you're never able to discover when you're working on it alone at your kitchen table at 3 a.m.," Douglas says, before adding that rigidity and locking into bad habits in rehearsal should be avoided. Stay willing to play, and during the performance, always ask the fundamental acting questions: "What do you [the character] want? What are you trying to do with [your scene partner]? What are you trying to change in them or get from them?" he asks. "Then take a moment to breathe and find that first moment. You have to step from that reality of, 'Here I am, Lucien Douglas the actor,' to summoning up the will to enter a whole new reality, which is the situation of the play. That's what we expect."
So pick a spot above the auditioners' heads, take a deep breath, and go.