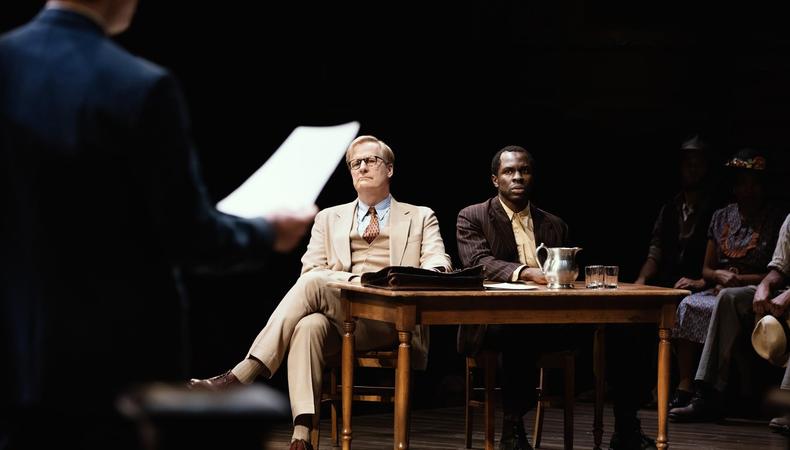 The following Career Dispatches essay was written by Gbenga Akinnagbe, who is currently originating the role of Tom Robinson in Aaron Sorkin's production of "To Kill a Mockingbird" on Broadway.
My first professional job after graduating from college was at the Corporation for National Service as a legislative assistant, the federal agency that administers AmeriCorps and other national service programs.
On one particular day, one of my bosses and I were speaking at my cubicle. She mentioned that her friend was in town doing a play. Having grown up with television as my babysitter, I never thought of acting as something people did as a profession. It was always just entertainment. My brothers used to call me "the TV Guide" because I always knew what show was on what channel most hours of the day. (God, I wish I had those brain cells back.)
READ: The Fight for "To Kill a Mockingbird"
I said to my boss, "I never thought of acting as something people did for a living. How did your friend get into it?" In the nicest way possible, she told me it was something I wouldn't be able to do—as her friend was this and that and studied here and there. I wasn't interested in becoming an actor, but her dismissal sparked my curiosity. I wanted to learn as much as I could about this thing called acting.
I bought books about acting, and it was the early 2000s when chat rooms had just become a thing (before they became creepy), so they were a pretty decent place to find information and learn from other people's experiences. From those chat rooms I also learned about publications used to find auditions.
I felt like a detective on the hunt unraveling a case. The whole thing was getting exciting.
I had taken a second job at a Mongolian BBQ spot in Bethesda, Maryland, to help get rid of credit card debt I accumulated in college. The days I worked both jobs, I was putting in about 14-hour days and went home smelling like stir fry, which I loved, because I love stir fry.
I started to find information on auditions in the D.C. area and decided to see what they were all about. I'd been given the advice to get headshots and learn monologues to have ready for auditions, so I started to piece monologues together from movies I loved: "Pulp Fiction" and, of course, "Moonstruck." ("Johnny has his hand! Johnny has his bride!") I'd later come to find out, for a host of reasons, that I did not make the best monologue choices.
One day, I saw in the City Paper that Steven Spielberg was in town holding auditions for a big movie. I looked at the title of the film and was elated that he was making a picture with black people at the core and dealing with subject matters important to us.
I submitted myself, which, by this time, I'd been doing pretty regularly.
For a week, I nervously awaited my appointment. When I arrived, I was given sides for what seemed to be a toothpaste commercial. I didn't know what to expect, so I just went with it. I left exhilarated. Because I wasn't invested in actually becoming an actor, I wasn't tied to the results. I was fascinated by the trembling sides in my hands and adrenaline. (Years later, when I finally saw that Spielberg film, I was shocked to find out that "Minority Report" had nothing to do with black people!)
APPLY: Inspired? Check out Backstage's theater audition listings!
I submitted myself to theaters throughout Washington, D.C., Maryland, and Virginia, and I started to get called in for auditions. I also started to read plays and speak to actors in the D.C. theatrical community.
One day, I received a call at the office of my government job offering me a role in the ensemble cast at the Shakespeare Theater's "Oedipus Cycles." As I said, I wasn't trying to become an actor, so I freaked out, told them I'd call them back, and hung up, unsure of what to do. A few minutes later, my uncle called me to let me know my father had died. Without thinking, I went in to my supervisor's office and resigned. It was time for me to go.
That week was a fog of a transition between funeral arrangements and rehearsing with people I'd grown up seeing on television. I felt that everyone in that rehearsal space was so much more advanced and educated in theater than I was. So I submerged myself in it—full tilt.
Each week, I'd read both a classical and contemporary play, see at least one play, and perform in eight shows. I also learned to have monologues on standby for future auditions, and I prepared by writing down the first line of the monologue, the first and second line, then the first, second, and third line. It would continue like that until I filled up notebooks with monologues. Over the years, as I grew as an artist and learned how I learn, the methods I'd employ to learn scripts would vary.
I believe what has helped me in this career and all endeavors is first finding something you're passionate about, whether it's acting, activism, or design, and learning everything you possibly can about that passion. Whether you end up doing that thing for a living or not, you'll most certainly end up where you're supposed to be.