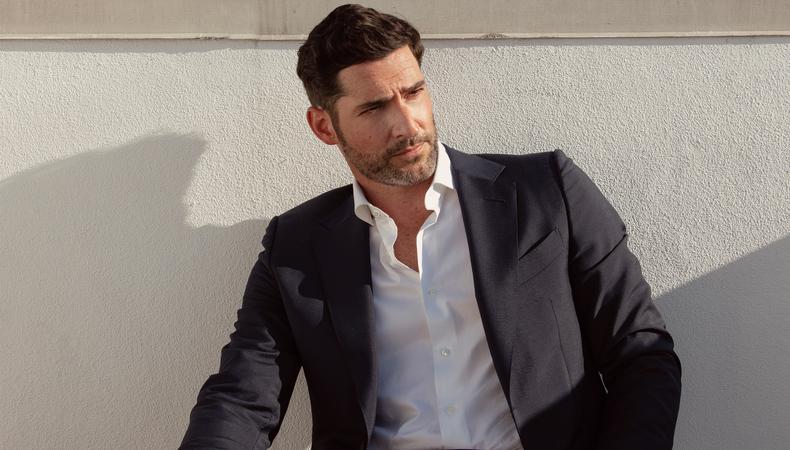 The following Backstage Live was compiled in part by Backstage readers just like you! Follow us on Twitter (@Backstage) and Instagram (@backstagecast) to stay in the loop on upcoming interviews and to submit questions live on camera.
Welsh actor Tom Ellis has a vast list of British TV credits to his name, including roles on "Miranda," "Merlin," and "The Fades." But he reached true international acclaim playing the titular role on Netflix's "Lucifer." Based on Mike Carey's famed DC Comics series, the first half of Season 5 premieres on Netflix Aug. 21. Ellis sat down with Backstage for an Instagram Live to talk about it all and offer tips for others in the field looking for their big break.
How did you emerge into the acting world after drama school?
In the grand scheme of things, I've had quite an easy time of it. I was fortunate enough to get a job before I finished drama school. I left a bit early to go and do that. And essentially, when you're in drama school, that's what you want, is to come out and start working. For my first year coming out of drama school, I just went from job to job to job to job. I spent the first two years of my career just taking everything that I got as opposed to being picky. I didn't know enough about the industry or know enough about myself to know what it is that I wanted to do, where I was setting my sights.
READ: How to Become an Actor in the U.K.
What was the turning point when you realized what you wanted your career to look like?
When I had done "Miranda" in the U.K., that was a big turning point for me. Because it obviously gained huge popularity, and it gave me the sense that I had a bit more choice, or that I was definitely going to work. Because I think that's some actors' fear: "Oh, I'm never gonna work again." Everyone still has it. It's just part of their DNA—that healthy fear that drives you. "Miranda" took off a bit, and I just started to feel like I would get jobs, so I had to think, if I did get a job, what would the job be that I wanted to do? What was that commitment? What did that mean to my life? That's when I became a bit more discerning about it. The more scripts I read, the more I'm like, "I can see where this is going. I don't know if I want to be a part of that."
What has been the most gratifying part of acting on "Lucifer"?
In the modern world of TV, there is so much TV. There is so much content out there. To be in the public consciousness of a TV show that if I say to someone, "I'm in the TV show 'Lucifer,' " they go, "Oh, I've heard of that!" or, "My mum watches that." There always seems to be one degree of separation on this show. And that, these days, to me, feels like a huge achievement. The fact that people decide to pick up their remotes and choose to watch us is very vindicating.
How do you get into character?
The script is everything for me. I always go back to the script. Even five years into "Lucifer," what I do—and people say I'm crazy, but I've stuck to it because it works for me—is the script we're working on at the time, I'll go to work, I'll film the scenes I have to do for that day, I'll come back, and I'll read the whole script again from start to finish. And I'll do that every day that we film an episode, so then in my head I can start to connect the dots: We've done this and we've done that, and this was where I was going. Just bringing it back all the time, so I have a complete sense of what the story is and where we're at in the story. Because it's broken up, and it's not all linear when we're shooting.
What was it like to also play Lucifer's twin, Michael, this season?
It was a new challenge to me, that's for sure. What I realized is that I've played Lucifer for five years; it's very easy for me to step in and out of Lucifer's skin. Playing a new character—it messed with my head a little bit. For a long time, I felt like a fraud to my friends and colleagues. But it was nice to think about a different character for a while. I had a certain set of rules that I had to work in. We're always set up against time when we're shooting. There's so much to pack in, and we don't have a lot of time. So in terms of Lucifer and Michael being different, I had to go old-school in that and figure out physicality and voice and how a character walks, as opposed to any sort of transformative prosthetics.
Want to hear more from Ellis? Watch our full interview over on our Instagram: @backstagecast.
This story originally appeared in the Aug. 13 issue of Backstage Magazine. Subscribe here.
Looking for remote work? Backstage has got you covered! Click here for auditions you can do from home!