He may be best known for playing one of the most famous teenagers around, but don't let his boyish charisma fool you—Tom Holland has been performing on stage and screen for over half his life. Consistently employed throughout his adolescence and into adulthood, the 24-year-old has become one of the most bankable movie stars working today thanks to his turn as Spider-Man in the Marvel Cinematic Universe. Through it all, he has dodged the dramatics of TMZ-fueled virality (unless you count his gender-bending lip-sync performance of Rihanna's "Umbrella" in 2017). In other words, one could call his career a Hollywood anomaly.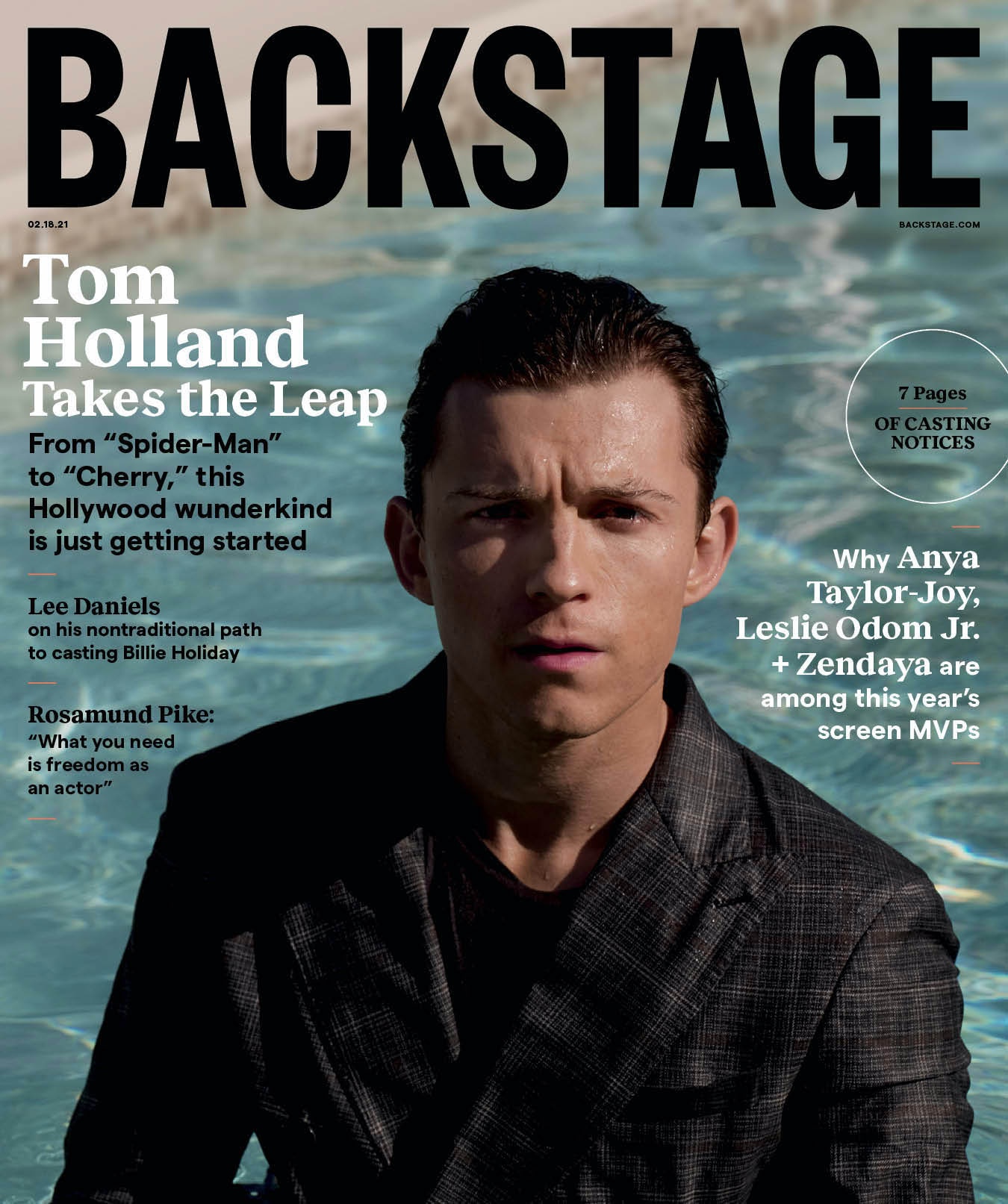 "I think what I've done well is I'm really good at being able to dictate when I'm in the spotlight," he says of balancing his public and private lives. "When I'm at home, I live such a boring life that the paparazzi don't want to take pictures of me. I'm with my dog, I meet my mates, we go play golf, we go to the pub, we go to sleep, and then we wake up and do the same thing again." That is, until he's filming his latest "Spider-Man" installment, which he's on a brief respite from as he speaks to Backstage from a Los Angeles hotel.
Holland's calculated give-and-take with fame, fans, and family only comes after years of experience and mentorship. A natural talent, the London-born performer enrolled in hip-hop classes at a local dance school called Nifty Feet after his mother noticed him holding rhythm while strutting around to Janet Jackson's "Together Again." At age 9, he was scouted by choreographer Lynne Page; he soon began rigorous training in ballet for the West End's Olivier Award–winning "Billy Elliot: The Musical," which marked his professional debut just after his 12th birthday. He took his final bow as Billy two years later and began chipping away at a career in film.
In past interviews, thinking back to his early days in the industry, he described growing up with an author-comedian father, a photographer mother, and three younger brothers as living in "the most un–child-actor household possible." Throughout our time together, he speaks of his parents with genuine reverence, sprinkling valuable life lessons they've taught him on self-respect and handling rejection. And he's conspicuously close with his brothers, with whom he heads the Brothers Trust charity fund, an effort he's "most proud of" on his list of many accomplishments. That's not to mention that he's also working on a "massively ambitious" feature film script with his brother Harry that they intend to one day direct together. ("I'm sure when we finally take it to a studio, they're going to laugh at us when we say that we want to direct it," he admits. "But it's our script, and if they want us, they're gonna have to have all of us.")
"Acting is a muscle, and it's something that can always get stronger. So whenever you work with new people, regardless of whether you think they're good or not, you will always learn something from them."
Such an unwavering support system certainly was useful through the growing pains of life as a young artist, not the least of which included getting bullied for wearing tights at a ballet barre while other boys his age were playing rugby. Much has already been said about those rough patches and how Holland persevered; he relayed to GQ in 2019 that "it's just what I had to do if I wanted to get this job," and to People two years earlier that "you couldn't hit me hard enough to stop me from doing it." But what's most fascinating, speaking with Holland about his dance background today, isn't the schoolyard incidents it may have incited, but the way his training all those years ago has influenced pretty much everything he does onscreen, no matter the genre or role.
Take the obvious example: Peter Parker, aka Spider-Man, a role he landed at 19 in "Captain America: Civil War" and has played in a total of five (going on six) MCU features, including stand-alone films "Spider-Man: Homecoming" and "Spider-Man: Far From Home." The sheer physicality of web-slinging, high-kicking, and back-flipping (or the demands of any spandexed Marvel gig, for that matter) is informed and enhanced by having a better understanding of one's body—its movement, and what it looks like when stretched and positioned every which way.
His expertise in the physical also dictates how he plays less superheroic, reality-based characters. It's apparent in his work in last year's Netflix Southern Gothic "The Devil All the Time," and in Apple TV+'s new crime drama "Cherry," which sees Holland starring as a PTSD-addled war veteran who robs banks to feed his opioid addiction.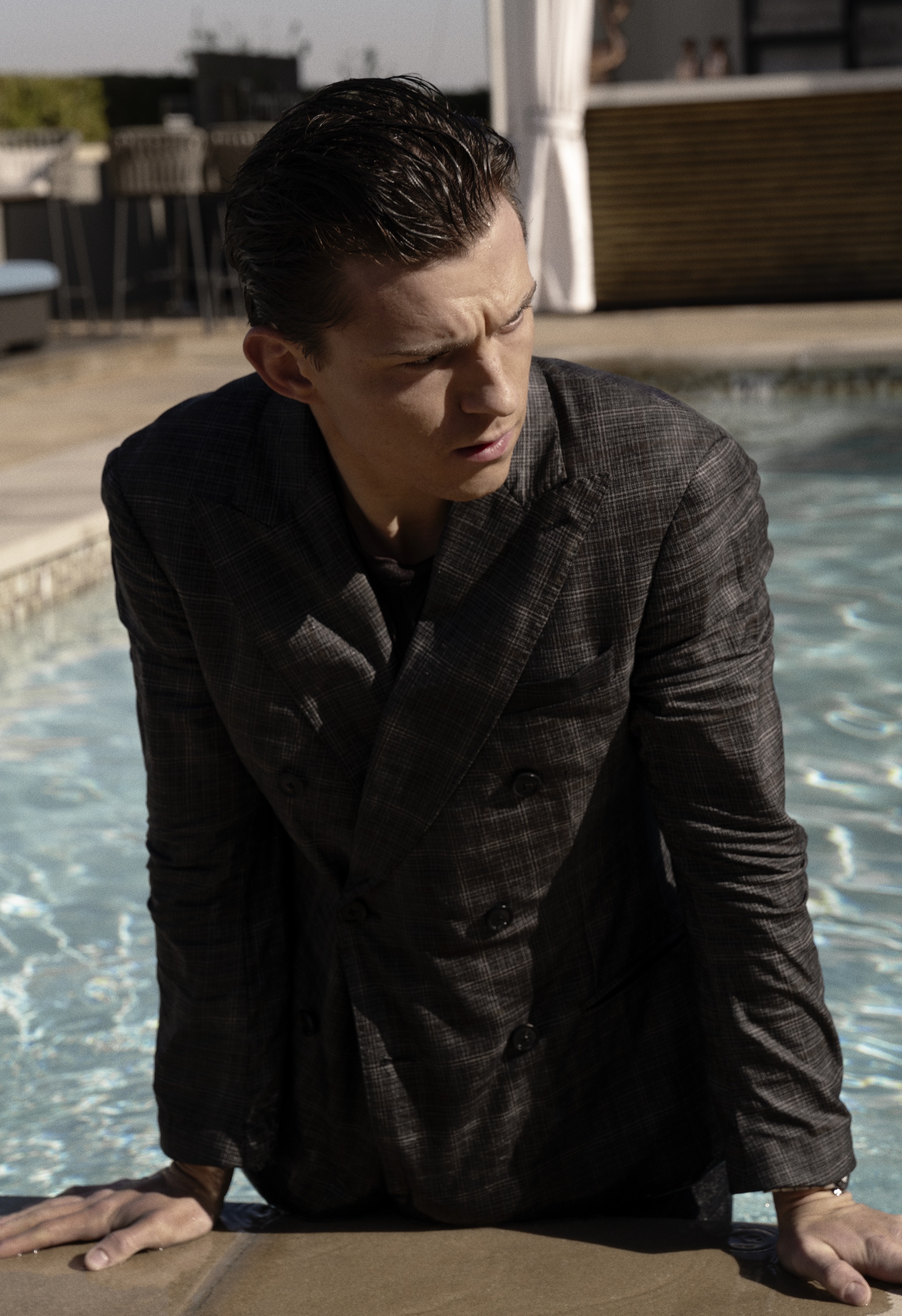 "When it comes to something as simple as walking—I mean, Cherry has a very different walk than what I have," Holland notes. "He's very heavy on his feet and labored. Obviously, when you're doing ballet, it's the complete opposite. But by being able to do the complete opposite, you can mold yourself into these different people in an easier, more fluid way."
In short, he says, "dance has been one of the most valuable assets I've had in my career." He sheepishly adds, though, that the third installment of "Spider-Man" has him stretching those muscles anew: "Over the years, I've been getting less and less flexible, which has become a bit of a challenge. Sometimes, landing in the Spidey poses, I've been pulling a hamstring here and there, so I've taken up yoga."
All that is just the prep. Then, after he's worked on script analysis and personal character-building, Holland carries a dancer-in-the-mirror mentality with him while filming—literally.
"The easiest way for me to find a character is to find the similarities between myself and the character and then build on that."
"I watch almost every take back while we're shooting," he says. "And it's something that scares directors quite a lot. You sometimes find people going, 'Why do you want to watch everything? Don't you trust me?' And it has nothing to do with my performance. It has everything to do with my physicality.
"It is like a dancer: When you learn to do a dance, you do it in the mirror. And for me, when I'm on set and I'm figuring a character out, especially [in] the first few weeks, I have to watch it back, because I need to know that I'm doing what I think I'm doing in my head. If I was doing a dance, and then I looked at it and I was like, 'Oh, my God, that looks nothing like what I thought it looked like,' I need to change it. It's been a really valuable asset."
While Holland worries aloud that "some people would be very against that," he says he's "really lucky that directors are so open" to letting him jump to the monitor after a take. Joe and Anthony Russo—who first directed him in "Civil War," followed by "Avengers: Infinity War," "Avengers: Endgame," and now "Cherry"—say that it's that attention to detail and knack for behind-the-camera collaboration that makes them want to continue working with the actor.
"It suits our process very well, to be honest with you," Anthony Russo says. "We like to talk to people as filmmakers; we talk to our production designer as a filmmaker, to our actors as a filmmaker, to our producers as filmmakers. We like to talk about the totality of the film with all of our collaborators. And Tom is somebody who is very easy to engage on that level, because his brain goes there. He doesn't silo himself in a very specific process or a specific craft; he understands the larger process of the movie we're all making together. This specific thing, where he does like to review his performance and think about how he can innovate on it in a coming take, or in later scenes, is very much the way Joe and I like to work."
Considering this on-set approach, it makes sense that Holland envisions himself as a future director. It also further speaks to the fact that, aside from the intensive West End–caliber dancing of his youth, most of his craft as a performer has come through osmosis while working on professional sets, not via more traditional means of schooling. Yes, he attended the BRIT School for the creative and performing arts as a teen; but for the majority of his time there, he was working with Ron Howard and future MCU co-star Chris Hemsworth on their 2015 whaling epic "In the Heart of the Sea."
"I wouldn't say that I necessarily 'trained,' " Holland admits. "My training in the world of becoming a professional and learning how to work respectfully and be around people was from 'Billy Elliot.' "
The same can be said of his early screen projects, like 2012's "The Impossible" with Naomi Watts and Ewan McGregor, and BBC Two's 2015 period drama "Wolf Hall" with Mark Rylance and Claire Foy. He cites those co-stars, as well as Robert Downey Jr. and Zendaya, as industry mentors and inspirations. He says he took those and others as opportunities to be a sponge, to learn on the job, and to figure out which processes speak to him as a performer and which don't.
"I'd be so naive to say that my training is finished," he continues. "Acting is a muscle, and it's something that can always get stronger. Whenever you work with new people, regardless of whether you think they're good or not, you will always learn something from them. I'm continuing to learn every day. I'm learning about directing, learning about producing, learning about writing. All of those things are helping me become a better actor."
Holland's approach to the emotional and intellectual components of acting is best described as instinct-based—what feels authentic and right in the moment, within the Venn diagram of himself and the person he's playing.
"Lots of it kind of boils down to: How would I react in this scene?" he posits. "Figure that out, and then put the character on top. The easiest way for me to find a character is to find the similarities between myself and the character and then build on that."
"'Cherry' was the first time I sat down and had real conversations with people about their experiences and used their stories to help fuel my passion for the project."
His homegrown, naturalistic way of performing seamlessly lends itself to a project like "Cherry." The film sees Holland embodying its titular figure in dramatically different stages of his life—as a student, a lover, a soldier, an addict, and a thief. In addition to being physically demanding (Joe Russo says Holland lost and regained 30 pounds while filming), the film led him to map out Cherry's psyche through his descent. He did this, in part, via extensive research and interviews with veterans who have experienced PTSD and addiction.
"You obviously have to research for every character you play," he says. "I did a load of research for 'Spider-Man,' which is just reading comics. But 'Cherry' was the first time I sat down and had real conversations with people about their experiences and used their stories to help fuel my passion for the project. I always say that if you're making a film about a real person, you have a duty to do justice to that person."
"We had seen his work ethic at that point very, very clearly, but this role presented a challenge to him that he hadn't encountered yet," Anthony Russo says. "Being a junkie, wasting away physically, being a soldier, having that specific type of training for that specific type of purpose—there were a lot of things [for which], just on a very literal level, he had to take himself, both psychologically and physically, to places that he hadn't before."
"Cherry" indeed allows for a welcome darkness and onscreen maturation for Holland not seen within the MCU, which thus far has perfectly honed his wide-eyed enthusiasm in its own way. But if his rise over the last few years is any indication, there's a promise that even bigger and better things are around the corner.
"I want to tell stories that I would want to have seen as a kid," he says of what he'll put his muscle behind next. "And as I become an adult, or more of an adult than I already am, I want to tell stories that I wish I'd seen when I was 24. And then, when I'm 30, I'll want to make films about what I would've wanted to watch when I was 28. I like the idea of constantly chasing what I wanted, because I know so much more now."
This story originally appeared in the Feb. 18 issue of Backstage Magazine. Subscribe here.
Looking for remote work? Backstage has got you covered! Click here for auditions you can do from home!
Photographed by Hubble Studio on 01/09 in Beverly Hills